Mimosa lovers flocked to Nomads Southtown over the weekend for the unique opportunity to sample creative twists on the standard brunch beverage.
The Nomads Mimosa Fest began three years ago after owners Jeremy and Brittany Brown decided to create an event showcasing their brunch mimosas.
"We couldn't even make the mimosas by the glass or the pitcher because they were selling so fast," Jeremy Brown said. "So, we figured out how to batch them and put them on kegs."
After the success of last year's summer mimosa festival, which served around 6,000 mimosas, Brown decided to organize the first January festival this year, which he plans to continue in the future, he said.
Patrons had the option to purchase VIP tickets before the event for $25. Each ticket reserved a table inside and secured each VIP a signature glass they could take home; it also included a complimentary Moët champagne mimosa and a fishbowl they could fill up once that held three servings of a mimosa of their choosing. Any additional refills of their glass cost 75 cents. Non-VIPs could still partake in the event with the same refill price, though their first mimosas cost $7, and they were seated outside on the patio.
Shelby DuPont and Dalynn Brumley, both UA seniors, attended the mimosa fest with their mothers, Anissa DuPont and Erica Brumley, for a girls' day.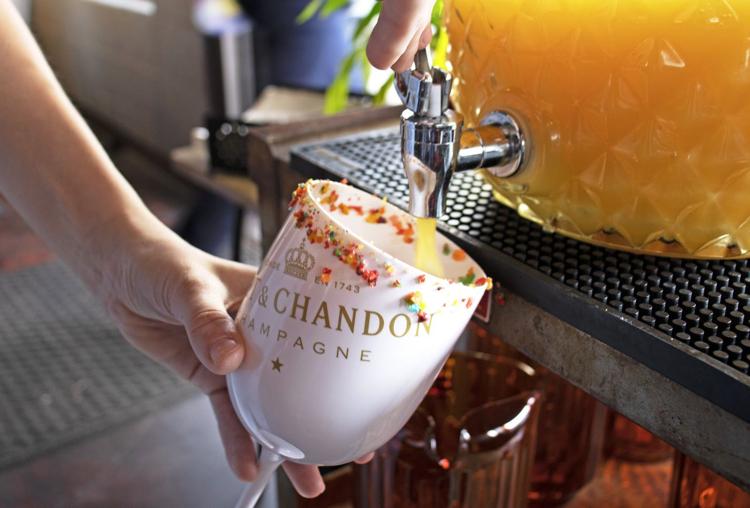 "It's what I got (my mom and I) for Christmas, tickets to this," DuPont said. "I saw that there were 100 flavors and said, 'I'm there.'"
The festival's website boasts 100 different mimosa varieties, achieved mostly by combining the remnants of previous mixtures to create new ones as the weekend progressed; the festival lasted from 10 a.m. to 3 p.m. Saturday and Sunday, with doors opening for VIPs at 9 a.m.
Brown said the restaurant has a zero-waste policy, so the flavors come from whatever produce they have.
The Arkansas Traveler sampled and reviewed the first 10 concoctions, considering qualities such as creativity, flavor, strength and appearance. Some were tasty, others repulsive, but all left us stumbling home and napping the day away, wishing the room would stop spinning.
We gave the drinks an overall score from 1-10, with 10 being the best.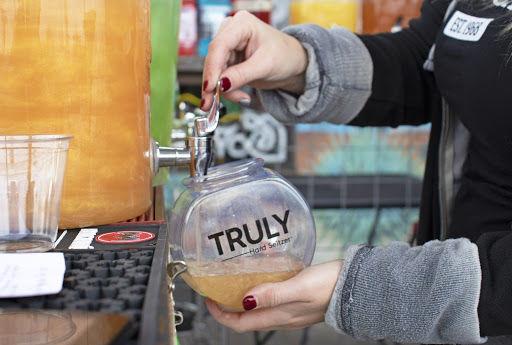 #10. The "Purple Drank" was perhaps the most miserable to ingest. We woke up in the middle of the night haunted by the dark, murky purple color and strong children's cough medicine smell. This mimosa was bad before we even tasted it. The strength of the alcohol was enough to knock you off your feet, and the grape flavor was overwhelming. Upon further investigation, it turns out this mimosa was just a mix of champagne and what bartenders described as "off-brand Four Loko." Would not recommend.
SCORE: 3/10
#9. Slightly better, but not by much, the "Oh Yeahhh" mimosa had us saying "Oh Nooo." While the drink only contained champagne and Strawberry Kiwi Kool-aid, the flavor reminded us entirely of beer. Its appearance earned top points, with its shimmery green color giving us major witchy vibes, but it wasn't enough to make the drink palatable.
SCORE: 4/10
#8. "Pineapple Express," blended with a hemp IPA, smelled like bad decisions and your cousin's Ford Focus after he "went for a walk" on Thanksgiving. Other flavors in this drink included blueberry and cilantro, though neither were prominent enough to balance or distract from the overpowering dankness of the hemp.
SCORE: 5/10
#7. We began the festival with a typical-tasting mimosa, mixed with Moët champagne, which retails for about $100 a bottle. Though the price tag on the champagne was impressive, the flavor was nothing special. This mimosa did earn style points for the Fruity Pebble rim, which added a fun crunch and unique flavor to an otherwise average drink.
SCORE: 6/10
#6. "Smurf Tears" did not leave a lasting impression. While the bright blue color was fun and flashy, we can't help but feel Papa Smurf would have agreed that this drink was lackluster at best. A simple blend of blueberry lemonade and champagne left a taste that was strangely similar to "Pineapple Express" sans dankness.
SCORE: 6.5/10
#5. The "Hannah Montana/Miley Cyrus" was a chaotic blend of strawberry Pedialyte, whiskey, tequila, vodka, black apple blueberry cider, CBD and, of course, champagne. And that's not even the complete list of ingredients. Though chaotic, it was a tasty drink, with strawberry dominating the wide array of other flavors. This mimosa was definitely, as Montana would say, the best of both worlds, scoring high in the creativity, appearance and flavor categories.
SCORE: 7/10
#4. In a tight race for the top spots, the "Beyonce" took fourth place. This mimosa was fruity and fresh, made with champagne, pineapple margarita and CBD-infused rum, leaving us feeling some kind of crazy in love. The drink was strong but not overwhelming, and it was a refreshing break from other heavy, wacky mimosas we sampled.
SCORE: 8/10
#3. "Give it a Tug" hit us with surprising autumnal flavors. At this point in the day, new mimosas were being mixed from the remnants of old ones. This drink's description claimed it contained orange juice, margarita, CBD-infused rum and champagne, though to us it tasted strongly of spiced apple cider. Still fresh but with a unique twist, "Give it a Tug" was one of our favorites of the day.
SCORE: 8.5/10
#2. The "Mimosa King and Queen" was nearly crowned our winner. Ingredients included champagne, orange juice, hibiscus hard cider, Truly hard cider, Pedialyte, berry-flavored Jones soda and cranberry juice. The drink was also topped with bubble gum Pop Rocks that added a satisfying fizzle and turned into bubble gum as you chewed. The potency was perfectly balanced, with the berry soda keeping the drink nice and sweet. The candy was a creative touch and left us contemplating a refill.
SCORE: 9/10
#1. Topping our list with a perfect score was the "Squirrely Dan." The mimosa contained sage, blueberries, grapefruit, gin, champagne and green tea, which left us feeling like we were sipping the drink in a garden on a sunny summer day. Refreshing, sweet and unmatched in flavor, we liked the "Squirrely Dan" so much we drank three portions from a fishbowl.
SCORE: 10/10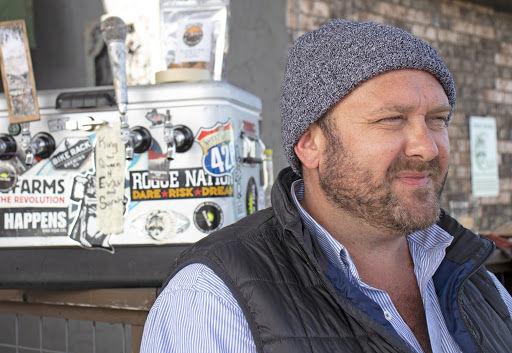 The "Mimosa King & Queen" was one of several mimosas on tap. The drink was created in memoriam for a couple, Sarah and Evan Nuessner, who were regulars at Nomads, Brown said.
The Nuessners were supposed to act as king and queen of the festival but passed away before the event. Proceeds from the drink went to the families of the couple.
The next Mimosa Fest is planned for August of this year. Brown said the Nomads' staff enjoys and looks forward to the event each year.
"Once we get it all set, it's fine, it's fun," Brown said. "It's just like a normal brunch."