An indie band of UA alumni made their way back to Fayetteville for a show at their old stomping grounds, George's Majestic Lounge, on Nov. 14.
"All at once I'm feeling giddiness, fear, euphoria, relief / I don't know what to say," the opening to an episode of Cheers fills the dark room at George's Majestic Lounge as the crowd begins to sing along to the opening lyrics of one of the most popular songs by Brother Moses, a band of UA alumni.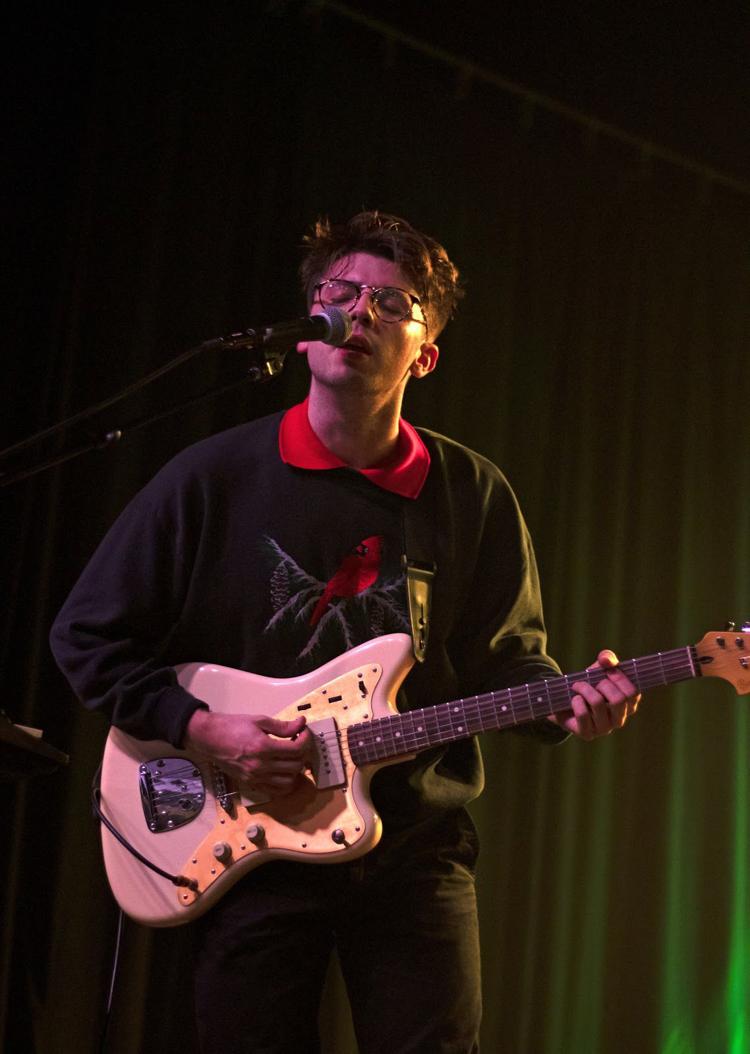 The band opened their show at George's with "Sam and Diane," released in 2018.
Katherine and Conlee Hale, seniors, have been fans of Brother Moses since their freshman year after watching them open for another band.
"We have seen them five or six times," Katherine Hale said.
They love their newest album, "Magnolia" and have it on vinyl, but look forward to staples like "Older," off of the band's 2016 EP "Legends," Katherine Hale said.
"Every time they have come to George's since then, we have come," Conlee Hale said.
A lot has changed for Brother Moses since their start in 2014 after former classmates and roommates James Lockhart and Moses Gomez decided they wanted to play their music live and set out to start a band.
Lockhart, on vocals and guitar, and Gomez, on guitar, were soon joined by fellow River Valley native John-Lewis Anderson, on guitar, and drummer Corey Dill.
Despite their passion for music, none of the UA students earned a major in it. Class of 2015 graduates Anderson and Dill graduated with graphic design and communications degrees, respectively. Lockhart and Gomez, who both graduated in 2017, studied political science and anthropology.
"As we were approaching the end of college, we knew we wanted to pursue a career in music," Lockhart said.
The band members started talking about how that would work and the steps they would need to take to make it happen.
They knew pursuing a career in music would take a lot of travel, time and energy outside of other jobs, Lockhart said.
With the exception of Anderson, who does almost all of the visual design for the band, the other members worked jobs not related to their major, Lockhart said.
The band members moved to New York in 2018, their "big roll of the dice,'' Lockhart said.
Fayetteville was an amazing place to play, but the band wanted to go somewhere with a change in pace and where more people were playing music, Lockhart said.
Every tour the band routed seemed to end up in New York, and they felt like it fit their personalities, Lockhart said.
Brother Moses returns to Fayetteville whenever they can, with fans always welcoming them back happily as they sing their lyrics back at them. 
"Scream these words," Lockhart said on stage before "Older" started. "Purely to make 18-year-old year old me and Moses happy."
The band's setlist included tried-and-true favorites including "Please Stop" and "Time to Leave" as well as sneak peeks of songs from their upcoming album to be released in March 2020, such as "What Does it Take?" and "Bathroom Floor."
The band also took the time to explain a few of the songs, something they do not usually do because most crowds would not care as much, Lockhart said.
Lockhart talked about the sadness of moving away from home, and missing the little things, like your brother getting older.
"This song is about the realization that every moment counts," Lockhart said about "Someone Make it Stop" from their new album.