In an effort to celebrate diversity and promote inclusion, Nathan Barker, a senior, started making and selling handmade pride flags.  
Barker started making the flags Sept. 22 to sell for LGBTQ History Month, he said. 
LGBTQ History Month, which is celebrated in October, recognizes the long history of the LGBTQ community.
After LGBTQ History Month, Barker plans to sell his pride flags year-round, he said.
Barker, who grew up in Fort Smith, found that LGBTQ youth would come to him for support when he came out as gay at 15.
Baker decided to start making the flags so LGBTQ students could have a local, queer-made flag option, he said.
"I've always tried to adopt that role of spreading positivity, and I feel like making these flags is a way of showing like 'I'm proud of who I am, you should be proud of who you are too,'" Barker said.
Barker is open to making any flag as long as it does not include a hate symbol, but he mainly sells pride flags to members of the LGBTQ community, he said.
"I like to make the joke that they are homemade and also homo-made," Barker said.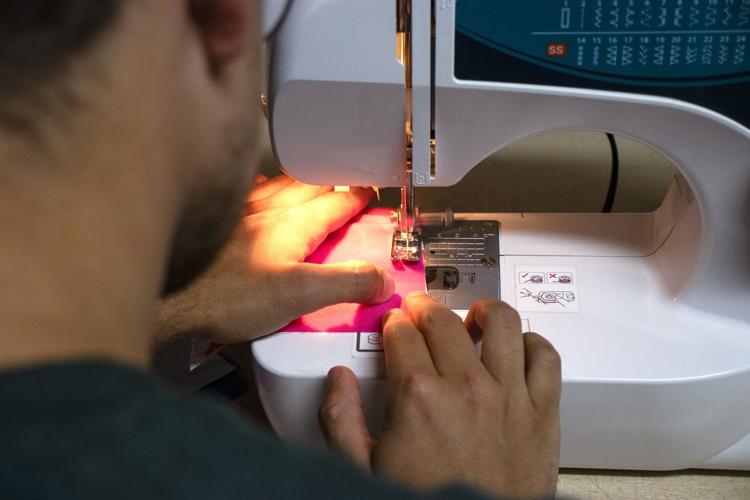 Barker typically sells a 60-by-35-inch flag for about $35, he said. 
"Mostly I try to do as fair pricing as possible," Barker said. "Because like I said, it is more so about promoting."
Barker has sold five flags and completed three new orders, with two more to make and three more people who are interested, he said. 
They are more costly than store-bought flags because Barker usually spends at least five hours making the flags, with the six-color pride flag taking even longer.
Customer feedback has been overwhelmingly positive, Barker said.
"One of the things I like to do is I take a photo with every single customer that I have," Barker said. "They are always just super happy, they are always in love."
Drew Wilson, a senior and Baker's bandmate, overheard Barker discussing his business with other people and was interested, Wilson said.
After Barker made a flag Sept. 22 to demonstrate to Wilson what the designs would look like, Wilson picked up his own flag Oct. 7, Wilson said.
"His face just lit up, and then he put it on his head and just started running around," Barker said. "it just made me so happy."
Shelby Gregory, a freshman and PRIDE RSO member bought a bisexual pride flag after she saw the offer on Barker's Instagram story, she said.
"I grew up with a lot of homophobia where I'm from," Gregory said. "Coming here is an experience for me to see other people who are like me."
Barker also started making the flags because he is afraid of the commercialization of the LGBTQ community.
"It made me angry seeing so many people just pandering to the LGBT audience just to make a quick buck," Barker said.
Barker will continue making flags because they make him feel fulfilled as a member of the LGBT community helping others.
"I am just a boy who makes flags because, you know, Betsy Ross and the American flag, but me for queer people," Barker said.