Just as child stars struggle to find their place going into adulthood in the spotlight, bands that have had a 20-plus-year career often run into growing pains. This can be especially true in genres like pop punk and emo pop. Going into Blink-182's latest album, "NINE,"I worried this might be the case, given their 2016 release "California" was underwhelming.
With the absence of former lead singer Tom DeLonge's distinctive voice, Blink-182's 2016 release "California"adopted all of the signature elements of the classic Blink-182 style. However, it did not provide the same charm that the now nostalgic tracks from 1999 release "Enema Of The State" and 2001 release "Take Off Your Pants And Jacket."
Blink-182's album, "NINE," released Sept. 20, showed off a better adjusted and self-aware group, with co-lead singers Matt Skiba and Mark Hoppus stepping up – not to fill DeLonge's shoes, but to pave their own way with the band.
Kicking off the album, the coming-of-age track "The First Time" keeps to the band's near-formulaic style that long-time fans immediately associate them with.The track is a bit angsty at times, but in a retrospective way that proves to be much more age-appropriate for the band. The songs "Blame it on my Youth" and "Remember to Forget Me" take the same tone lyrically. Reminiscing seems to be a central theme within "NINE,"much like on "California." 
While both albums latch onto this common theme, "NINE" provides a clearer sense of direction with it. 
Since all of the members are now in their early 40s, it's nice to hear a more mature sound coming from them, and they benefit from deviating from the type of lyrics they wrote when they were in their teens and 20s.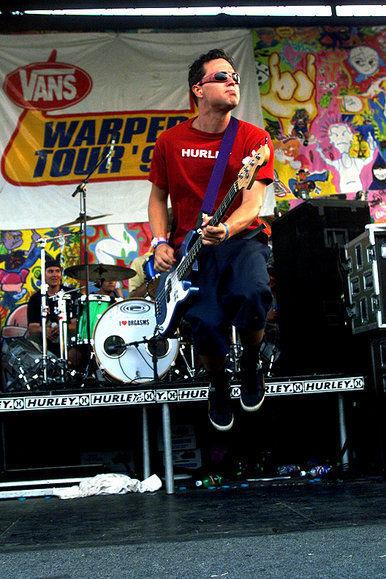 It wouldn't sound right hearing 40-year-olds singing, "Is it cool if I hold your hand? Is it wrong if I think it's lame to dance?" as they did in their 2001 hit, "First Date." It's interesting to see the parallels between this song and "The First Time" that reflects upon nostalgia and bittersweet memories, with lines like, "One day you'll look back and say, "Where's it all gone?"
Blink-182 reaches out to future generations on "NINE," rather than trying to coast by on pure nostalgia. While they may be departing from the sound that they are most widely known for, this album has the potential to draw in a whole new generation of fans.
Preteens and teenagers can find comfort in songs like "Happy Days" with lyrics like, "Hey, kid, don't listen to your head / It only fills you with dread and with doubt." Members Hoppus and Travis Barker now have children of their own, which places a soft sense of guidance in their music. This can be addressed to their own children, and other young kids and adolescents who listen to their music. The band's emphasis on the fact that growing up can be a very isolating and difficult time might lead some new fans to find solace in the album.
The song "Heaven" gives a poignant perspective on the 2018 shooting in Thousand Oaks, California. At first listen, the song seems a bit like a slower paced version of "Bored to Death" from "California." However, a deeper listen to the lyrics paints an emotional picture of, "Angel wings at the bus stop / Halos left on top of the bar."
The love songs on "NINE" seemed to be a weak point for present-day Blink-182, with songs like "I Really Wish I Hated You," "Pin the Grenade," "Hungover You," "Runaway" and "Darkside" missing the mark for what otherwise is a much more mature work from the group. However, "No Heart to Speak Of" definitely depicts a tumultuous love affair in a much more fleshed-out way with a more fitting instrumentation for the band – and doesn't try to disingenuously mimic what they have done in past years.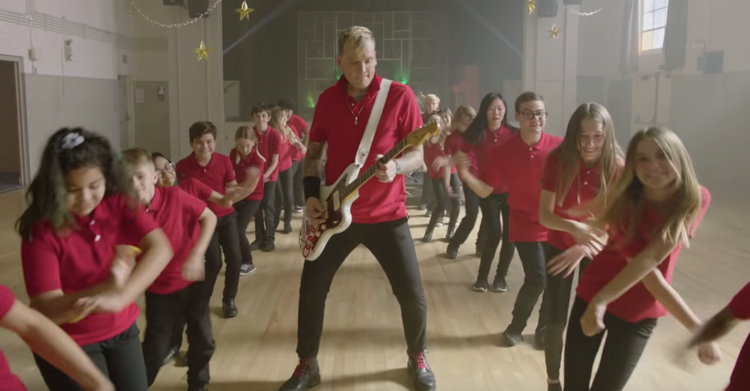 "Generational Divide" pulled from hardcore influences with its drum patterns, giving the album an invigorating energy. "Ransom" began with airy and light vocals that sharply shifted into a more energetic and powerful sound as the song progressed. "On Some Emo Sh*t" actually had a nice sound to it, despite the title indicating it might be a poorly-attempted immersion into meme culture.
For me, the standout on "NINE"is "Black Rain," with its unique sound and dark lyrics. The track's shifting styles and poetic lyrical content quickly made it my favorite on the album.
As someone who enjoyed Blink-182's earlier work and has listened to their music considerably less in recent years, I was definitely pleasantly surprised by "NINE." While contains few filler songs and still has tinges of forced teen-angst here and there, it is a huge improvement from their 2016 album "California," and I'll be interested to see what the group does in the future.