As the guy sitting in the back of my history class has reminded our class for the past several days, Post Malone's new album came out Friday. "Hollywood's Bleeding" is Austin Post's third studio album, just over a year after his last album, "Beerbongs and Bentleys."
To a casual Post fan, these tracks seem less brash and aggressive than some of the ones found on "Beerbongs and Bentleys" without straying too far from Post's genre-blending style and earnest vocals. Overall, these songs feel more indie pop inspired compared to his previous albums. I haven't listened to enough of Post's music to decide which I prefer, but this album is very easy to listen to.
This star-studded album features so many artists that you're sure to be mad I left your favorite off the short list, but noteworthy names include Ozzy Osbourne, Halsey, Travis Scott, Swae Lee and Meek Mill.
The title track is a moody reflection on the problems with living in Hollywood, comparing the toxic people in the recording business to vampires. The song is good, but I don't feel like the theme of it carries through the rest of the album, which feels fairly classic Post Malone.
For example, the next track, Saint-Tropez, feels almost like a parody of the toxic culture Post identifies in the first track, talking about his vices and flexing expensive and exclusive brands. Saint-Tropez will probably be the one you hear at parties because it's a little more typical, a little less emotional.
The most unconventional song is definitely Take What You Want, featuring Ozzy Osbourne and Travis Scott. The inclusion of the aging Black Sabbath alum was odd at first, but I think his scratchy and ominous-sounding opening sets the tone for the track and gives it a unique appeal that some of the other tracks may not have. Kudos to Post and his producers for successfully bridging the gap between Osbourne and Post's styles, even including a Sabbath-esque guitar riff that pleasantly surprised me.
Other notable tracks are I'm Gonna Be, Staring at the Sun and Sunflower, from the "Spiderman: Into the Spiderverse," which is incredible.
Die For Me fell flat, with a fairly generic backing track and lyrics betraying what could have been a much more emotional song. It's not bad, just a bit generic for my tastes. Halsey's part is good, but not enough to save the song.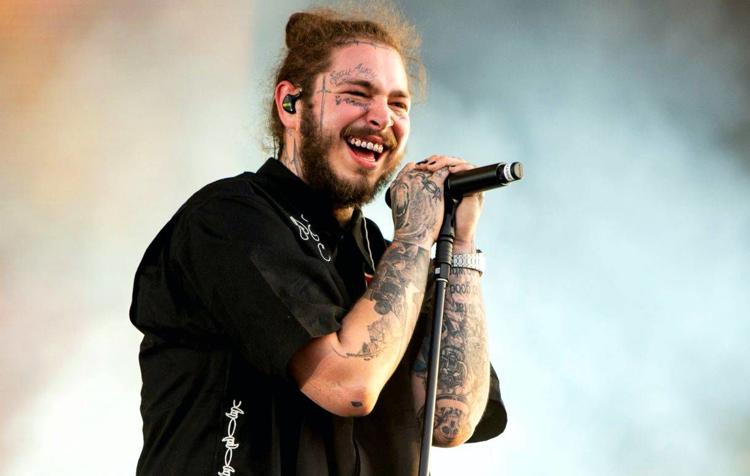 Post's album is probably the biggest full album to come out this weekend, but several artists put out singles, most of them being a little hit and miss, in my eyes.
John Mayer's new track, Carry Me Away, hit me as really generic and boring. I have not been a Mayer fan, but this didn't impress me enough to make me want to stick around for the next album.
Grimes' newest offering, Violence, is spooky and a little unconventional, but seems to be in line with other songs she's put out. I can't say I'm a fan, but if you are, you'll probably like it.
Francis and the Lights put out another single in partnership with Bon Iver, called Take Me to the Light, also bringing Kanye West in on the fun. The result is pretty nice and easy to listen to, but it isn't on the same level as Francis' work with Chance the Rapper on May I Have This Dance or to the previous music made by Bon Iver and West on My Beautiful Dark Twisted Fantasy.
Finally, I thought I'd take a little time to address less popular releases that showed up on my new releases playlist.
Roughly three years after Mark Hoppus replaced Tom DeLonge as lead singer of California-based Blink-182, the band is still riding the slight revival they had in 2016-17, resulting in a new track this  week called "I Really Wish I Hated You."
As you might expect, this is a breakup song. Aside from the rapid shift Blink has made from a pop-punk band to just an edgy pop band, the lyrics of this song strike me as concerning when coming from men in their 30s.
I think most of us can relate to the emotions in the song - wishing we had a reason to stop liking our ex after a rough breakup, but that doesn't change the fact that this is a petty response that can lead to nasty after-effects and does more harm than good. The idea that a group of 30-year-old men don't have more emotional maturity than to champion this high-school mentality is concerning, but the alternative – that they know better and are just writing songs about it to stay in touch with their audience – is even more problematic.
Last but not least, the Avett Brothers' "Bang Bang" joins the chorus of voices calling for something to be done about gun violence in the U.S. The song is enjoyable to listen to and hits a lot of the same marks as previous Avett Brothers songs, which I see as a good thing.
There is a level of dark humor in the melody that mixes with the darker lyrics to provide an interesting commentary on the issue, although the idea that gun violence comes from people watching too many "bang bang shoot-em-up movies" skates dangerously close to the idea that violent video games are responsible for real-life gun violence.
Some of you will have noticed that I left out Brockhampton's release, "GINGER," from earlier in the week. One of our reporters is working on an in-depth look at that album coming soon, so stay tuned for that.