If you woke up this morning wondering what Hootie & the Blowfish are up to, I have news for you. 
A comprehensive list of artists I had no idea were still making music would look a lot like Friday's newly released singles list. Celine Dion, Hootie & the Blowfish, Mandy Moore, Mike Posner and even Sir Mix-A-Lot put out new songs this week. That's right, Celine Dion whose heart will go on and Hootie & the Blowfish, that band your dad liked. 
While it was a valiant effort on all parts, I have to say, nearly all of these singles fell flat.
I'm not sure if it's because I crave nostalgia or because I'm a 48-year-old trapped in a 21-year-old's body, but I love Celine Dion more than I can begin to explain. She released four new songs this week — "Imperfections", "Courage", "Lying Down" and "Flying On My Own." The standout for me was "Lying Down," which demonstrated all of the things Celine does best. It's a soulful power-ballad that feels reminiscent of her old songs, but doesn't feel dated. "Courage" has a similar feel as well. 
Sadly, I think "Imperfections" and "Flying On My Own" share the same fatal flaw – they center around a poorly executed attempt to fit in with mainstream music. Both songs feature synth-heavy, electronic background music — something that feels strange and out of place next to Celine Dion's warm vocals. I do believe her original sound stands the test of time, but any attempt to cater to "what the kids are listening to these days" feels forced and uncomfortable. 
Mike Posner, who we can credit for the famed 2010 summer bop "Cooler Than Me", also dropped his single "Slow It Down." Three words come to mind when the lyrics begin: spoken word poetry. 
While the piano in the background is pretty, the words themselves resonate like a motivational-speech-turned-life-story that nobody asked for. 
The song definitely has some redeeming lyrics, like "The divine light in me loves to glow in the dark," however, just moments before we have to endure "My foot hurts, I didn't get sleep, my dad died, my horoscope ain't in sync, I'm misunderstood and Twitter is ruthless."
The new Hootie & the Blowfish song, "Miss California," exudes early 2000s roadtrip energy. The light guitar melody that opens the song followed by lead singer Darius Rucker's gruff voice are the chill beats of the past. The song sounded much like all their others have, and while it didn't excite with anything new, it also didn't try to be anything it shouldn't have. Perhaps Hootie & the Blowfish walked so that Counting Crows, Nickelback and Matchbox Twenty could also walk.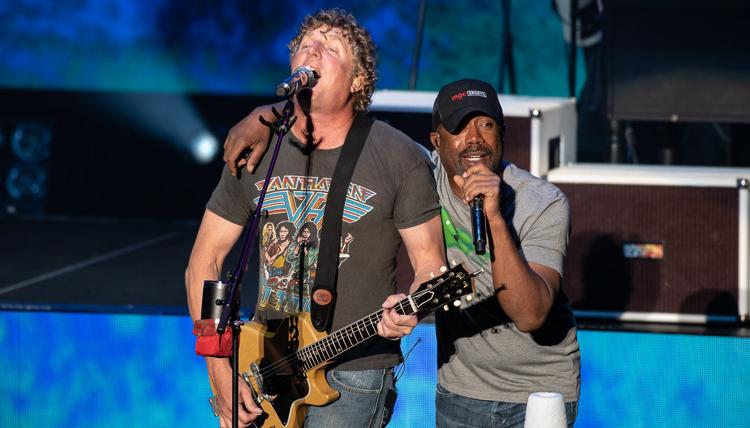 Sir Mix-A-Lot, Macklemore and Prometheus Brown are all featured on Travis Thompson's single Glass Ceiling. I think each rapper was able to bring their own flair to the song and for the most part this works cohesively. While I do think the shift to Sir Mix-A-Lot's piercingly unique voice is hard to ignore, I don't necessarily think it doesn't still fit.
Several contemporary artists also released singles this week.
Maroon 5 is still putting out the same song with slightly different lyrics. "Memories" is slow and never really comes to a climax. The chorus is indistinguishable from the rest of the song and frankly it's not sad or pretty enough to be interesting at this tempo.
FINNEAS, Billie Eilish's super cool brother, put out one of my favorite songs of the week. I Don't Miss You at All is a song to shimmy to. The instrumentals remind me of the song that plays when you create a Mii on a Nintendo Wii in the best way possible. The lyrics tackle that post-breakup desire to just forget your ex entirely, and though incredibly relatable, they're still interesting. A standout line for me was "All but forgotten about those eyes, the shade of green that if he'd seen would make F. Scott Fitzgerald cry."
Other honorable mentions include Hailee Steinfeld's Afterlife, Lauv's Feelings and Liam Payne and A Boogie Wit da Hoodie's Stack It Up. These pop singles were exactly what I expected from artists that frequent the radio and I imagine they'll make it into heavy rotation. 
Less mainstream artists also impressed this week. GOLDN's "hurt people" had a catchy, sad beat that you could dissociate to in your car. MIKA's Tomorrow, Soccer Mommy's "lucy" and Georgia's "Never Let You Go" all have an indie vibe that's easy to jam to.