What began eight years ago as a friendly pesto competition between a small group of neighbors grew into a community event where basil is far from the main attraction. Tri Cycle Farms' eighth annual Pesto Fest on Sept. 7 offered buffet-style food, live music, hay bale seating and, of course, plenty of pesto.
The anticipated pesto contest featured 13 variations of the spread. Next to each bowl of pesto was a complete list of its ingredients and a tray of crackers and crostinis to use for sampling. At the end of the line, guests voted on their favorite pesto.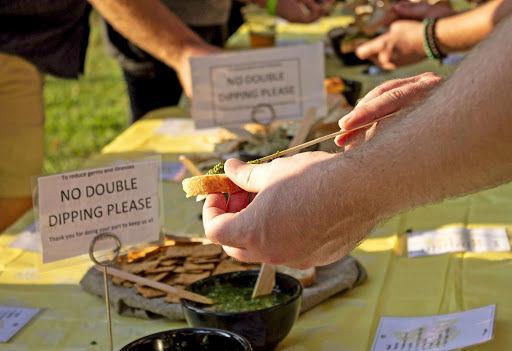 The lineup included both traditional and experimental pestos, some boasting the trademark basil green, some lighter in color and all varying in texture.
We sampled all 13 pestos, giving each a final score determined by several judging criteria––taste, texture, ratio of ingredients, creativity and wow-factor. Here were some of our favorites and least favorites.
#2  The second pesto did not disappoint. A combination of classic and unique ingredients, it featured peanuts, basil, cilantro, canola oil, white miso, sesame oil, garlic, ginger, chili flakes and lemon juice. This pesto had the perfect oil-to-leaf ratio, with the added perks of being vegan and gluten free.
This one captured the hearts of the judges, winning awards for most creative and best pesto.
SCORE: 7/10
#4 This pesto ranked as one of the most creative for us. With all the basic ingredients of basil, pine nuts, garlic and olive oil, the base was strong and with the addition of Thai chilis, red seedless grapes and Himalayan pink salt, the flavor became one that really stuck out to us. This pesto won the people's choice vote, so we were not alone in our praises. Additionally, the chef behind this one was a ten-year old boy named Aziz, who said his addition of the grapes served to cool off the spice from the Thai chilis. 
SCORE: 7/10
#6 This pesto straight off the bat was a serious contender for our personal favorite. Not only was its vibrant purple color an immediate wow factor, it's uniquely tangy flavor felt like a nice break from the richer, heavier pestos tried before. The color came from the purple basil leaf that was the star of this pesto, and the tangy flavor was certainly a result of goat cheese and lemon juice. Also in this pesto was roasted garlic, Nocellara olive oil, Maldon salt and pistachios, which added a pleasant flavor without overwhelming. Our only qualm was the consistency, which we think teetered on the line between pesto and hummus as it was pretty thick.
SCORE: 8/10
#8 With its unique flavor profile and hearty texture, pesto number 8 was our personal favorite. While we had initially been skeptical that the long list of ingredients – basil, brazil nuts, spinach, arugula, artichoke hearts, garlic, olive oil, lemon juice, apple-cider vinegar, balsamic vinegar, honey and salt – would be overwhelming, the balance in the ratio of all these things still allowed it to keep the integrity of what we think pesto should taste like. The artichoke heart, which we would never have expected to enjoy in something like pesto, was the standout ingredient, adding a richness we really enjoyed. 
SCORE: 9.5/10
#10 This pesto made us parched. While it has mostly familiar ingredients – basil, olive oil, parmesan cheese, garlic, pine nuts, black pepper and red chili flakes (which we could not really taste) – the main ingredient here seemed to be salt. The excess oil made it soupy and unpalatable and it was difficult to get a good taste of the flavor profile beneath all the salt. 
SCORE: 3/10
#12 The penultimate pesto ranks the lowest on our scale. It featured a unique list of ingredients, the strangest being lemon balm, natural yeast and cherry tomatoes. This pesto presented a combination of flavors we had never tasted and were not particularly fond of. We think this is probably because the natural yeast, which is sometimes used as a vegan cheese substitute, and the lemon balm, which made the pesto taste like flowers. While I'm sure this combo suited other tasters, it definitely wasn't up our alley.
SCORE: 1/10
The remaining pestos received the following scores:
#1 SCORE: 5/10
#3 SCORE: 6/10
#5 SCORE: 3/10
#7 SCORE: 4/10
#9 SCORE: 7/10
#11 SCORE: 4/10
#13 SCORE: 8/10
Though not every pesto left an impression, the rest of the festival certainly did.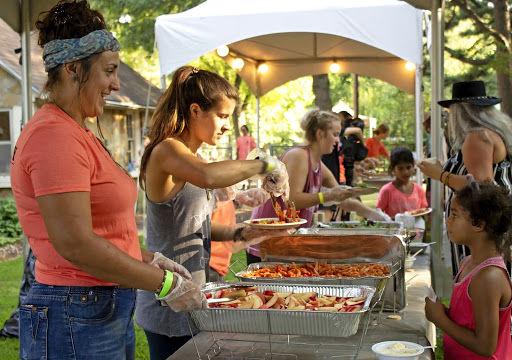 All of the food served at the festival was recovered through Whole Foods Market, a primary sponsor of the event, said Tri Cycle Farms President Ashley Stone.
Tickets were $30, and proceeds went towards operations and programming costs for Tri Cycle Farms. The event, which is their biggest fundraiser, has more attendees each year, said Volunteer Coordinator Karley Kindberg. 
Through their food recovery program, Tri Cycle staff members go to Whole Foods five days a week to salvage food that is still safe to eat but cannot legally be sold after its sell-by date, Stone said. Tri Cycle distributes the food to 17 locations every day, serving schools, churches and shelters like Seven Hills Homeless Center.
"Every time we throw food away, it creates a new demand to clear more land to grow more food that's wasted again in an endless cycle," said Tri Cycle Farms Vice President Justin Taylor. "So, if we can reduce some of that demand and save some of that good food, we're not only feeding people, but we're saving our habitat and creating a carbon sink."
In addition to Whole Foods, the event had several local sponsors and donors, including Arsaga's, Slim Chickens, Greedy Goats and Ozark Natural Foods.
All of Tri Cycle's events are volunteer-only, so sponsors and donors are crucial to sustaining the farm, Stone said.