The UA Department of Theatre delivered a creative retelling of Moliere's classic comedy "Tartuffe," taking smart and humorous jabs at religious zealotry against a vibrant futuristic backdrop.
"Tartuffe," among the most famous of Moliere's plays, tells the story of a seemingly pious religious phony and his manipulation of the family who takes him into their home. First performed in 1664, the original version of the comedy skewered the French Catholic Church, but the plotline presents an excellent opportunity for satirical modern retellings.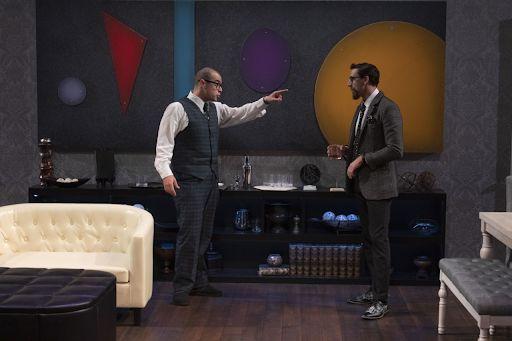 The UA production, which opened Friday, seized this opportunity by setting the story in the near future in the home of a devout Scientologist family. Tartuffe is a self-righteous representative of the religious organization who, after falling on hard times, was taken into the family home of gullible, well-to-do businessman Orgon prior to the events of the play.
Orgon and his mother, Madame Pernelle, are true believers who not only think Tartuffe is a very holy man, but see him as an earthly representative of the Supreme Being. Orgon's wife Elmire, son Damis, daughter Mariane, brother-in-law Cleante, maid Dorine and Mariane's fiance Valere are not so enamored with Tartuffe. In fact, they despise him.
The UA production used an English translation of "Tartuffe" written by Richard Wilbur in verse instead of prose, which Moliere's original French version employed. Director Steven Marzolf said he chose Wilbur's translation in order to challenge the actors. The rhyming couplets that make up the script are reminiscent of Shakespearean verse style and create a striking juxtaposition with the futuristic setting of the play.
The preview I attended featured a few line fumbles, costume/prop mishaps and character breaks (a pair of tear-away pants that didn't quite tear away, drawing laughter from the actors on stage, comes to mind). However, the overall acting was quite solid. The cast's performance was especially impressive given the difficulty in making rhyming dialogue interesting and understandable.
Riles Newsome, an acting masters student, shone as the flamboyant and raucously funny Tartuffe, whose religious hypocrisy and lust for Elmire are clear to everyone but the naive Orgon. Newsome's mastery of physical comedy helped overcome the sometimes-tiresome old-fashioned language that comprised the play's dialogue. Newsome and fellow masters student Grace Taylor (Elmire) had excellent onstage chemistry that made their one-on-one scenes the best part of the play.
Anna Grace Estes' and Gabriel Franco-Kull's performances as the passionate, somewhat hot-headed Dorine and the sensible, intellectual Cleante were also notable. The two characters both see through Tartuffe's veneer of holiness but take different approaches to trying to persuade Orgon to see him as they do. Estes, a senior theater major, and Franco-Kull, an acting masters student, both used a slightly exaggerated style in their physical and verbal acting which may have been excessive in a different production but complemented the grand style of Wilbur's iteration of "Tartuffe."
The real star of the show was the design work. Scenic designer Kathleen Holmes went above and beyond to create an immersive experience by decorating the Global Campus Theater's lobby with huge reproductions of Scientology promotional posters, a cardboard cutout of Scientology's charismatic founder L. Ron Hubbard and a television playing a compilation of clips from real Scientology propaganda videos.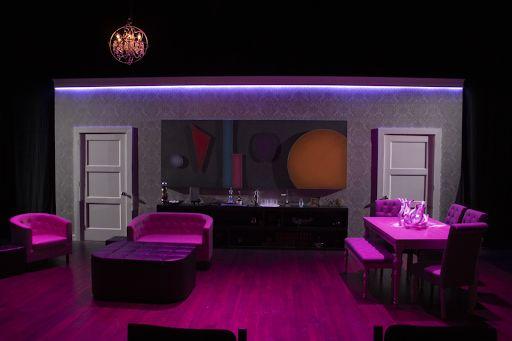 The sound design was also excellent. Before the play began, the audience was treated to jazzy elevator music cut together with soundbites from some of L. Ron Hubbard's rambling speeches, and a similar track played as a lead-in to the second act after intermission. The effect was both humorous and a bit chilling in light of the many controversies that swirled around Hubbard during his life and continue to plague his organization today.
My only real complaint about "Tartuffe" is that the performance itself did not do enough to incorporate the Scientology angle.  Aside from a short opening scene wherein Orgon's digital smart-home assistant plays him a clip of an anti-psychiatry tirade by Church of Scientology  leader David Miscavige, Scientology is not directly referenced in the play at all.
If it weren't for the opening scene and the Scientology symbols featured on the walls of Orgon's home, an audience member might not even know what religion Tartuffe preaches and Orgon devotedly follows. This is a shame because I thought using Moliere's classic comedy to satirize Scientology, one of the most controversial and widely mocked modern religious systems, was a brilliant idea.
UA Theater's production of "Tartuffe" will probably be most enjoyed by lovers of satire and theater buffs, such as myself. The casual viewer might find the rhyming dialogue a bit tedious and difficult to understand and may not fully appreciate the play's modern spin without prior knowledge of the many oddities of the Scientology organization. However, I feel that quality casting, creative design work and substantial physical and situational humor make "Tartuffe" a worthwhile watch.
"Tartuffe" runs through Oct. 27 at the UA Blackbox Theater in the Global Campus building on Center Street.