Walt Disney Pictures, the studio behind the last several years' best and worst blockbusters, made a return to its live-action fairytale department with "Maleficent: Mistress of Evil," to mixed results.
This particular sector of the company is perhaps its biggest wild card in terms of quality. That is, unlike divisions such as Marvel and Pixar, which are generally consistent, Disney's live action sector tends to be something of a mixed bag. This becomes apparent when you consider that the studio behind recent gems "Christopher Robin" (73% Rotten Tomatoes score) and "Mary Poppins Returns" (79%) could also in quick succession produce embarrassments like "The Nutcracker and the Four Realms" (33%) and "A Wrinkle in Time" (42%).
"Maleficent" is just the latest entry into Disney's catalogue of certified-rotten live action offerings this year, following "Dumbo," "Aladdin" and "The Lion King." This is troubling for a studio who relies so heavily on the classic intellectual properties (IPs) entrusted to this division. It's one thing for an original idea or two to miss the mark, but when all four of your big budget, live-action fairy tales get slapped with negative reviews, there might be reason to be nervous. 
Given, it's not all bad news — this critic thoroughly enjoyed "Dumbo" — and "Aladdin" and "The Lion King" each made over a billion dollars at the box office. But still, one has to wonder, why isn't Disney being more careful with its cherished, iconic IPs?
You're sure not going to find the answer in this delayed sequel to "Maleficent."  
Directed by Joachim Rønning, one-half of the team behind the insipid "Pirates of the Caribbean: Dead Men Tell No Tales," the film is one of the most visually beautiful and generally entertaining Disney misfires of the last few years.
Clearly operating on seat-of-the-pants storytelling, it's obvious little to no foresight went into the idea for this sequel when Disney released its forebearer. It suffers from the classic Hollywood habit of putting setup before story, and as much is apparent in the film's messy exposition sequences.
The movie continues to explore the relationship between Maleficent and Elle Fanning's Aurora. At the start of the film, we're essentially told that the happy ending of the first installment has been reversed and is now, of course, irrelevant. We're asked to suspend our disbelief long enough to buy into whatever antics the screenwriters have scrambled together for us.
There's just really no reason for this film to exist in a franchise that, creatively speaking, could barely support its first installment, let alone an afterthought for a second.
Most, if not all, of the creative choices here are baffling. Disappointingly, Angelina Jolie, the namesake of the movie, looks stunning but is used sparingly. Both films in the series are at their best when they allow her room to move around in a role that she's clearly born for — the few opportunities we have to see her flex her villainous muscle are the shining points of the story.
But that's just it — in this film, most of what goes on with Jolie has nothing to do with evil. Generally, she's simply reacting to ridiculous scenarios around her that would rightly set anyone of any temperament off. This is frustrating in part because she actually proves to be one of the most sensible, reliable characters of the bunch. Given we kind of paid to see her be the Mistress of Evil, this becomes a bit boring.
Beyond that, the situations that do create narrative strife, and some genuine moments of would-be intrigue, are thinly established and so avoidable that it's kind of ridiculous to go along with them as long as the script expects us to. I mean, this is a plot that benefits only from one completely unrealistic misunderstanding between characters after another, and progresses only from the refusal of anyone in the film to compare notes with one another. It's hardly a believable central conflict, and it makes it difficult to take anyone's melodramatic lashouts very seriously.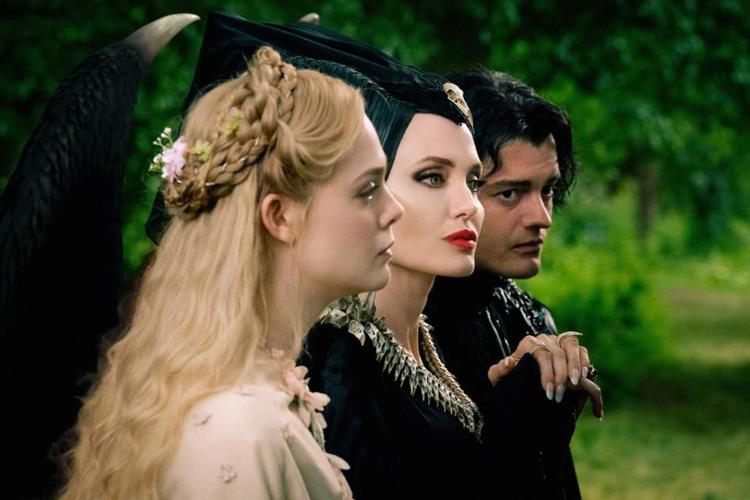 I'm most of the way through this review and haven't even mentioned Michelle Pfeifer's role yet. That's probably doing her a favor, considering hers is the most asinine in the movie, entirely derivative and yet somehow still overwritten. She's a lovely actress, but c'mon, don't stick her in the most poorly written villain role of the year and expect a miracle. As the tyrant mother of Prince Phillip, it doesn't get much more over the top than this.
And yet, the film somehow manages to be thoroughly entertaining. It's almost like watching some kind of gigantic, $185 million episode of reality television. Except this particular episode stars an iconic Hollywood actress and boasts some of the most dazzling visuals ever put to screen (that final battle sequence is lengthy and insanely violent for a PG-rated film, but man, it's cool to look at). Because all of the drama is so senseless, so theatrical and yet so inherently unnecessary, it somehow becomes all the more satisfying.
Because of that, "Maleficent: Mistress of Evil" manages to rise above its below-average brethren. Like those films, it has little reason to exist, and probably even less. But thanks to some knockout CGI battle sequences and several extremely high profile catfights, I didn't mind sitting through it.
Rating: PG
Rotten Tomatoes: 41%
Traveler Score: B-