Ted Sanders sat at a table at the Washington County fairgrounds with his wife and other members of the Spa City Beer Geeks, munching on pretzel necklaces and sampling beer from 56 different breweries. This is just one of many beer festivals Sanders and his friends will travel to this year.
Frost Fest, Fossil Cove Brewing Company's annual beer festival, has attracted beer enthusiasts like Sanders for the last five years. The brewing company partnered with Apple Seeds NWA and Barley, Hops and Water to put on this year's event, which drew 2,000 guests and a variety of food vendors and breweries. The festival also featured live music and art.
Some members of the Spa City Beer Geeks, a group of beer lovers from Hot Springs, have traveled to Fayetteville for Frost Fest for the past few years. Sanders has been to beer festivals all across the country, including ones in Florida, Missouri and even Hot Springs, but thinks Frost Fest is one of the very best, he said.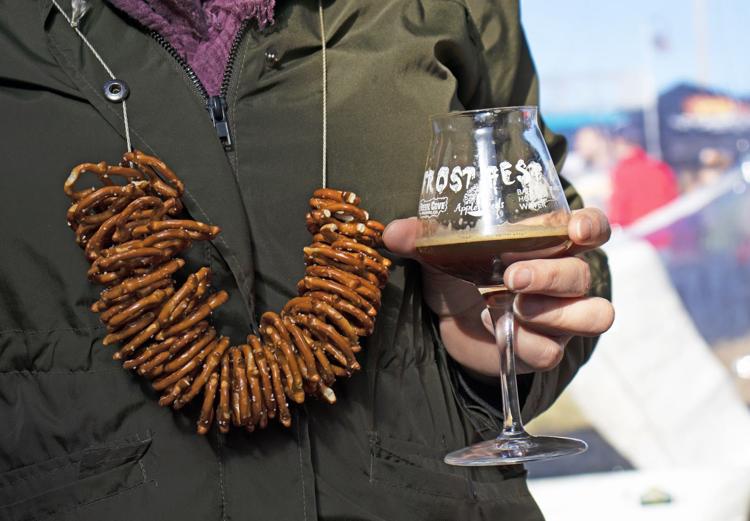 "Frost Fest is something we talk about constantly," Sanders said. "Being able to sample all the different beers and be around other beer geeks is, without a doubt, the best part."
Andrew Blann, event coordinator and manager at Fossil Cove Brewing Co., said Frost Fest benefits the participating breweries by bringing them exposure and by giving the beer community an opportunity to get together during the winter off-season.
"When you're brewing, you're kind of in your own world," Blann said. "You're in your brewery doing your own thing, so it's nice to get out there and talk to other people, see what they're doing and try their beers for inspiration."
BeaverTails Mobile Fayetteville, a franchise food truck that sells canadian pastries and poutine, has been a vendor at the past three Frost Fests. Beth Lingar, the Fayetteville franchise owner, said the event is something they look forward to every year.
"This is one of our favorite events," Lingar said. "Everyone here is always in a great mood, and we get to go around and sample the beers too."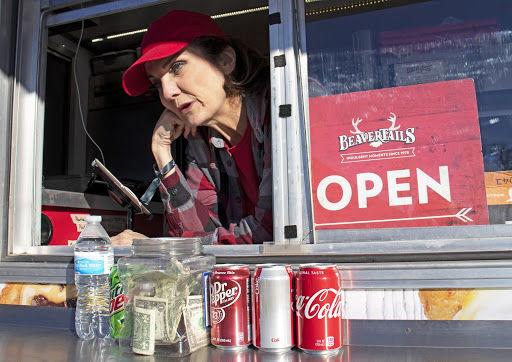 Beyond the beer and food, Fossil Cove also brought in live music, starting the event with a set from Monk is King. The band performed at Frost Fest for the second year in a row, playing original songs and covers.
Bassist Bill Smylie said Frost Fest is one of the band members' favorite events to play at, both because they get to sample the beers and because the band's funky, soulful style fits well with the fest's mixed bag of people.
The band was invited to play by Fossil Cove's team, said Lead Singer McCormick Carlson.
"There aren't a whole lot of events in the winter, so Frost Fest really holds the town over," McCormick said.
From beer enthusiasts to casual samplers, the event had a cider, seltzer or beer for all tastes, even beer dog treats from Beer Paws – a company that works with local breweries to make treats and drinks from safe ingredients for pets.
"It's hard to have a bad time at a beer festival," Blann said. "We try to create an experience that makes the brewers excited to come here and hang out. If the brewers are excited to be here, even more good energy is going to go to the attendees."