Benefitting from unique storytelling methods, UA Theatre's production of "Tribes" immerses the audience in a world of hate, love and redemption that highlights the difference between listening and understanding.
The UA Department of Theatre is presenting "Tribes," which opened Nov. 15, as an MFA directing project in a two-week run.
The semi-comedic drama by English playwright Nina Raine tells the story of Billy, who was born deaf, Sylvia, who is going deaf, and Billy's sister, brother and parents, who can hear. After Billy and Sylvia meet at a deaf artist's exhibition one night, a chain reaction begins that changes all six characters permanently. The story is an important one that showcases the struggles deaf people can face in finding acceptance and inclusion from their families, their communities and themselves.
The theater department's production presents a very unique viewing experience because each of the two acts is directed by a different first-year MFA directing candidate. Act 1, directed by Lacy Post, and Act 2, directed by Huan Bui, each feature a separate cast and creative choices. The two jarringly different acts seem almost to be two distinct plays, yet they manage to come together in an artful and satisfying way.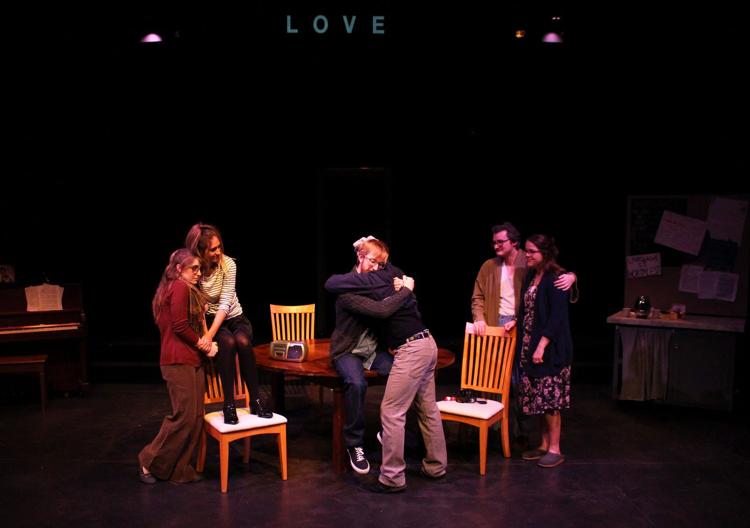 Both acts featured artistic elements I thought were imaginative and powerfully symbolic. In Act 1, Post chose to give Billy's deafness and communication challenges a tangible physical representation. Tristan Sutterfield, a junior who played Billy in the first act, carried a microphone stand with him throughout every scene.
In Act 2, Bui had the actors participate in the set changes rather than making changes between scenes, using the changes to signify major moments of character development. The setpieces collectively became an important seventh character in the play.
"Tribes" was also well-cast and well-acted. The two casts meshed well together and seemed to be the best fit for the storylines unfolding in their respective acts.
Sutterfield, a hearing actor, was excellent as the timid, gentle and emotionally perceptive Act 1 Billy, who is just beginning to come into his own and find his place in the world as a deaf man. Brendan Wolf, a freshman, gave a beautiful, emotionally devastating performance as Act 2 Billy. Wolf's Billy is a man not afraid to demand what he was deprived of in childhood, whose defiant silence speaks deafening volumes. Watching Wolf's Billy soar, fall and find redemption in the arms of his family, all in the course of a few scenes, was a truly moving experience.
Also noteworthy were  Zach Hobby, a junior, and Jakob Alex Nilsson, a senior, as Billy's brother and father in Act 1 (although Grayson Unzelman and Erik Newton were certainly impressive as those characters in the second act). Despite a less-than-ideal English accent, Hobby's Daniel, a rudderless academic with an inferiority complex and probable schizophrenia, was both raucously funny and heart-wrenchingly tormented. Nilsson's performance as the eccentric, insensitive and even cruel Christopher was so convincing that he made me truly despise the character (while begrudgingly finding him hilarious).
Price Gerritsen, a sophomore, gave perhaps the most impactful performance of the play as Act 2 Sylvia, who struggles to accept her rapidly progressing hearing loss despite introducing Billy to the "tribe" that is the deaf signing community. I was incredibly moved watching Gerritsen's Sylvia battle with her heartbreak as she watched an important part of her identity slip away.
Priscilla Scanlan and NeCol Whitehead of Sources for Community Independent Living Services also deserve recognition for serving as American Sign Language consultants for the production. Their help teaching the actors who play deaf characters to sign was clearly integral to creating the most realistic and meaningful show possible.
Raine's script, while a bit repetitive at times, is exceptional, and the level of talent showcased in the theater department's production is impressive. "Tribes" is a story that should be experienced by as many as possible, and the actors', directors' and designers' efforts make it well worth experiencing.
"Tribes" runs through Nov. 24 at the Walton Arts Center's Nadine Baum studios on Spring Street. ASL interpreters will be present at the Nov. 23 show to make it accessible for the deaf and hard-of-hearing.