Walking into the small, chai-tea-scented room, the first thing Lillie saw was the smile of a friendly, experienced tarot card reader and a wooden table with a deck of cards shuffled neatly on top. 
Charlotte Winchester is a tarot card reader at The Four of Wands, a metaphysical supply store in Fayetteville, where she works reading people's tarot cards, she said.
Consisting of 88 symbolic cards, tarot serves as a psychological guide to self empowerment, according to Fashion Magazine. 
Winchester's advice for first-time tarot card readers is to pick the deck they are drawn to, she said. She knows that many tarot card readers are new and that others might find it a little intimidating, she said.
Using a recoloring of the Rider-Waite tarot card deck, Winchester reads for UA alumna Lillie Guy on a monthly basis. 
The two met when they played Dungeons & Dragons together, and a year later, Guy made a visit to The Four of Wands. 
"She really seemed to enjoy (her first reading)," Winchester said. "From what I can remember, I think she came with her boyfriend's mom and they both had a reading. They both really enjoyed it and thought it seemed really accurate."
While Guy can read tarot herself, she goes to Winchester for a more professional opinion and to learn how to read better, she said.
For different people, the cards can have different meanings and outcomes for the person receiving the reading, Guy said. While there are books and lessons that describe the meaning, people typically interpret the cards based on how a picture makes them feel about the cards.
With multiple decks of tarot cards of her own, Guy said there is one that she feels particularly drawn to: the Ethereal Visions illuminated tarot deck. 
Struck by the friendly atmosphere of the Four of Wands, Guy thinks the shop serves as a sanctuary for people with different perspectives to discuss tarot card reading, she said. 
"To me it's just kind of a great way to kind of sit down and see things laid out in front of you," Guy said. "You know, if you've got some situations you are trying to deal with, or you're trying to figure out what's going on, it's kind of like getting a second opinion on things."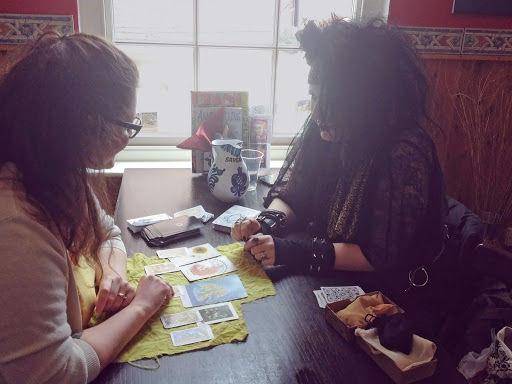 The Four of Wands offers tarot-based monthly events for beginner, intermediate and advanced readers, Winchester said.
The instructors split the attendees into groups, and the group members read the tarot cards for each other, Winchester said. Everyone brings their own deck of cards, and they all learn from each other.
Although some of Winchester's relatives also consider themselves psychic, Winchester is the first in her family to read tarot cards, with about 16 years of experience, she said. 
Sophomore Victoria Trammell began reading her own tarot cards last December because of her love for the supernatural and realized they are a great resource to understand the future, she said. 
Tramel's cards predicted three breakups that happened within a week, including her own, she said.
Although Trammell has heard of the Four of Wands and what it offers, she has not been yet, but plans to visit the shop in the future, she said.