Once the crowd on the dance floor had formed a path for her, Latrice Royale lip-synced her way into the spotlight. Dressed in a rhinestone-covered jumpsuit and a big wig, the world-famous drag queen lit up the C4 Nightclub & Lounge dance floor Friday night.
Famous for her performances on the reality show "RuPaul's Drag Race" and its spinoff "RuPaul's Drag Race Allstars," Royale came to C4 Nightclub & Lounge as a special guest during the nightclub's annual "Next Top Entertainer" competition.
Royale performed "Fantasy" by Black Box in a white jumpsuit with a rhinestoned "L" on the chest. The crowd was ablaze with applause and cheers while Royale danced around the tightly packed dance floor to collect tips from audience members.
For her next performance, Royale changed into a red, yellow and blue dress, donned a short black wig and gave a soulful performance of "Think" by Aretha Franklin.
Throughout her performances, Royale stressed the importance of self-love and confidence. She also advised the crowd to disregard race and physical appearance when searching for a significant other.
"Know that you are worthy of love," Royale said. "You're worthy of all the happiness and joy that your heart can hold, and don't let nobody tell you different."
Jamie Wilson, the owner of C4 Nightclub & Lounge, thinks it is important to bring strong performers like Latrice Royal to Northwest Arkansas so LGBTQ youth can have someone to look up to, he said. 
"When you get to bring someone who could possibly be someone's hero into this small town and they get to meet them for the first time, it's breathtaking at times," Wilson said. "Last year when we had Thorgy Thor come, there was this little girl in the audience who just looked like she was going to pass out."
But booking famous drag queens in Arkansas can be difficult, especially when they have offers from across the world. The fee itself can be a strain, like when Manila Luzon performed November 3, 2017. The show had weak attendance and poor ticket sales — both of which led Wilson to only book famous drag queens for special events, he said.
UA graduate assistant Jeremy Stuthard, who performs as drag queen Taylor Madison Monroe at C4 Nightclub & Lounge each weekend, appreciates everyone coming out to see more famous queens like Royale but thinks it is important to remember to support local queens, as well, he said.
"It's a double-edged sword," Stuthard said. "A lot of people will come out and see this person they've seen on TV perform, and that's the only time we see them."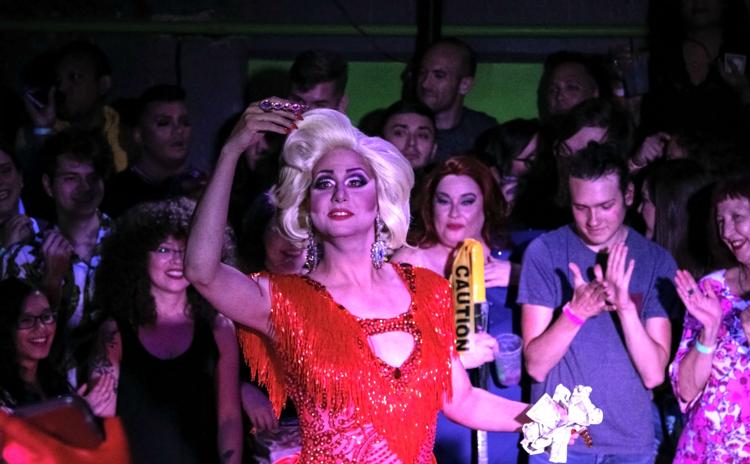 Wilson also stressed the importance of supporting local performers, saying, "RuPaul is just a fraction of what the world of drag entertainment is."
C4 Nightclub & Lounge will be presenting "A Night Out with the Boys" Friday, June 28, at 9 p.m. featuring renowned drag kings Landon Cider and Axel Andrews. Tickets for the event range from $8-20.