A florist-designer made her return to Northwest Arkansas Fashion Week this fall with pieces ranging from a faux-fur coat draped in white roses, baby's breath and white hydrangeas to hats and crowns adorned with varieties of flowers.
Designer Diana Thompson, who owns Samantha's Garden, a floral design company based in Rogers, showcased her clothing creations at NWA Fashion Week for the second year in a row, with this year's collection, Love in Color, focusing on a more vibrant look.
"The floral technique is different this year, and we're using a lot more blooms than we've ever used before," Diana Thompson said. "We're also using more moss and incorporating other materials like metals and leather, which we've never done before."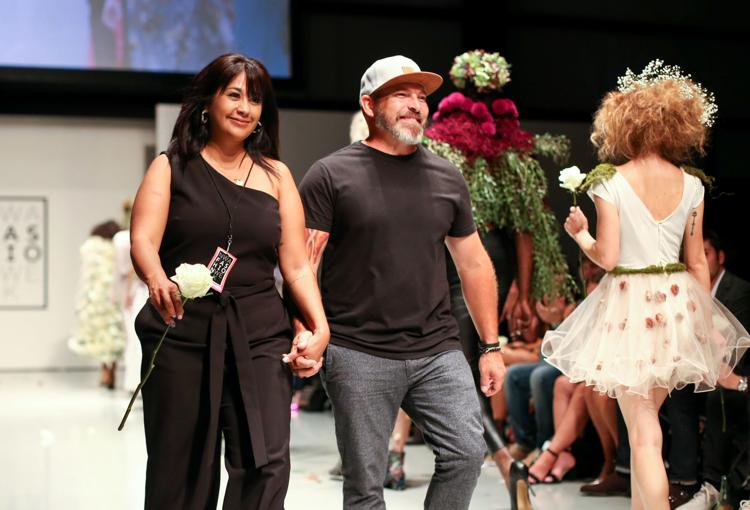 From dresses and skirts to belts and headpieces, each of the 15 designs in the collection incorporated both natural elements and traditional material garments. One look featured suspenders, a bow tie and hat all made of moss. Another showcased a bandeau-style top made of tropical pink, purple and blue flowers. The collection also included a vest made of intricately woven vines and bright magenta flowers.
The team cannot begin to bring the pieces to life until the day before the show, as the flowers are all live and need to be kept as fresh as possible, said model Alie Thompson, who is Diana Thompson's daughter.
"It's definitely nerve-wracking walking the runway, especially because you are kind of committed to making sure the flowers don't fall," Alie Thompson said. "But the designs are really unique, and you don't see a lot of fashion with live flowers."
Alie Thompson, who also works as an event planner and coordinator for the floral design company, has walked in NWA Fashion Weeks for both of Samantha's Garden's collections.  A recent college graduate from The International House of Prayer University, she plans to continue working with her mother and doing more modeling.
Samantha's Garden is a faith-based company that centers their floral designs around the idea of restoration, faith and strength, according to Samantha's Garden.
Diana Thompson considers Samantha's Garden a ministry as well as a floral design company, using their floral designs to represent love and grace, she said.
Samantha's Garden, which donates 10% of all their proceeds to support women and children in need, partners with the Dunamis Foundation in Ecuador, a non-profit organization that helps rescue and rehabilitate underaged women who have been sex trafficked. Diana Thompson offers the rescued women jobs at Samantha's Garden's greenhouses, where they can go through a program that might result in a job offer from the company, she said.
"(Organization members) teach gardening as a form of healing," Diana Thompson said, "So the flowers really have a great purpose."
The Arkansas Fashion Week non-profit, founded in 2014, organizes NWA Fashion Week twice a year, in Bentonville in the spring and in Fayetteville in the fall. All proceeds from both shows go toward the Arkansas Arts and Fashion Forum, according to NWA Fashion Week