In terms of production value, Hobo Johnson's second album is no let-down, but it's definitely a put-down, with a slow-build of raw emotion that fits the album's title: "The Fall of Hobo Johnson."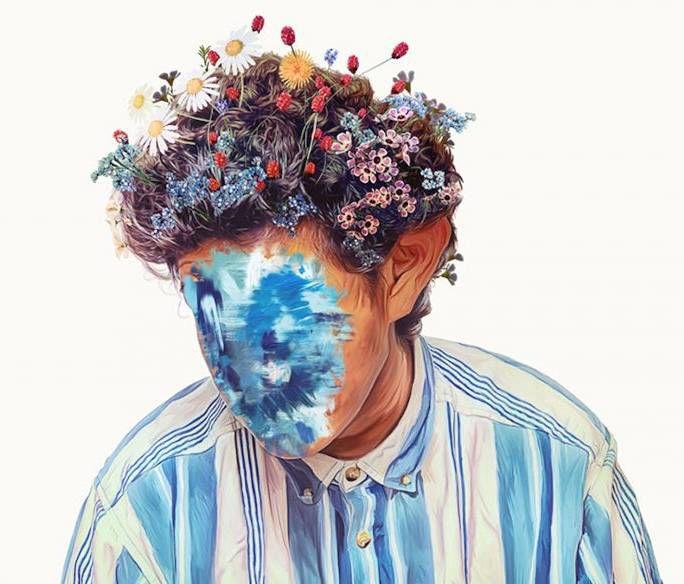 Starting off with "Typical Story," Hobo Johnson, born Frank Lopes Jr., goes all in. This is definitely not the song to start with for first-time Johnson listeners, but for those of us that have been around since his 2017 debut "The Rise of Hobo Johnson," it slaps. The desperate, angry energy of it reminds me of The 1975's latest release, "People," where the band just kind of screams. I'm down for that to just be a coincidence, but the idea of more musicians letting loose is super appealing to me.
Now, for the first-time listener, "Mover Awayer" is more where it's at. Growing in complexity throughout its run, the song never gets to be too much to handle like some of the other tracks. 
Speaking of too much to handle, "Uglykid" featuring Elohim is the sign of the times with this album. From here on out, the third track out of 12, the album reads more like a series of diary entries from an increasingly disturbed, depressed guy. And that's super on-brand for Johnson, so I'm cool with it.
While most of Johnson's tracks have been more introspective, this album sees Johnson looking outward and lending some commentary to world events, like President Donald Trump's dealings with North Korea in the fourth track titled "You & the Cockroach." 
"You & the Cockroach," contrary to its title is a thoughtful analysis of religion and government under the guise of a metaphor about a cockroach. Honestly, the metaphor part of the song gets a bit jumbled, especially when the references to real-life current events are so overt, but Johnson offers some nuanced insight that I hope to see more of in future releases. 
OK, so if you followed my advice as a first-time listener to start with "Mover Awayer," first of all, good job, like, wow you listened, but second of all — "Subaru Crosstrek XV." If you have plans any time soon to walk down a somewhat crowded street with headphones in, turn this on and enjoy.
The only real flop on the album for me is "Moonlight," a disjointed bowl of genre soup that feels like it's building to some revelation but never really gets there. 
The next track, "Happiness," drags a little as Johnson recounts a past relationship, using the experience to add more fuel to what seems to be the album's theme: life isn't a big deal, but everyone is worried about death.
From "You & the Cockroach" to "Happiness" to the stripped back eighth track "All in My Head" (Listen with headphones, thank me later.), Johnson seems to be getting close to a real breakthrough that quickly takes a downturn with "Ode to Justin Bieber," featuring Jack Shoot and JMSEY. 
Despite how much of a bop it is at times, especially in the beginning, the song fails to deliver on its premise: an ode to Justin Bieber. Apart from a couple of short references to Bieber's quick rise to fame at a young age, Johnson fails to deliver the meditation on fame that he hints at throughout the song. 
The song does serve to remind the audience of Johnson's background, though, with lyrics like "I came a long way from sleeping in my car by the park." Lines like these reinforce the honesty and emotion that carry on to "February 15th" — the saddest song on the album that, for some reason, seems to be a live recording. Throughout the song, when Johnson screams that he's "gonna feel alone forever," the crowd roars back in approval, which makes sense but is a little jarring. Near the end of the track, though, Johnson says, "in a couple years, I will pay to make it stop," and is met with enthusiastic applause. The live element of the song, depending on how it's interpreted, is either a confused mess or a seriously intense look at just how fame has affected Johnson.
Johnson keeps on with the death imagery in "Sorry, My Dear," where he basically begs to be killed. At this point in my straight-through listen, I started feeling super drained by just how dark Johnson was getting, especially with all the death talk. 
While his last album was punctuated with bits of nonsensical, fun stories to keep the sad songs from dragging, this one really goes hard with the harsh outlook on life with little reprieve, so be warned. 
To his credit, Johnson tries to end on a high note with "I Want a Dog," but it's hard to feel right about it after so many heavy, sad songs. 
Though hard to take in all at once, Hobo Johnson's sophomore album "The Fall of Hobo Johnson," is a 37-minute look inside Johnson's head that makes me excited to see what he brings next. Whether it be a 2-minute-35-second pump-up song about his new car or a 4-minute-2-second deconstruction of religion and confrontation of mortality, I'll be listening.