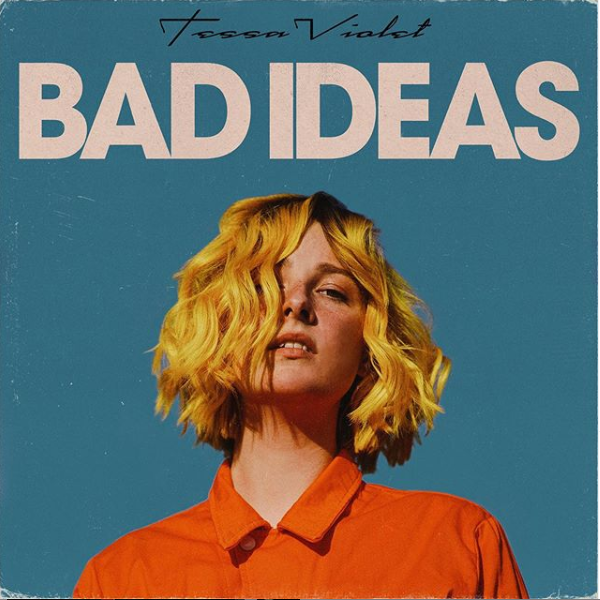 More than five years since her last album's release, Tessa Violet returned Friday with "Bad Ideas" — a sometimes-rad-mostly-mellow collection of 11 tracks that sees Violet find her footing as an artist. 
"Prelude," the first track on the album, offers a fair first look at Violet. With its smooth blend of acoustic guitar and Violet's dreamy voice, the song is easy-listening, but its lyrical flow marks a huge step forward for Violet, who seems to have struck a balance between mature messages and relaxed, carefree delivery. 
The album's second, third and fourth tracks, "Crush," "Bad Ideas" and "I Like (the idea of) You" were featured on the July 26 release "Bad Ideas (Act One)," a six-track EP featuring the songs along with three remixes. 
Although released as a single more than a year ago (June 15, 2018), "Crush" still holds up and has remained one of my favorite songs to bop around to, snagging a spot on my past few playlists.
While the wait time between single release and album debut didn't hurt "Crush," the title track never had quite the same edge. "Bad Ideas" is a fine song, but it doesn't go quite hard enough for me. 
Moving on to "I Like (the idea of) You," released as a single May 3, it's clear Violet formed a complete package in "Bad Ideas." With an acoustic, chill vibe spread throughout all 11 tracks, the album feels whole, both in concept and execution. 
"Games," the album's fifth track, distinguishes Violet as an artist who has perfected the stripped-back pop song — something artists like Halsey and Taylor Swift have tried recently with their songs "clementine" and "Lover," respectively. This trend toward more relaxed, lyric-focused pop music is something Violet's been perfecting since the start of her career, markedly seen in "Dream," the lead single off of her 2016 EP "Halloway." 
By the time I got to "Feelin," I was really wishing Violet would go off. I can't say the track disappointed me because the elements are there (the occasional robot-voice elements gave me a taste of the liftoff I wanted), but I can't help but wish the listening wasn't all so easy.
But then I turned on "Words Ain't Enough." Though not a liftoff by any means, the track wraps up the first six with a final mellow acoustic tune before Violet gets to her most experimental tracks on the album: the penultimate three. 
Whether putting the most interesting tracks near the end of the album is a wise move, I can't say. All I know is I wish "Bored" had come sooner. 
The Violet trademarks are there — the quirky bits included from the recording studio (which dominated "Crush") and the claps punctuating big moments in the song (which were first featured heavily on Violet's "Not Over You," which debuted on her first EP) — but "Bored" is something altogether different.
A true conglomerate of Violet's work so far, "Bored" is the standout from "Bad Ideas," shining as a loud, unapologetic anthem in a sea of mellow, rainy day bops. For me, the album's first seven tracks showcase the work Violet has done so far to perfect her acoustic sound, but the last four give the audience a destination. Or at least, I hope that's where she'll go more with future releases. 
Violet relaxes a bit from "Bored" with "Wishful Drinking," but the newness is still there in the departure from acoustic backing toward a more electronic sound. Not to say electronic sounds are new to Violet, who had a song on her first album dominated by them, fittingly called "Make Me a Robot," but the style is expertly put to use on both "Bored" and "Wishful Drinking." 
"Honest" is a slow build, but it's worth the wait as Violet continues to experiment with her sound, this time from a more depressed angle. Fitting the track's title, the lyrics are raw and melancholy with no metaphors or quirky sounds to hide behind.
Violet finishes off the album with "Interlude III" — a return to her acoustic sound, yet with a confidence that seems out-of-place given the song's content. A look at Violet's loneliness, the track is sad but fitting as a sendoff to the album.  
As a whole, "Bad Ideas" delivers. Though I wish the energy of "Crush" and "Bored" was spread across the entire album, I respect the more toned-down songs for Violet's clear growth as an artist — one who doesn't just stick to one thing, but who can turn out personality-driven hits like "Crush" and moody ones like "Words Ain't Enough" on the same album. 
It's clear this is more than an album; it's a snapshot of an artist. And when you mix authenticity with serious talent, well, that's an instant download for me.