Pablo Mota likes spending $180 on Dr. Marten shoes and not feeling guilty about it. For some, this would require finding a second job or saving extra money every month, but the economic impact of COVID-19 has made such ventures even more difficult. 
But for Mota, a Lowell resident, it has not been such a daunting task. Unemployed and stuck at home, he began selling explicit photos and videos of himself on OnlyFans in June. He now does so in addition to his job at a trampoline park, pocketing the extra cash. Although it is an unconventional source of income, Mota has found a new sense of comfort, financially and mentally, through his amateur sex work. 
OnlyFans, a website that allows creators to charge a flat, monthly rate for uncensored digital content, has experienced a surge in popularity in the past year. From March-August 2020, the platform gained more than 20 million users, according to Influencer Marketing Hub. The draw of being able to make money safely and on one's own time has become apparent to young adults. The bottom line: pornography isn't just for porn stars anymore. 
Mota, like most around the world during March of last year, was confined to his home without much to occupy his time. Some people took up baking, exercise, or crafting novelty coffees, while others took advantage of their new surplus of downtime by generating profit from their nudes on OnlyFans. 
"The booty models on Twitter would post how much money they made and I knew I had to do it," Mota said. "It was a no-brainer." 
The 19-year-old wasn't new to selling explicit content. Before joining OnlyFans, Mota would sell five nude photos of himself for $20 via Snapchat. He saw OnlyFans as a way to maximize profit with what he was already doing. For Mota, it's about a combination of sexual liberation and capitalism. He shows his face in the content he sells, but keeps this part of his life private from his family. 
"It was always on the forefront of my mind," Mota said. "I can capitalize on this. I can capitalize on this." 
Through trial and error, Mota discovered the best way to maximize his exposure on OnlyFans by approaching the platform with a business mindset. He spends the majority of his time on the site networking and advertising, with only a small portion spent creating content. 
"The content is the easiest part you can do," Mota said. 
Mota has 121 subscribers and earns approximately $600 per month. He, like many OnlyFans creators, takes requests from viewers and charges extra for customized content. Despite frequent requests for feet pictures and ejaculation videos, the messages that annoy him most are those he thinks reek of desperation and attention-seeking, he said.
One subscriber messaged Mota's OnlyFans account detailing a sexual encounter between himself and his freshman year roommate, just to tell Mota how much he reminded him of his college friend. 
"Haha idk if you wanted to know that but I'm dyin to know if you have any similar stories," The user wrote, after giving Mota a detailed description of his unplanned hook-up with his roommate. "I'm bi too btw, we can trade stories if you want haha peace." 
Another message was much more to-the-point: "How much to buy your c***?"
David Rabelo, a 19-year-old OnlyFans creator from Rogers, said he has also experienced the persistence and peculiarity of subscriber requests. 
"I never thought people were actually into feet," Rabelo laughed. "Armpits were another one."
Rabelo developed what he calls his "god complex" by posting suggestive images to his OnlyFans subscription feed. He charges $8 per month for his feed-presented content, and anywhere between $15 and $20 for custom, more explicit content. During his time spent on the site, he has gotten a first-hand look at people's kinks, fantasies and most unique desires. 
"What can I do next to keep everyone on their feet?" he asked, as he toyed with the idea of taping his phone to the ceiling to achieve a "bird's eye view" effect in photos. 
Rabelo has been a registered OnlyFans creator since July 2020, but started posting consistently on the platform in December. Unemployed when he began producing content, he saw a way to generate income in the midst of the pandemic from the privacy and safety of his parents' home. 
"Everyone is making a bag out here, so I might as well," Rabelo said. 
He was surprised by the robust business side of the taboo profession, Rabelo said. Like Mota, the majority of Rabelo's time spent on OnlyFans involves advertising and networking. creating content is a small part of what it takes to make his average $400 per month. 
"It's a lot of marketing, a lot of research I had to do," Rabelo said. 
Rabelo advertises his content on Twitter, posting suggestive photos of himself that entice viewers to ask for more — for a price. He also had tried using Grindr, a location-based networking app for gay, bisexual, transgender and queer people, but its user agreement prohibits users from advertising outside platforms on the app. Twitter worked best for both Rabelo and Mota. 
Mota said the most difficult part of his experience was getting over the "hump" of obtaining his first 25 subscribers, and building a loyal audience was much more difficult than snapping a few photos in the mirror. Though it's a side hustle, he has spent hours per day networking and researching platforms on which to advertise his OnlyFans. 
"It was literally a grind," Mota said. "People look at OnlyFans as a free golden ticket, not like another source of income. You have to put in effort." 
Through his experiences with the platform, Rabelo said he gained new-found confidence by posting explicit content on the internet. Though, like Mota, he has received unsettling messages and requests, he appreciates the compliments, which boost his self esteem. OnlyFans can be like therapy for low self-worth, but with explicit mirror pictures, Rabelo said. 
"I'd look in the mirror like 'dang, I'm hot,'" Rabelo said. 
Grace*, 19, said she, too, gained a sense of confidence by posting suggestive images of herself to OnlyFans. However, unlike Rabelo, she got tired of looking at her body constantly.  
"It made me feel good about myself," Grace said. "I was always kind of struggling with the way my body looked. Sometimes seeing the way my body looked was too much."  
Staring at what Grace considered her physical flaws for the length of time it took to upload her photos and videos did more harm than good — so much so that she is leaving OnlyFans once her remaining earnings appear in her bank account.
Dr. Erick Messias, a Little Rock-based psychiatrist, who has done extensive research on body dysmorphia, said the internet is like a mirror when it comes to body image issues. While staring at oneself repeatedly for long periods of time may not directly cause dysmorphia, it could certainly trigger anxiety. 
Because of the nature of OnlyFans, body-covering clothing is rarely seen on the site. Messias said people with body insecurity like to hide parts of their body with clothing, not just from the world, but from themselves. 
"You're exposing (your body insecurity) to the world, but more importantly to you," Messias said. 
In addition to struggling with body image, Grace, like Mota and Rabelo, received messages from subscribers that made her question her decision to join OnlyFans. She repeatedly had to remind viewers that she wasn't comfortable using foreign objects in certain parts of her body. She also had to remind them that she is not a prostitute, and only interested in the virtual side of sex work.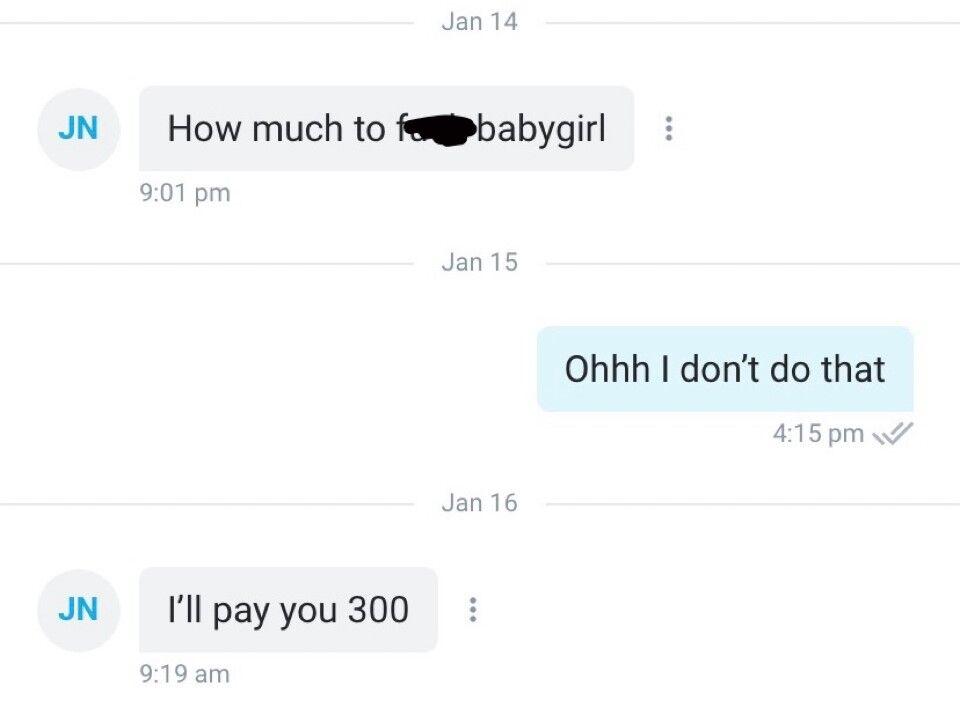 "I expected them to talk to me in, like, a sexual way, but what they were expecting from me was out of my comfort zone," Grace said. "They were asking me to have sex with them for like $300. Why did they think I would say yes?"
Grace had an amateur setup she used to shoot her content. Instead of using a tripod or ring light, she propped her iPhone against a pumpkin spice candle from Bath & Body Works and used the self-timer to capture photos and videos of herself. She said most of her subscribers are people she knew in high school. Grace sees this as part of the allure of OnlyFans. 
The appeal is maximized when creators show their faces, the three creators said. Although nervous at first, Rabelo realized that showing more than just his body allows viewers to have a more personal and intimate experience on the platform. Because of the ever-growing popularity of OnlyFans, Rabelo isn't very concerned that his images might limit his opportunities in the future. He described the current sex work climate as a "they-can't-take-us-all type moment," because so many people are profiting off their explicit content.
"At first I wasn't comfortable with my face," Rabelo said. "Now I'm just like, 'Whatever, I'm cute, I'll post it.'"
Grace hopes to become a cosmetologist. Because she isn't interested in a white-collar job, she doesn't worry about her time on OnlyFans affecting her artistic and career goals, and doesn't mind revealing her face on the site. She used her identity as a way to keep viewers interested. Her former AP psychology class partner even subscribed to her account.
"I was like, 'You could have had a chance, but now, no,'" she said.
Grace thinks the core appeal of OnlyFans for many users lies in being able to see real people as part of a sexual fantasy, she said.
"If you're attracted to a girl, she probably won't ever send you nudes or anything," Grace said. "OnlyFans is a way of getting your fix." 
*This source is identified using only her first name to protect her privacy.