With a chill in the air, a large bus arrives to pick up another group of visitors. Passengers nervously look back and forth to survey their surroundings in anticipation for the frights that await. Screams and laughs echo from inside the vehicle as it pulls off and creeps toward Nightmares Haunted House once again.
Employees at Nightmares Haunted House in Bentonville, Arkansas unleashed a whole new world of haunts for the year on Sept. 28. 
Junior Ian Sutphin, who has worked at Nightmares for the past three years, enjoys getting into character to scare people who come through, he said.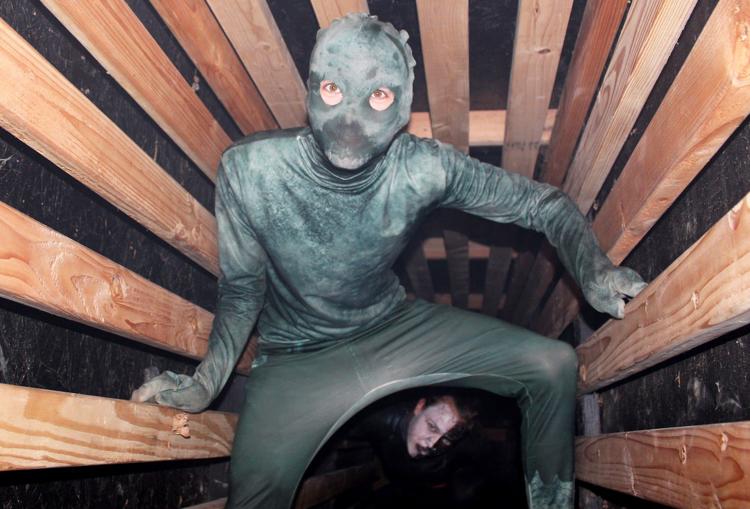 "You get some really funny reactions," Sutphin said. "There was one year I counted the number of times people peed themselves…19, and that was in our room alone."
Sutphin thinks some of the funniest reactions come from men who bring dates and try to keep their composure through the jump scares, he said.
The house is rigged with cameras and various safety precautions to ensure the well-being of both house visitors and actors, Sutphin said. Some visitors are prone to attacking actors in a 'fight or flight' instinct.
The actors communicate with each other through the control room and walkie-talkies if they notice someone coming through the house who is reacting aggressively towards the scares, Sutphin said.
Often times, older individuals that run the house lurk in full costume in case they encounter any issues as the groups come through, protecting younger actors and ensuring a fun and safe experience for all who are involved, Sutphin said.
Over the last 30 years, founder Chris Michaels has transformed what started as a small fall hayride for friends and family to a large-scale local attraction, according to the Nightmares Haunted House official website.
The house itself is comprised of different themes each year, Newton said. This year's attraction features several different parts, with one based on "The Bloody Benders," America's first serial killer family in the 1800s.
Another section of the house creates a toxic wasteland for visitors to wade through, while other parts take customers into a "freakshow" carnival, Newton said.
The bus to get to the house has become its own attraction, Newton said. Passengers watch clips from scary movies as they ride to the house.
Many community members of all ages come forward to participate and help out when the house is in season, most being high schoolers, Newton said. No audition process is required for participants.
Sitting in the control room and watching customers react to the house has become a favorite part of the Nightmares experience for employees.
"It started becoming more than just a 'home' thing, and they invited The (Bentonville Breakfast) Lions Club to charge money and give it back to the community," said Jeff Newton, who oversees the Nightmares control room and creative design.
The Lions Club is the world's largest international service organization, comprised of approximately 1.4 million men and women, according to The Lions Club International website.
Newton got involved with the house eight years ago after taking his daughters to the house and talking with the Lions Club about their operation, he said. Having the opportunity to work with such a creative-minded team was the most exciting part of starting to work at Nightmares, he said.
"To work together and toss ideas around, then go out and build it, is a lot of fun," he said.
While the creativity and imaginative aspect of the house is incredibly fun for the team, Newton says that being able to give back to the community has been the best part of his involvement at Nightmares, attributing the haunted house's success to Chris Michaels' vision and hard work.
The house raises roughly $150,000 a year that goes right back into their local community, Newton said.
"It's just amazing. We give back to so many needy groups. Women's shelters, food banks," Newton said. "That's my main thing, seeing it give so much back."