When I heard that Ariana Grande, Miley Cyrus and Lana Del Rey were teaming up for the lead single off of the Charlie's Angels soundtrack, I immediately expected it to be an absolute mess. And it is!
The song, "Don't Call Me Angel," flounders from the start, where a carnival-esque hook morphs into a song that tries to be way too much, from an empowerment bop in the chorus, with lines like "Don't call me angel / You can't pay my price / Ain't from no heaven / Yeah, you heard me right" to a low-key exploration of the idealization of women with their continued rejection of the name "angel."
But the song fails to dig deep into either of these themes. Instead, some random lines are crammed in that throw the whole theme out of whack, like "See you here with somebody," or "Might work on them, but not me," which both seem like stock lyrics that were dropped in to fill space.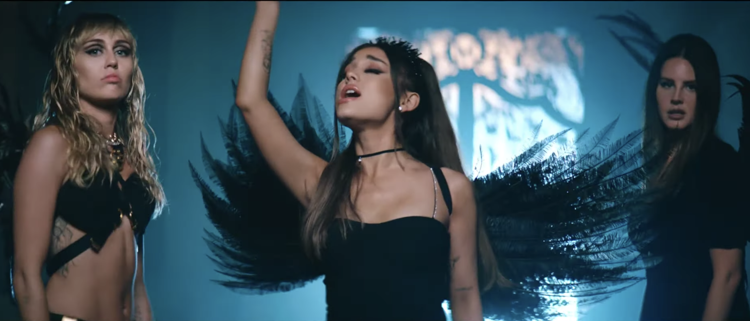 Now, Lana's verse is lit. It's the right mix of sultry and just plain sad that she injects into most of her work, but even it seems to be dropped into the song as an afterthought, like the three artists never really got together to figure out what they wanted the song to be.
The collaboration ends up feeling like a tug-of-war between three artists who were too busy to get in the studio together to whip up a cohesive song.
Collaborations aren't always so bland and visionless, though, as in Charlie XCX's third studio album, "Charli," where she finds her groove for sure, even with nine out of the 15 tracks featuring at least one other artist. Charli manages to keep her sound distinct even when paired with powerhouses HAIM in "Warm" and Lizzo in "Blame It On Your Love."
What's so cool about "Charli" is that every song is a bop in its own right. Been lying on your bed crying all week, wishing you had a sad bop to cry to? "I Don't Wanna Know" and "Thoughts" would be my picks. And for those who are still coping despite the full moon in Pisces, "Blame It On Your Love" and "1999" offer some easy-listening bops that still have enough of the Big Sad to keep you on your toes.
Halsey released a new single, "Graveyard," which has a pretty sick beat that never really goes anywhere interesting, other than the spooky graveyard, which makes Halsey edgy, deep, dark, different— At this point, I just kinda roll my eyes. 
FKA Twigs and Future collaborated on "holy terrain," which isn't her best work by any means, but it definitely keeps her foot in the door until her album drops in October. 
On another note, Green Day released "Father of All…" and it's bad. Like, I won't lie, I danced a little when I gave it its singular, never-again listen, but it's bad.
On the flipside of that, Weezer is still going strong, with the single "The End of the Game," which proves to be pretty formulaic and easy but it's refreshing to see them not trying quite as hard as Green Day, you know? 
On their last studio album, "Cleopatra," The Lumineers seemed to be finding their sound, and now with their third studio album "III," they've for sure found it. The first song on the album, "Donna," made me really miss my friend Donna that I've never had, just like "Sleep On The Floor" made me full-body cry even though I would never go on a trip with just a toothbrush and a blouse. Bad move.
The rest of the songs on the tracklist keep that up — that weird hollow-sounding nostalgic thing that The Lumineers do so well. The album definitely doesn't pull any punches in terms of themes and messages, especially with "Jimmy Sparks," which tackles the selfishness of the American dream, and "Salt And The Sea," with lines like "And they wrote all these prescriptions / they wrote me off / Like a heel / Yea the doctors with their medicine left me / To rock in my filth."
I wish I could put the feeling of "Democracy" off the album into words. The best I can say is it's warm, heartfelt, genuine, critical, real. It's a whole lot of hope that we all could really use right about now.
"I'm sentimental, if you know what I mean / Oh I love the country, but I can't stand the scene / And I'm neither left or right / I'm just staying home tonight."