As a fifth-grader, Skyye Robinson knew what she wanted to be when she grew up — a Delta Sigma Theta sorority woman. As a senior, she has risen through the ranks to become the UA chapter's president.
Inspired by the Delta women in her family, Robinson said she knew from a young age that their accomplishments as innovators and social justice advocates could be attributed to values learned during their times as Delta women.
"I wanted to be a part of that," Robinson said. "I felt that I was already a woman who fought for social justice, and fought for things that happened, but to be able to do it with like-minded women on a larger scale, it is important to me. I think that Delta was the perfect organization for me."
Robinson, a social work major, transferred to the UofA from Henderson State University in 2016. After being invited to join the chapter in fall 2019, Robinson initially served as Second Vice President before being elected to the presidency the following spring, all within her first year of membership.
"I'm still learning so much about myself, so much about the organization. Like I said, I am new, but it's very exciting," Robinson said. "I definitely feel and see exactly what the women in my life were talking about when they say Delta teaches them and pushes them to be better than what they were."
One of those women is Robinson's aunt, Jannie Marie Cotton. Cotton joined the UA Pine Bluff's chapter of Delta in 1972 after being drawn by the group's commitment to service and social justice, she said in an email. After graduating in 1975, Cotton stayed involved in Delta and served as president of the Little Rock Alumnae Chapter.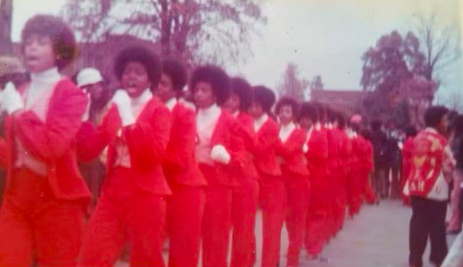 "Delta gave me more confidence and a sense of purpose," Cotton said. "I am a gifted leader, due to my upbringing in church, and Delta supported my goals for excellence. They confirmed the gifts my mother, teachers and church members saw in me."
She encouraged Robinson to follow in her footsteps and join Delta because of the natural leadership abilities she saw in her, Cotton said. Robinson's presidency is a prime example of her commitment to assisting others and serving her community, Cotton said.
"I cannot adequately explain in words how I felt when Skyye became a Delta," Cotton said. "I discussed her becoming a Delta since she was young. She saw my involvement and became interested immediately. I told her that Delta was her only option when she went to college. I knew she would fit right in, as a dedicated (sister). Skyye has always been prepared to lead. I knew she would be a great officer and encouraged her to run for a position. I had no idea it would be President so soon. I'm so proud of her."
During her presidency, Robinson secured a new property for the only on-campus National Pan-Hellenic Council sorority house. Safety concerns with the previous property, located on North Duncan Avenue, propelled Robinson and other leadership members to discuss new housing options for the 15-member chapter with university officials this past spring.
"We wanted to make sure that we stepped up and showed the other students, as student leaders, that you know, you can fight for what you feel you deserve, you can fight for what's yours and you don't have to back down from it," Robinson said. "We are entitled to the same treatment, entitled to the same resources and living standards as every other student, and that's not just for Delta Sigma Theta, that's not just for NPHC organizations, that's for all minority students on campus, Black students specifically."
Ranique Daniel, a senior and Delta's First Vice President, was integral in securing a new on-campus living space for the chapter, Robinson said. Another member of the Fall 2019 class, Daniel worked with Facilities Management to renovate the Stadium Drive house, which now houses four members and provides a better gathering space for members.
"It's been stressful, but it's been rewarding at the same time, because we've been able to see all the benefits of just being steadfast and devoted to the change that we want to see on our campus," Daniel said.
Daniel is one of seven members who serve on the chapter's leadership team. Every member, including Robinson, brings something different to the table, which has made the chapter successful even while operating during a worldwide pandemic, she said.
"I've gotten to personally witness Skyye's growth in all areas — physically, mentally and emotionally — because being a president is hard," Daniel said. "But our leadership has been great because she's very well-rounded in all areas and she really does take pride in her position and just leading our chapter in the way that it needs to go."
As graduation approaches, Robinson is enthusiastic about her future as a Delta woman. She said she plans to join an alumnae chapter following graduation in December to continue learning and serving alongside Delta women of all generations.
"With so many different Deltas and so many different ages, lots of life and experiences, you can learn so many different things from being in one place or being connected to one group," Robinson said.
Once a Delta alumna, Robinson will be able to join her Aunt Jannie in lifelong Delta membership. Cotton plans to continue mentoring Robinson through her journey with Delta, she said.
"I'm so proud to have her carry the torch because my daughters have not been able to participate in membership because of various barriers. She is like a daughter to me, so I feel very blessed," Cotton said. "I visualize her taking an active role in a leadership position at the alumnae level and I will be her biggest cheerleader."