Music from her newest single, "SUKM," blared in the background as fans gazed in awe at Monique Heart, the drag queen they only knew from television, onstage in the Verizon Ballroom on Feb. 25.
Heart, along with University Programs and local drag performers O'Shea Reed, Ella DeMarco, Lady Kakes, Taylor Madison Monroe and Iman DeMarco, presented a show consisting of various costume and wig changes that garnered copious amounts of applause. Heart is known for her worldwide appearances on RuPaul's Drag Race and RuPaul's Drag Race All-Stars.
Heart started her performance in a skin-tight leotard with leather boots and a flowy pink wig. She lip-synced to her own song then talked to the audience of more than 330 people about being true to yourself and not trying to compare yourself to others.
"There's only one Beyonce, right?" Heart said.
Taylor Madison Monroe, a local drag queen who regularly performs at C4 Nightclub and Lounge, served as host of the show. Monroe performed twice and provided commentary throughout the show on the performers and their backgrounds.
Fernanda Alcantara, the cultures and concepts chairperson for University Programs, said the audience was larger than anticipated, and there were people there she did not expect.
"(Taylor Madison Monroe) asked like, 'how many of you are straight men?'" Alcantara said. "To hear the amount of applause that the straight men provided was kind of like, OK, it's not just members of the LGBT community that are here. And that was my goal: to expose people who have never gone to a drag show to what it's like."
Alcantara said the show attracted more than a hundred more attendees than she originally expected. She passed out flyers before the show that contained information about drag and some terminology that people who are not familiar with drag may not understand.
The inclusion of various local drag performers, not just drag queens, is something Alcantara wanted to ensure when bringing a big name performer like Heart. She hoped to educate attendees on drag culture.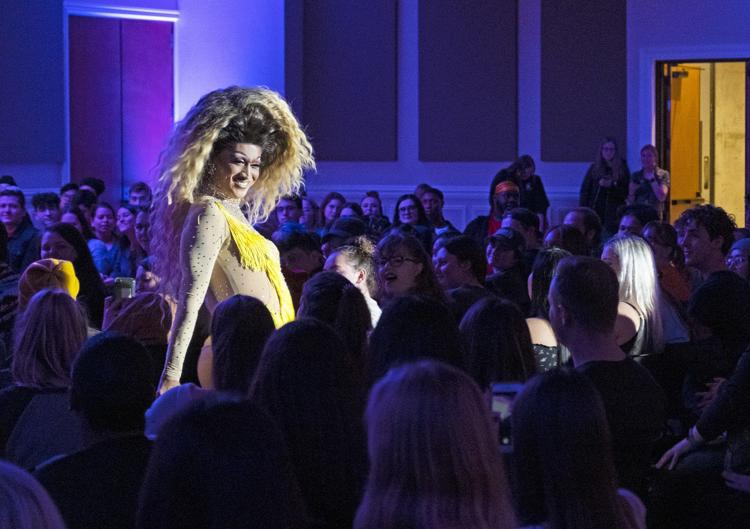 "It was important for me to not just get drag queens, but we had a drag king and a drag diva, which I feel really represented a variety of what drag is," Alcantara said.
A drag diva, which is also known as a bioqueen, is someone who is biologically female and performs in drag as a woman.
Patty Johnson, also known as Lady Kakes Monroe, is a bioqueen who performed at the show Tuesday night. She said performing with Heart made her nervous because people expect a good show when a RuPaul's queen is a part of it.
Johnson said it takes a lot to make her nervous as she's been performing in drag for nine years, but being a UA alumna performing at her alma mater in front of a large crowd added to her nerves.
"There's always a nervous energy when you're in a new space," Johnson said, "and I've been on that stage in drag maybe once, but never with a crowd that big, and never with a RuPaul girl in the lineup, so everyone's expecting a lot."
Johnson thinks it is fair for people to expect more when a famous performer is involved. She put her performance mix together the night before the performance and practiced for the majority of the day before the show.
"You gotta look as professional as you possibly can even when it's the big names," Johnson said. "I did the best that I could."
Lindsay Chaplin, a junior, decided to invite her friend Madison Riley, a junior, to the show after she saw a sign advertising it during class.
"I've never been to (a drag show), and I thought it would be so fun. Every time someone came out, we'd be like 'New wig! New wig!'" Chaplin said.
Riley said she enjoyed getting to see the performers embrace themselves and show off their different styles and wigs. She has been to a drag show at C4 before and has really enjoyed them in the past.
Alcantara and University Programs saw Heart at the National Association for Campus Activities conference in the fall where various performers market themselves to universities across the region. Officials paid for Tuesday night's performance with funds from the student activity fee.
It was important to Alcantara that people who did not follow drag or know a lot about the community still got to enjoy the show.