With the minimum age to purchase tobacco products rising from 18 to 21, effective Sept. 1, tobacco vendors lost customers, and some young nicotine users struggled to cope with the change.
The Arkansas State Legislature passed Act 580 on March 25 and Governor Asa Hutchinson (R) signed it March 28. Its purpose is to raise the age to purchase tobacco products and to direct more tax revenue to the University of Arkansas for Medical Sciences (UAMS), according to the final text of the law.
Arkansas has the third-highest adult smoking rate in the country at 22.3%, and its tobacco use rate among high school students is the nation's 16th highest at 26.3%, according to the American Lung Association. The state also received an F on its 2018 State of Tobacco Control evaluation, with the reasons cited including low tobacco taxes and lack of a "Tobacco 21" law.
Act 580 increased the minimum price that sellers must charge on cigarettes from 7.5% to 9.5%, introduced a 50-cent tax on cigarette papers and raised the minimum age to purchase any tobacco product to 21. The new purchasing age also applies to vaping products such as e-cigarettes and e-juice.
The only exceptions to the new law are people that turn 19 before the end of 2019 or active-duty military personnel, said Greg Sled, deputy director of Arkansas Tobacco Control. Everyone else must wait until age 21 to legally buy those products.
Freshman Grayson Koller, 18, has been vaping for about a year, but he will not turn 19 by the deadline. Accustomed to using around two e-juice pods a week, Koller can no longer legally buy any vape products in Arkansas and said Act 580's implementation has spurred him to try to stop vaping.
"Now that it's not so accessible, it will be easier to quit," Koller said.
Because Act 580 is forcing Koller's hand to quit, he said he thinks the new law will have a positive influence. Koller thinks the minimum e-cigarette purchasing age should be higher than 18 because of the risk of addiction in high schoolers, he said.
Vaping is the most popular form of tobacco/nicotine use among high schoolers in the U.S., according to the National Institute on Drug Abuse.
A 2018 study by the National Academy of Medicine also found substantial evidence that teens and young adults who use e-cigarettes are at an increased risk of smoking traditional cigarettes.
When it comes to taxes on vape products, Koller said he thinks the new law does not go far enough. Traditional tobacco products sold in Arkansas are subject to both markups and an excise tax, more commonly known as a sin tax, while e-cigarettes are subject only to a standard sale and use tax. Act 580 does not change that.
Koller said he thinks that taxes on vape products should be "a little bit" higher than they are and that the additional tax revenue should go toward research on the long-term effects of e-cigarette use. He added that he thinks vape users are currently being treated as "lab rats."
An FDA regulation requiring all vape juice manufacturers to report the levels of ingredients deemed harmful or potentially harmful in their products will not be enforced until Nov. 8.
Junior Sarah Caster, 20, takes issue with several parts of Act 580. Caster, who has been vaping since her senior year of high school, considers herself a nicotine addict, sometimes finishing a Juul pod in seven hours and occasionally smoking cigarettes.
"I always say the hardest part about college has been the nicotine addiction," Caster said. "It definitely snuck up on me."
Although she questions her own habits, Caster said she thinks that the purchasing age increase in Act 580 is excessive.
"Twenty-one is sort of a ridiculous age to legally consent to vape because there are loads of 18-year-olds, and younger, that choose not to vape or smoke," Caster said. "Changing the law seems counterintuitive because the damage is already done to 18-year olds who do vape or smoke cigarettes."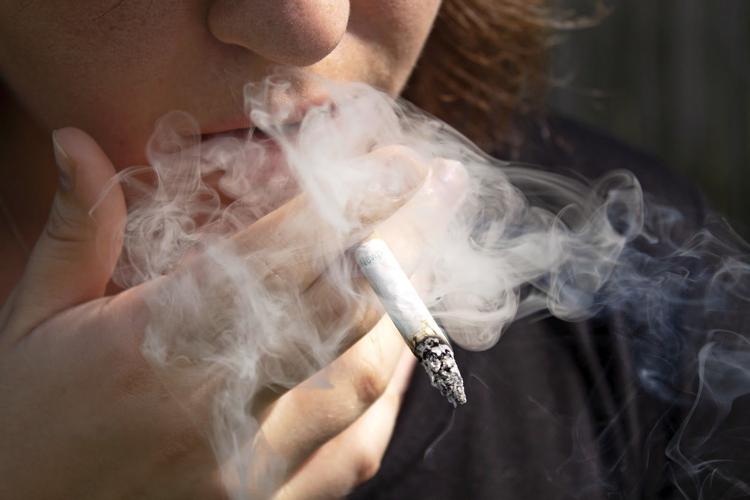 Caster suspects raising the purchasing age will just make teenage nicotine users want tobacco products more, she said.
Local businesses have also had to adapt to the implementation of Act 580.
Ivy Ball is a salesperson and one of three employees at GLASS Smoke Boutique, a 10-year-old  small business in Fayetteville that sells smoking accessories such as e-cigarettes and vape pods. Ball said that adjusting the store's operations to Act 580's provisions was a confusing process due to ambiguities in the new law.
"When we first got the sheet we were all kind of like, 'OK, what does this entail?'" she said.  "We had this argument at work where we were like, 'OK, but what is an alternative nicotine product; what is a vapor product?' It's a very blurred line."
Ball said the store's staff collectively decided that, rather than risking a violation, their new policy would be "if it smokes, a minor can't have it."  This means that GLASS now will not sell any smoking or vaping products, including pipes and nicotine-free hemp rolling papers, to people under 19 (and later, 21). People under the age of 19 can still buy pipe cases and incense at GLASS, but about 80% of the store's inventory is now off-limits to minors, Ball said.
Ball and her co-workers have already had to turn away a few minors trying to buy Juul pods, she said, but she does not anticipate a significant long-term effect on the business because most of its regular customers are older than 19.
She does worry, however, that Act 580 might negatively affect current and future medical marijuana patients that use e-cigarettes as a delivery method for their medication.
"Right now, our biggest clientele for vaporizers is more for the medicinal side," Ball said. "If somebody with a medical card coming in to buy one was 18 then it would kind of suck. We wouldn't be able to sell it to them even though they were a medical patient."
The tax revenue raised as a result of Act 580 will be directed toward UAMS to help the medical school pay for the advancements needed to become a National Cancer Institute (NCI) certified center.  In a March UAMS Cancer Institute press release, communications manager Susan Van Dusen said that along with expanding the treatment options available to Arkansas cancer patients, it is estimated that receiving NCI designation would create 1,500 jobs over five years and have an annual statewide economic impact of $70 million.