As electric scooters roll out in Fayetteville, police officers encourage UA students to use caution and watch out for pedestrians while riding. 
UA officials partnered with the city to introduce 500 e-scooters to Fayetteville this summer through two companies, Lime and Spin, said Dane Eifling, bicycle and pedestrian programs coordinator for the UA Office of Sustainability and the city of Fayetteville.
Spin has released 140 scooters since their Nov. 9 soft launch, but Lime is still in the permit process and has not introduced any. People must download the company app to use scooters, which they can ride throughout Fayetteville. The apps inform riders where available scooters are and lets them know where to park. Some areas are marked in red, which denotes that the scooter cannot be parked there.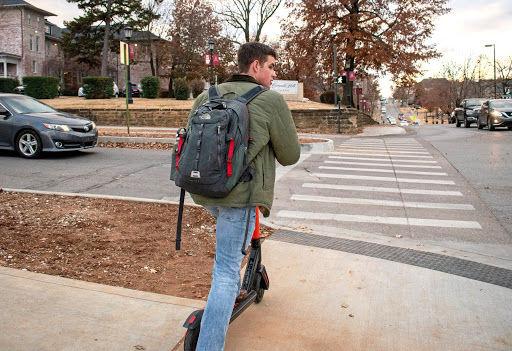 While the base cost for using the scooter is $1 with an additional 20-cent charge per minute of the ride, students get 50% off their rides by signing up with their university emails. UA Police Department Capt. Gary Crain's main safety concern is the safety of the person on the scooter, he said. He is not too worried, however, because the scooter's speed tops out at 15 miles per hour. 
"The person who's operating the scooter has to be really alert," Crain said, "and realize that on the sidewalks, they have to be careful of not causing a problem for pedestrians."
Eifling emphasized that riders should have good safety practices and parking, he said. There have been no major problems so far, but there have been some concerns about people wearing helmets. Eifling encourages people to ride in the street whenever possible.
"Streets are a lot smoother and you're not going to conflict with pedestrians," Eifling said.
Aaron Rieth, a sophomore, likes to shorten his walks from Bell Engineering Building to Adohi Hall by taking e-scooters, he said. Rieth has noticed that the scooters are not as powerful going uphill, but loves using them. He has ridden the scooters three times since they have launched.
"I think it's awesome, and they're really fun,'" Rieth said. "I think the price is good, too."
Sometimes it is hard for Rieth to justify riding a scooter because he has a bike, but he thinks the e-scooters are accessible and easier to use, he said. That is why he does not use the VeoRide bikes, which were introduced to the city in September 2018.
"I feel like walking on campus is pretty easy, like I've never had a problem with getting from one place to another," Rieth said. "The scooters just make it fun."