Students and faculty decorated cookies at the 2019 Give a Cookie, Get a Cookie event, on Dec. 3 in the International Connections Lounge, donating 367 cookies to the Jane B. Gearhart Full Circle Food Pantry.
The event was organized by members of Chartwells Campus Dining and the UA Volunteer Action Center. The Give a Cookie, Get a Cookie has been on campus for four years. Last year, event participants donated 470 cookies, and Chartwells Director of Marketing Kristin Frazier hopes to see the number grow in the future, she said.
"We just really love the holidays and love giving back," Frazier said.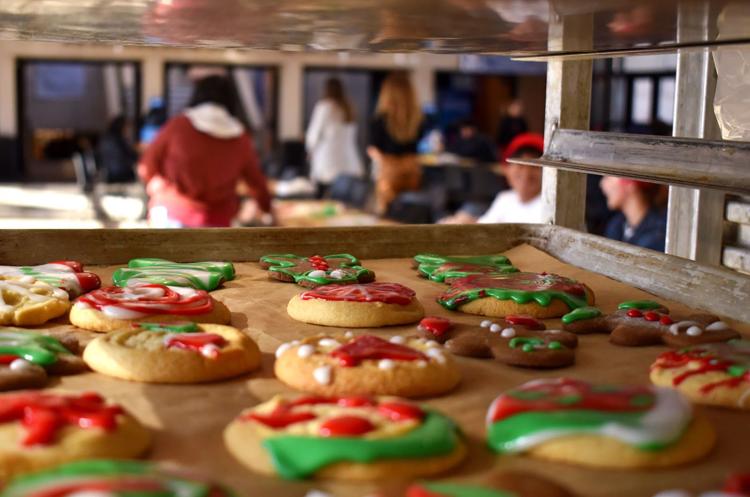 At the event, students decorated a cookie for themselves as well as another for the Jane B. Gearhart Full Circle Food Pantry, Frazier said.
The Jane B. Gearhart Full Circle Food Pantry is a student-led program associated with the Volunteer Action Center that provides food for students, faculty and staff in need.
Food insecurity is reduced quality, variety or desirability of diet, as well as disrupted food patterns and reduced food intake, according to the United States Department of Agriculture. In 2018, an estimated 11.1% of homes in America were deemed food insecure.
Along with the cookie donations, the organizers collected dog treats for Fayetteville Animal Shelter with notes written for the dogs by students, Frazier said.
Niah Hixson, a sophomore, saw the festivities in the Arkansas Union and was happy to jump in, she said.
Hixson and her friend Teia Anderson, a sophomore, joined the group of students already decorating cookies before learning about the event's purpose. 
"It helps bring awareness to these types of things, like the food pantry, for someone who doesn't know about it but might need it or know someone who needs it," Anderson said.
Anderson was pleased to know that the cookies were being donated, she said.
"I'm just happy someone else gets to eat a cookie too, that I'm giving back," Anderson said.