Beckie Irvin, 26, a UA alumna, along with Anna Claire Beasely, 22, a woman from Texas, created a mountain bike festival in Northwest Arkansas geared toward women and non-binary people.
More than 100 people attended the first Grit Mountain Biking Festival on Nov. 15-17 at Kessler Mountain Regional Park, where attendees participated in morning yoga, did group rides, attended biking workshops and watched a film screening of "Afghan Cycles."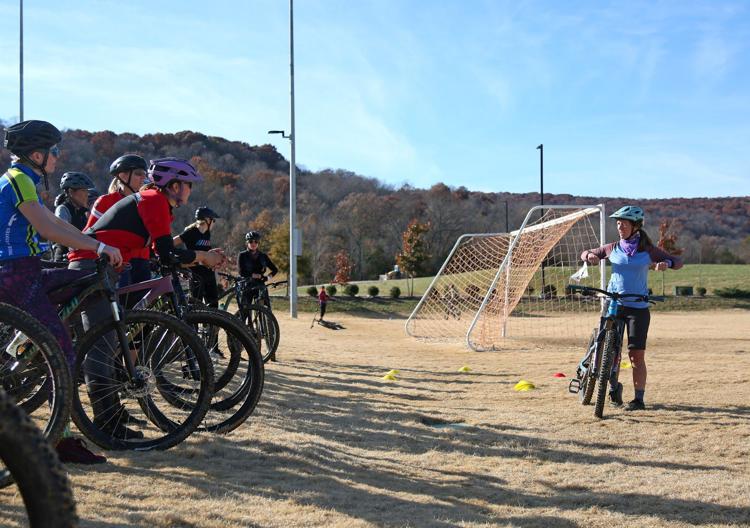 There were workshops throughout the weekend on subjects such as "Mindfulness & Mountain Biking," "Fix a Flat" and "Barriers for LGBTQ+ Womxn to Get on a Bike and How to Remove Them." After the days' activities, attendees could camp in traditional tents, camp in tents with an outdoor shower and bathrooms or stay in rooms at Staybridge Suites.
Keynote speakers Sarah Lockwood and Galen Kirkpatrick shared the importance being women has had in their outdoor sport journeys.
Irvin and Beasely, who met at the Texas Tech University Outdoor Pursuits Center, set up group rides for riders of all levels.
"We were vocal from the beginning about this event serving as an inclusive and inviting space for all-leveled riders," Irvin said.
Grit Fest attendee, Kaitlyn Bowers, 27, leads weekly mountain bike rides through her job at a brewery in Colorado Springs, but is hesitant to mountain bike with her male friends out of fear that she is not good enough to keep up with them, she said.
Bowers said she thinks riding with other women at Grit Fest will make her feel more comfortable and accepted on the bike.
Bowers thinks the Grit Mountain Biking Festival created an encouraging environment for women involved in outdoor activities by accepting riders of all levels, she said.
"A lot of people think this festival is about men discriminating against women in the mountain biking industry, and that's not what it's about at all," Bowers said.
Attendee Rachel Naasz, from Lubbock, Texas, said that as a woman in the mountain biking scene, it can be challenging to find a role alongside men. 
For Naasz, mountain biking can be scary at times, she said. Especially when riding with men, Naasz said she often finds herself in the back of the group trying to keep up. 
"Men have been supportive towards me in biking, they're just on their own level of riding, and not meeting the needs I have," Naasz said. "So, this festival is a great opportunity for those needs to be met."
The Grit Mountain Biking Festival will return to Fayetteville in November 2020.