A Fayetteville women's self-defense class is helping participants recover from the trauma of past assaults by teaching techniques to prevent future attacks.
Kate Knox, 33, started coming to women's Krav Maga classes at Fayetteville Krav Maga Self Defense two years ago with her mother, Cindy Amram, 64, as a way to pull herself out of a dark place after an attack, she said.
"I needed to exercise, and I have a lot of pent-up anger from being attacked years ago, and this just helped me release it," Knox said. "It's kind of helped me work through problems that I never knew I had."
Doing self defense on the ground was initially triggering for Knox, but starting with a class of women she respected and felt comfortable with helped her become more at ease and eventually gain confidence back, she said.
Cole Saugey, instructor and owner of Fayetteville Krav Maga Self Defense, has been teaching self-defense courses for more than 10 years and began offering a self-defense class for women to help women who had experienced trauma feel more comfortable. When one student said she felt uncomfortable being taught by a man, Saugey hired Tammy Roeder to instruct the women's class.
"I realized more and more women were coming in and were uncomfortable working in an environment with men," Saugey said. "We had women coming in with bloody knuckles, that's how recent their situations were."
Roeder teaches the women techniques to strengthen their muscle memory so they can react quickly in an attack rather than freeze up.
"We do the techniques over and over again so that eventually they don't even have to think about it. It's just an immediate reaction," Roeder said.
Some of the exercises the women practice involve getting out of bear hugs, wrist grabs, chokes and hair pulls as well as anti-rape techniques like getting off their back or stomach and up into a position to run away, Saugey said.
Knowing the techniques she has learned over the past year of coming to the women's Krav Maga classes, Hannah Bowen, a junior, said she feels more equipped to handle an attack. 
"I am already pretty aware of my surroundings," Bowen said, "but, knowing all of the techniques, now I feel pretty confident that I could handle most situations now without freaking out."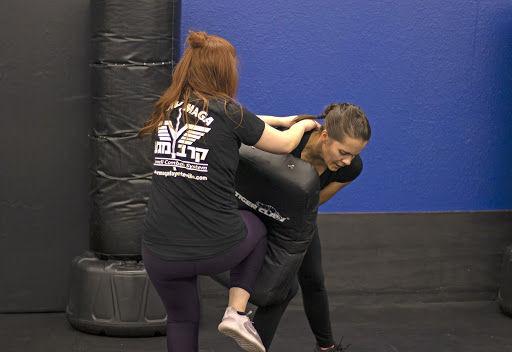 Bowen discovered Fayetteville Krav Maga Self Defense after driving past it one day and decided to take classes in preparation for a two-month internship in Africa.
"You unfortunately can't forget what happened in the past, and sometimes you go back and you think 'What could I have done differently?'," Bowen said, "but this class has taught me to set boundaries. All your life you hear about knowing your boundaries, but until you've had them pushed, you don't understand. So here, they teach you that if someone pushes you here are the things you can do to push back."
In response to the UofA's four reported rapes this school year, Saugey said he hopes to host self-defense seminars to give people basic training and concepts in a crash-course. The team hosts these every six months or so, but Saugey said he recommends people come in and try a free class to see if signing up and getting more proficient training is something they are interested in. 
"You have a choice to not be a victim," Saugey said. "It's just a matter of you investing time in yourself."