For the past six months, a team of graduate students, undergraduate students and faculty members have been growing hemp for a plant pathology study, working to improve crop production of industrial hemp plants.
Hannah Zima, a senior, has helped with the project since the beginning of this school year. Currently, she is shadowing different members of the team during their research as she continues her undergraduate studies.
"I'm excited about this project because this is a new area of research for the university and Dr. Correll is super positive about the project," Zima said. "I just want people to just understand that there's more to marijuana than the THC content and that there's so much more to this plant than just getting high."
Once the second semester begins, Zima will begin to conduct her own research in greenhouse studies or molecular lab work.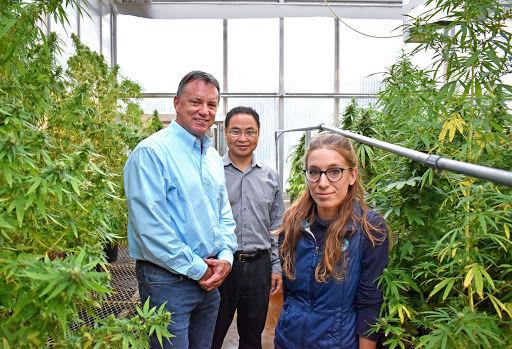 Researchers for the hemp project include professor Jim Correll and his team Dr. Chunda Feng, Dr. Braham Dhillon, Dr. Bo Liu, Maria Villarroel-Zeballos, Pauline Ficheux and Hannah Zima. 
"We breed for disease resistance, we look at different management practices to try to reduce the impact of diseases on agricultural production, in this case, hemp diseases," Correll said. "It also involves plant breeding as well as developing varieties that are beneficial for production."
Feng said they are trying to discover how to control the viruses and bacteria that contaminate the hemp in order to prevent economic loss for growers. 
"Since this is a new crop (growers) have to get the hemp seeds from somewhere else, and the plants need to adapt to the environment," Feng said. "That's why we want to develop a crop that's good for this environment and has the high CBD that growers are looking for." 
Growers are also looking for the bud in hemp plants, which contains a more concentrated level of CBD, Feng said. During the production of the hemp, UA researchers are attempting to separate male plants to prevent fertilization from occurring.
"If they get fertilized and produce seeds, the energy goes into seed production and not oil production," Correll said. "So under commercial conditions, you only want to grow female plants."
Correll said this problem occurs when buying a variety of hemp seeds from a company because it often can contain both male and female seeds. To prevent this from occurring, they are aiming to produce molecular markers that can distinguish male and female plants at an early stage before production.
Feng said they have also used a chemical that acts as a plant hormone to reverse the sex of a female plant into a male plant.
Researchers are developing molecular tools to breed disease-resistant plants with oils that are beneficial to human health, Correll said.
The development of this project began in May after the Agriculture Improvement Act of 2018, also known as the farm bill, passed last year, Correll said.
The bill passed in the Senate Dec. 11, 2018, and in the House Dec. 12. Eight days later, the president signed it into law Dec. 20, 2018. 
In the new Farm bill passed in 2018, section 7606 allows the growth of hemp for commercial uses under the supervision of the United States Department of Agriculture. 
"Hemp is defined as the same plant but the THC level has to be below .3%. If it's above .3% it's considered cannabis and illegal, at least in Arkansas, unless it's for medical purposes," Correll said.
Different parts of hemp plants that are below the .3% THC level can be used for food, cosmetics, fabrics and therapeutic products, according to the Congressional Research Services.