Faculty members voiced their concerns about suspicion-based drug testing at the fall 2019 campus faculty meeting, with some questioning how it might affect medical marijuana license holders. 
Debbie McLoud, associate vice chancellor for Human Resources, and Bill Kincaid, associate general counsel, met with faculty members and students at the Stella Boyle Smith Concert Hall in the Fine Arts Center on Oct. 17 to address fears surrounding the proposed addition of suspicion-based drug testing in the Faculty Handbook. 
The proposal aims to address issues of medical marijuana usage among faculty and students on campus. 
Suspicion-based testing, proposed by the Human Resources department, would allow supervisors to file a report for a staff member, who is suspected of being under the influence in the workplace to be drug tested.  Currently the Faculty Handbook only requires periodic drug testing from positions, such as UA transit staff, that are directly mentioned in Arkansas state law 402.1, which outlines legal uses of medical marijauna, as part of Issue Six.  
The proposed amendments are similar to current practices of the Human Resources department, but they are just now putting these practices in writing, McLoud said. By clearly stating the addition of the suspicion-based testing system, McLoud hopes to provide supervisors with clarity on the reporting process, she said. 
"(Suspicion-based testing) would be required when there is behavior characteristic of abuse of a substance that may negatively impact the performance of job duties or pose a threat to health and safety," McLoud said.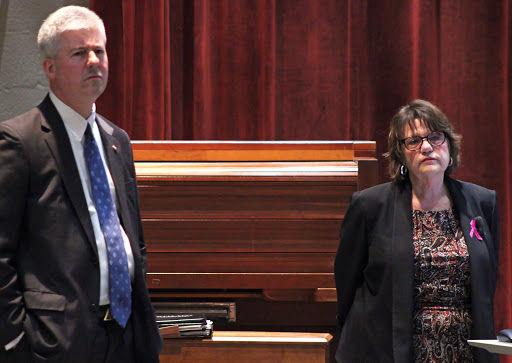 Suspicion-based testing would require a supervisor to file a report with the Human Resources department that covers the event that caused suspicion in totality, McLoud said. After a report is filed, the supervisor and accused party will be questioned on the circumstances surrounding the event that the report was filed for. 
Lisa Milam, director of recruitment and workforce management for Human Resources, said she thinks she has worked on all substance abuse reports in the past three years, and they all amount to around five cases. 
Human Resources employees plan to include suspicion-based reporting as part of supervisor training if the amendments are adopted, McLoud said. 
However, faculty members like Weston Wilkerson, vice-chair of UA Theater, expressed how the association of medical marijuana use with substance abuse only furthers the stigma surrounding medicinal use in the first place, he said. 
"For some people it is not abuse; it is what they need to function," Wilkerson said. 
John Delery, vice chair of campus faculty, was concerned for those who have consumed medical marijuana outside of work at the UA campus receiving a positive result from a drug test, he said.
"(UA employees) need to consider if there is a need for a reasonable accommodation, not for their medical marijuana use, but for their underlying condition," Kincaid said. 
The suspicion-based testing does not have any way of protecting employees from targeting by supervisors, but Kincaid hopes that the situation never arises, he said. 
Human Resources officials are encouraging supervisors to be aware if an employee is under the influence of medical marijuana in case there is an accident, McLoud said. 
The proposed revision to the faculty handbook was emailed to all faculty members but received no feedback as of Oct. 17, McLoud said. Human Resources will continue to accept feedback on the revision until the end of October to ensure that the handbook is as up to date as possible.