Dozens of students found ways to boost their grades, physical health, mental wellness and more at the "Flip Your Flop" resource fair in the UA Center for Multicultural and Diversity Education on Tuesday.
Caroline Wagner, a sophomore, visited every table at the event and discovered resources that she said will help her push through the rest of the semester.
"Motivation is definitely at a low, sometimes, in the middle of the semester," Wagner said, "so it's nice to know that there are things I can do to have a little bit of distraction or something to remotivate me."
Kaylin Horne, a freshman, did not plan to come to the event originally, but she accompanied a friend and ended up finding the event helpful, she said. She thinks coming to college is a big adjustment and freshman year can feel like an overwhelming bombardment of class work, tests and papers, so she was relieved to learn about the free tutoring services and wellness programs available on campus, she said.
Representatives of six on-campus support organizations staffed tables at "Flip Your Flop," which was organized by University Housing. To encourage students to attend, the event hosts also provided candy, chips and other snacks, plus the chance to win a pair of wireless headphones in exchange for filling out an exit survey.
Laura Kilpatrick, coordinator for resident education at Maple Hill West, thought Tuesday's event was a success, she said. Fifty-one students completed the exit survey after visiting the resource tables, and several others briefly passed through the event, Kilpatrick said.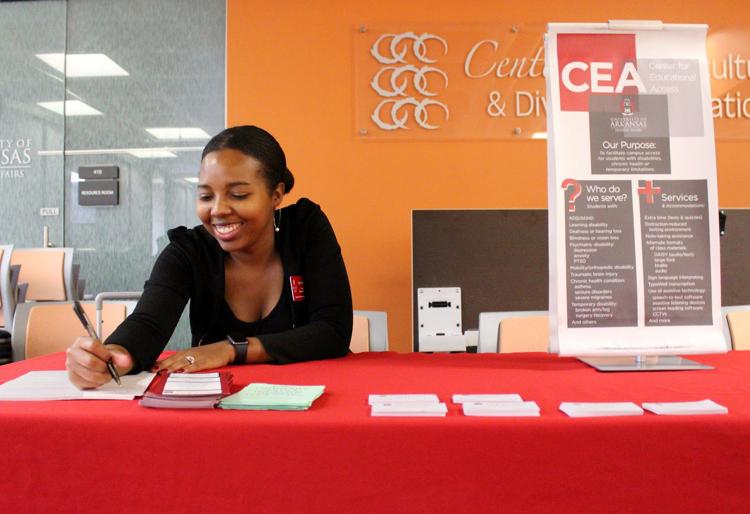 The organizations featured at the fair included University Recreation, CLASS+, University Financial Aid, No Woman Left Behind, the Center for Educational Access, the Pat Walker Wellness and Health Promotion department and the Walton College of Business Advising department.
Horne said she had never heard of No Woman Left Behind before visiting "Flip Your Flop," and she is grateful she now knows it exists.  NWLB is a University Housing initiative to educate students on sexual assault and encourage bystander intervention, according to the organization's website.
Visiting the resource fair allowed Wagner to discover academic services she did not know CLASS+ offered, such as extended tutoring hours and online tutoring, she said.  She now plans to use both the online tutoring services and the Writing Support Center that helps students refine essays and papers.
"I think just the act of coming here is a step in the right direction to pursuing these different avenues," Wagner said. "Before this, I didn't know you could do online tutoring, and that's so helpful because I don't always have time to go in person."
Kilpatrick was one of the head organizers of this semester's "Flip Your Flop" event." She said the long-running University Housing signature program used to be called "My Biggest Failure" and usually featured a guest speaker who had faced a major defeat in life. Last year, organizers decided to change the program's name, Kilpatrick said.
"We wanted to not so much focus on the failure aspect but more of, 'Hey are you having a hard semester? How can we get you in touch with resources that can help you make a comeback?'" Kilpatrick said.
When they changed the event's name, organizers also decided to adjust its mission, Kilpatrick said.  They decided to use the event to showcase resources that could help students with all the different problems they might be facing, rather than focusing mostly on academic success.  
"We listened to students that were struggling in our halls, and we thought about what they needed holistically,"  Kilpatrick said. "Typically, when students are struggling academically, it's not just academically. They're also having a hard time in their personal life, they may be experiencing some kind of mental health crisis, they may also have a financial issue. Those things are all compounding."
Kilpatrick thinks one of the most beneficial resources showcased at "Flip Your Flop" is the CEA,  she said. Many of the students that come through the event each year do not already know the center exists. If they do, they often do not realize there is a broad range of physical and mental health conditions for which its employees can arrange accommodations to help students succeed, she said.
Kilpatrick thinks that in many ways, incoming students are more prepared for the academic and mental health challenges that they will face at school, but there are still barriers that keep them from asking for help, such as stigma and lack of knowledge about how to access resources, she said.
"When students get (to the UofA), sometimes they feel that pressure to perform, and they're like, 'I don't want to ask for help, because I don't want to admit that I'm struggling,'" Kilpatrick said. "I feel like this event is low-stress. It's passive. Even our more introverted students feel comfortable coming."