When alumna Eris was a junior, she went several days without food before hearing about the campus food pantry. After receiving food from it for the first time in 2015, she was able to focus on her studies without having to worry about when her next meal was going to be. 
While going to school full time, Eris, who does not have a legal last name, was struggling to cover car payments and rent with her part-time job in the Division of Student Affairs. On a good day, she could afford to eat 99-cent oatmeal for breakfast and a frozen pizza before bed, she said.
Like nearly half of students, Eris did not know about the Jane B. Gearhart Full Circle Food Pantry, which provides a three-day supply of groceries and personal care items to anyone with a UA or UAMS ID up to two times per week, until one of her coworkers told her, she said. 
Forty-six percent of students do not know the pantry exists, according to the Food Insecurity Survey conducted by Rodica Lisnic, principal researcher for the Center for Community Engagement. 
"They were extremely kind, and they were good at not making you feel shame for going there," Eris said. "I never felt looked down upon."
While 38% of UA students have experienced food insecurity, the survey found that only 2% have used the food pantry.
After Eris went to the pantry for the first time, she received enough food to eat three meals a day and was able to graduate in 2017. 
"When survival is on top of your list of things to be concerned about constantly, you're not focusing on what you're here for, which is to earn your degree and get good grades, and I could finally do that," Eris said. 
Eris thinks it is important to spread the word about the pantry because not many students know it exists, she said. 
"It's kind of weird because, had I not been in the position I was, I never would have known," Eris said. "It totally should be something you're told about. Using the extra resources here is the only reason I graduated."
As of Oct. 28, pantry volunteers have served 503 people over 3,400 times since August 2018, according to the pantry's data. They currently serve 224 graduate and undergraduate students.
"Based on the numbers, we serve mostly staff with graduate and undergraduate students being second and third most served," said Ariston Gray, data and operations coordinator for the pantry, in an email. "We are trying to work on increasing the number of undergraduate students we serve and reducing the stigma of food insecurity."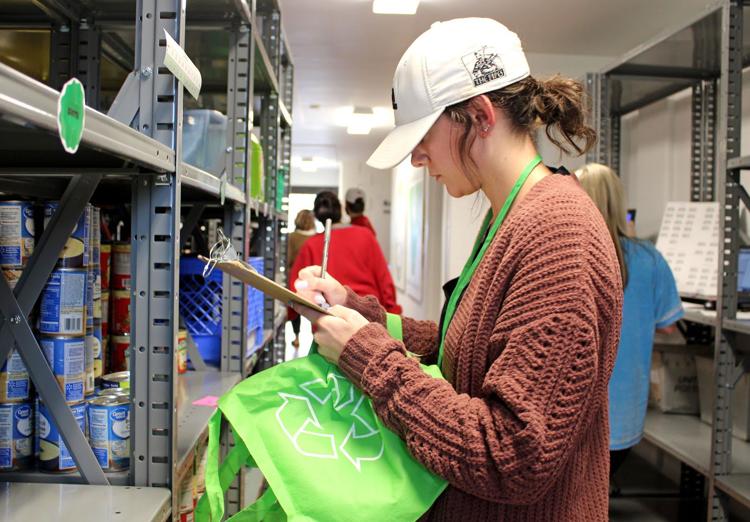 To receive food from the pantry, people can either go to the pantry and fill out an order form in person, or they can fill out an online request form, said Pantry Chair Jon Mahaffey in an email. The order form asks for their university ID number, the number of people in their household needing food and which food items they would like.
People also have the option to fill out an online express request form, which asks for a location where they would like their order dropped off, Mahaffey said. 
How much food the pantry has in stock fluctuates, but the amount increases drastically during food drives, he said.
The pantry depends on food drives and donations for food, he said. Two of those drives are the Pack the Pantry drive for Homecoming and the End of the Year Move-out drive, during which students donate any food they did not eat in their residence hall. A total of 10,230 food items have been donated to the pantry as of Nov. 4, and pantry volunteers are expecting more large donations throughout November.