Local organizations including NWA Equality and C4 Nightclub & Lounge organized events during the week of Thanksgiving for members of the LBGTQ community to celebrate the holiday together.
Attendees chatted with friends and family as they ate turkey, dressing and pie while watching a family-friendly drag performance at C4 Nightclub & Lounge's Friendsgiving 2019 on Nov. 26 at the Hilton Garden Inn. 
Cecil Clifton, who grew up in Springdale, attended the C4 Friendsgiving this year and last year. Clifton looks forward to events like C4's Friendsgiving because his family did not accept him after he came out as gay in 2009, he said.
"It was really rough for several years," Clifton said. "I was told I couldn't have kids because I couldn't put kids through having gay parents, that I should read my Bible, that I was going to hell."
After Clifton came out to his family, he saw his family twice a year for Thanksgiving and Christmas. Clifton's parents told him that he could never bring anyone he was dating home, and holidays felt like an obligation, he said.
In September, Clifton's parents began sharing and supporting Flames2Fire Ministry on Facebook. Flames2Fire is a religious organization that "celebrates freedom from homosexuality in Jesus Christ, raises awareness that living in the LGBT community is a choice and provides churches and pastors with the resources they need to reach their local community."
As a result of their support of Flames2Fire, Clifton cut off contact with his parents in September.
"With everything that happened this year, I felt betrayed from years past," Clifton said.
Clifton will not be going to his parents' house for Thanksgiving.
"It's weird in a sense, not going home, because it's the thing to do," Clifton said. "It's also kind of relieving at the same time, because I don't have to put up with the shame that they're trying to inflict."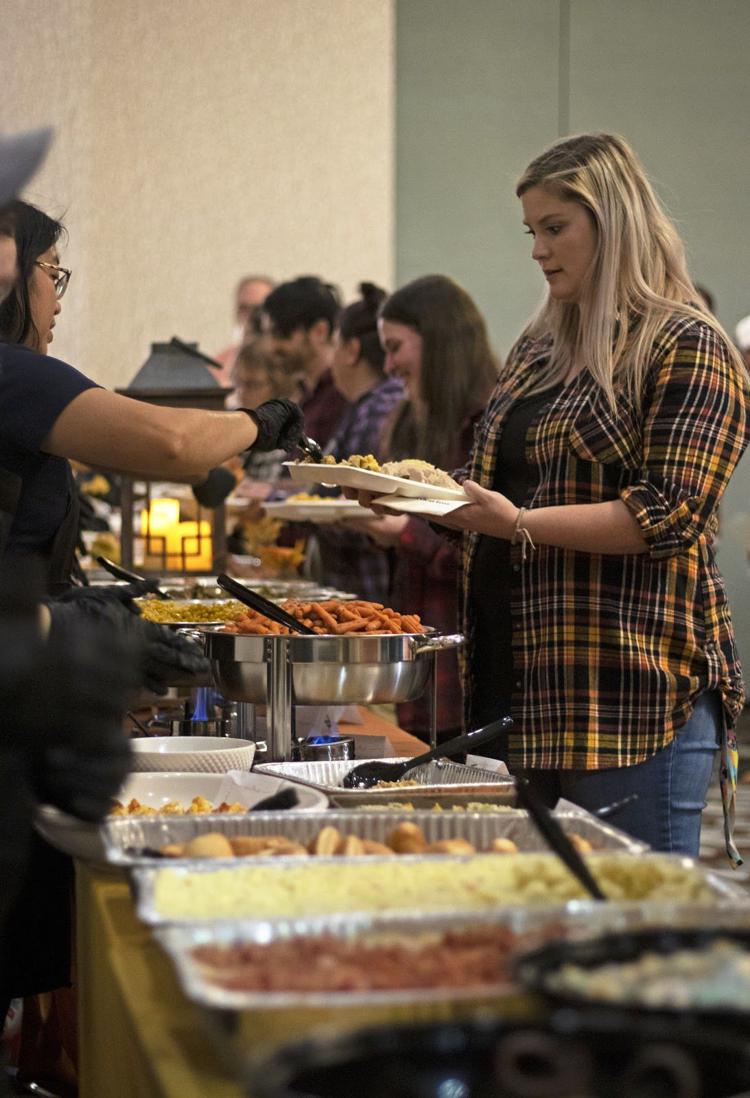 C4's first Friendsgiving event was in 2016 at the C4 Nightclub & Lounge and had 75 attendees, said Jamie Wilson, the owner and manager of C4. Now in its fourth year, Wilson said he expected 300 people to attend this year's event.
"I've always been accepted, I've always been welcomed," Wilson said. "Many, many, many of our customers and in my community do not have that gift, so that's partially why we do it."
The amount of respondents who indicated they would be very or somewhat uncomfortable about learning a family member is LGBTQ increased from 27% in 2016, to 30% in 2017 to 31% in 2018, according to a 2019 survey conducted by GLAAD and The Harris Poll.
Evans Jacobs, a drag performer at C4 Nightclub & Lounge who attended C4's Friendsgiving this year, is originally from Greenway, Arkansas. Jacobs now lives in Little Rock, where he goes to his mothers' house for Thanksgiving.
Jacobs always feels like the outsider at holidays, he said. Jacobs would feel more comfortable at the holidays if he went with his future significant other, but he would not actually bring a man he was dating so that he would not make his family uncomfortable.
"To open your doors for your chosen family, is most important," Jacobs said.
On Nov. 24, members of NWA Equality and six other organizations, including PFLAG of NW Arkansas, the Arkansas Sisters of Perpetual Indulgence, the Transgender Equality Network, the Arkansas Crisis Center, the Prism Takeover and the Bentonville Follies hosted the 2019 Rainbow Thanksgiving at the Fayetteville Town Center.
Joseph Porter, president of NWA Equality, said that the Rainbow Thanksgiving has existed in different forms since 2013, when it began at Club Push, a gay bar in Fayetteville that closed in 2015.
In 2013, around 30 people attended, Porter said. 200 people attended in 2018, the year that the event moved from C4 to the Fayetteville Town Center. Porter said he expects 250-300 attendees in 2019.
Sister Kara Oke, a 32-year-old member of the Arkansas Sisters of Perpetual Indulgence, volunteered at the Rainbow Thanksgiving by cooking and serving food.
"It's really great for all of these different organizations to come together and put something like this together for people who might not have a Thanksgiving and might not be able to go home to their family," Oke said.
Oke goes home for Thanksgiving, but their family does not know about Oke's involvement with the Arkansas Sisters of Perpetual Indulgence, Oke said.
"This is where my family is and I like being here more," Oke said.