Shouting various call-and-response protest chants, 90 people and four dogs marched through downtown Fayetteville and rallied at the Fayetteville Town Center on Saturday for a "Stop War in Iran" protest.
The protestors, ranging from teenagers to senior citizens, called for the U.S. not to go to war in Iran and to cease current intervention in other Middle Eastern countries such as Iraq, Syria and Turkey.
The event comes three weeks after the U.S. assassination of Iranian general Qasem Soleimani in Iraq on Jan. 3. In retaliation, Iran fired missiles at a joint American-Iraqi air base in western Iraq on Jan. 8, leaving 34 American soldiers with traumatic brain injuries.
"All these other countries, they aren't the danger to us. We're the danger to them," UA sophomore and peace activist Annie Shook says. pic.twitter.com/OHLvmjvpZ8

— Sarah E. Komar (@SarahEKomar) January 25, 2020
The rally on the steps of the town center featured eight speakers, including Sheila Czech, Northwest Arkansas branch organizer for the political party Socialist Alternative, army veteran Nathan Hudson and several UA student activists. Musicians Adam Cox, Jori Costello, Guy Ames and Still on the Hill performed protest songs such as "War (What is it Good For?)."
Hudson, who served in Afghanistan from 2006 to 2014, joined the army after 9/11 because he wanted to protect his country from terrorists. Hudson thinks the reality of the Afghanis he encountered while deployed did not line up with the government's alarmist rhetoric, he said. Hudson said he thinks the war was wasteful, unjust and ineffective.
"The military industrial complex is fueled by endless war," says Sheila Czech, branch organizer for Socialist Alternative. Czech denounces U.S.'s recruitment of young, poor people into military and treatment of veterans when they return home. pic.twitter.com/oXUB0ZiqlP

— Sarah E. Komar (@SarahEKomar) January 25, 2020
Hudson fears a continuation of abuses of power and financial waste if the U.S. enters a war with Iran and continues to intervene in other Middle Eastern countries, he said.
"The Iranian people are not our enemy and have never been our enemy," Hudson said.
Saturday's event was the first protest Stephanie Hughes, a UA alumna, has participated in.
"We can all say that we don't want war and that we're against it, but that's just based off what we think about it and what we're told about it," Hughes said. "He (Hudson) actually lived it."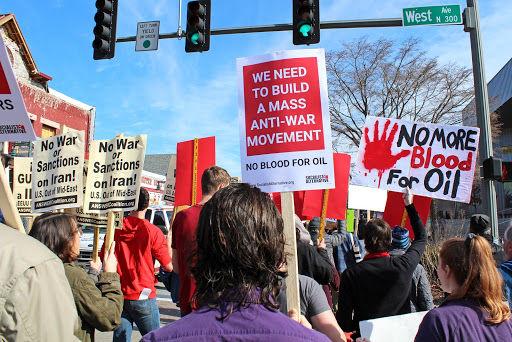 Hughes thinks endless wars create a vicious cycle which harms poverty-stricken Arkansans and other Americans, she said. Hughes said she thinks the system drives the poor to join the military to make ends meet and directs money away from social programs and towards the military.
Twenty percent of U.S. military members come from neighborhoods where the median income is $40,115 or less, according to the 2017 fiscal year Population Representation in the Military Services report. For reference, the U.S. median income in 2017 was $60,366, according to the Census Bureau.
In 2018, 25% of surveyed enlisted army soldiers listed monetary benefits such as health insurance and tuition assistance as a key reason for enlisting, according to a RAND Corporation survey. Nineteen percent listed job stability and pay, and 17% listed the opportunity to escape a negative socioeconomic environment. Only 9% said they joined for purely institutional, non-occupational reasons such as family and duty.
Afghanistan war veteran Nathan Hudson says the reality of what he saw in Afghanistan "didn't add up" with the messages the U.S. government sent about the situation there. The war was about U.S. hegemony in the region, so the gov. purposely put off killing Bin Laden, Hudson says. pic.twitter.com/yEmZIFecGq

— Sarah E. Komar (@SarahEKomar) January 25, 2020
Annie Shook, a sophomore and co-president of UARK for Bernie Sanders, was the first speaker at the rally. Shook said the U.S. cannot continue with what she described as endless imperialist wars fought for profit.
"The people have never been for it," Shook said. "It only helps the most powerful in our country. It doesn't help the people."
Seventeen local activist and political groups, including Socialist Alternative, the OMNI Center for Peace, Justice, and Ecology and the Arkansas Nonviolence Alliance organized or endorsed the march and rally.
To wrap up the rally, Still on the Hill performs classic protest song "War, What is it Good For?" Audience is really getting into it, singing along. After nearly three hours, "Stop War in Iran" protest is coming to an end. pic.twitter.com/jxTWNzXgYE

— Sarah E. Komar (@SarahEKomar) January 25, 2020