The first meeting of Generational Ties, a networking and support group for African American men on campus, took place Nov. 4 in the Arkansas Union, hosted by the Multicultural Center, the National Pan-Hellenic Council and the Charles & Cappy Whiteside Greek Life Leadership Center. 
Generational Ties is a program that intends to allow black men to network as well as find a dependable support system, said Garry Butler, the associate director of greek life. 
Nikolaus Harper, a junior and member of Kappa Alpha Psi, attended the event. Harper's father never taught him how to tie a tie, but that made him grateful for the opportunity to practice his independence and determination. 
"Things as simple as tying a tie may seem hard, but it only seems hard to those who never try to do it themselves," Harper said, "and the best way to teach you is to have you learn for yourself." 
The focus on generational ties is intended to create more inclusivity and understanding within the group of men participating, said Adrian Smith, the director of leadership and diversity initiatives for the Multicultural Center. There may be undergrads who are fathers, or faculty members just starting a family, and everyone deserves to feel included, he said.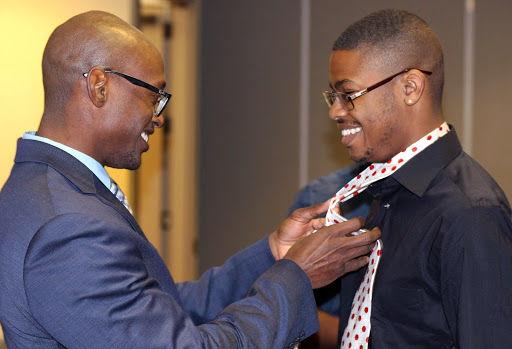 "We hope to provide a space and place for African American men ... to be able to fellowship, to bond, to network and to provide opportunities for understanding," Smith said. 
Harper is the president of the National Pan-Hellenic Council, and feels passionately about the program, he said. 
The group discussed issues such as racial stereotyping, prejudice and media influences on race perception in the meeting, which is why the organizers think it is important to be having these conversations. 
Leaders of the program intend to grow it by meeting on the first Monday of every month and ranging their topics to discuss what the men involved want to talk about. 
Harper said he thinks that the program can help all men who struggle without a father figure or family issues.
"This program is for everyone, not just black males, although that's where we want to start," Harper said. "Damaged backgrounds don't just stick to race. Problems like that have no color."