Northwest Arkansas bikers gathered at Runway Bike Park on Nov. 3 to celebrate the park's one-year anniversary. 
Since the park's opening, Bill Ramsey, 51, and his wife have driven from Branson, Missouri, to the park located in Springdale, Arkansas, at least once a month to ride the different tracks.
"This park makes the two-hour drive worth it," Ramsey said. 
The Runway Bike Park, a 2.75 acre outdoor bicycle training area located at The Jones Center, has a pump track that is the largest asphalt track in North America, a skills course and a bicycle playground, according to The Jones Center.
The event, sponsored by Clif Bar, had free bike demos, giveaways and music. During the first drawing, Ramsey won a Riprock kid's bike from the company Specialized Bikes.
Meredith Joseph, The Jones Center's recreational coordinator, organized the celebration for Northwest Arkansas bikers.
"It's been a super fun year getting to see different groups and ages and skill levels all come together at the same place," Joseph said.
The event featured different activities including a bicycle obstacle course and "All Bikes All Day NWA Pump Track Show," where riders use their upper and lower body strength to ride a pump track, a track that loops around in a circuit. 
Connor Williamson, a senior, developed the brand All Bikes All Day. Williamson and his friend Christian Dipietrantonio produce videos that display their skills on mountain bikes, BMX bikes and motocross bikes. 
The coordinators for this event invited Williamson and his team to perform a pump track show that featured different tricks they have learned to do on the pump track. Williamson began visiting the park to prepare for the 2018 Red Bull Pump Track World Championship at Runway Bike Park on Oct. 13, 2018.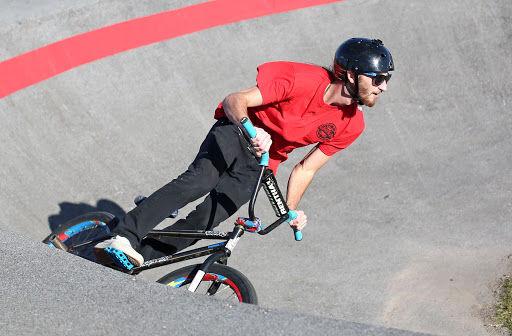 During the competition, Williamson placed 13th in the Last Chance Qualifier race as he competed against fifty-one bikers.
"I'm really thankful for this place. It's been growing into such a cool community, and I like that it's centrally located in between like Bentonville and Fayetteville, so you get a mix of people who ride all different kinds of bikes," Williamson said. "I hope that it continues to be that way for a long time and that we get more of this type of stuff getting put in."
After becoming good friends that shared a passion for biking, Williamson and Dipietrantonio started producing video content together in September 2018. The two bikers upload videos that showcase them doing tricks from dirt jumps to doing backflips at parks throughout Northwest Arkansas. The team also promotes their videos on other social media platforms including Instagram, Facebook and YouTube.
All Bikes All Day inspired Sebastian Horm, 12, to attend the event after meeting them last time he visited the park.
"I came out today because I just wanted to have fun," Horm said. "Also All Bikes All Day, some of them are my friends so I just wanted to hang out with them today."
Williamson said he hopes to encourage young bikers to continue practicing and riding their bikes. 
"It's really cool, especially because a lot of little kids that see us. We're out here doing freestyle stuff, and not your typical bike riding, so they get really stoked and really interested," Williamson said.