Since 85% of David W. Mullins Library's materials were moved to offsite storage in 2018, checkouts have fallen and students are feeling the effects of a transforming library.
Having worked at a library as an undergraduate student and at Dickson Street Bookshop as a graduate student, Samuel Binns, a graduate assistant in the English department and second-year graduate student, has a passion for books and libraries. When he arrived on campus in August 2018, he was shocked to learn that the majority of Mullins's borrowable collection would be moved to an offsite annex. 
"As soon as I got here, the news broke out that they would be moving stuff," Binns said. "As somebody who's deeply excited to visit the library just to find random books, it was so disheartening."
Library staff began moving most of the library's 1.2 million books, journals and documents in the Mullins collection to a climate-controlled high-density annex on the southern end of campus during spring and summer 2018. All books on the third and fourth floors were relocated for routine asbestos removal and renovations, leaving about 200,000 volumes in the building.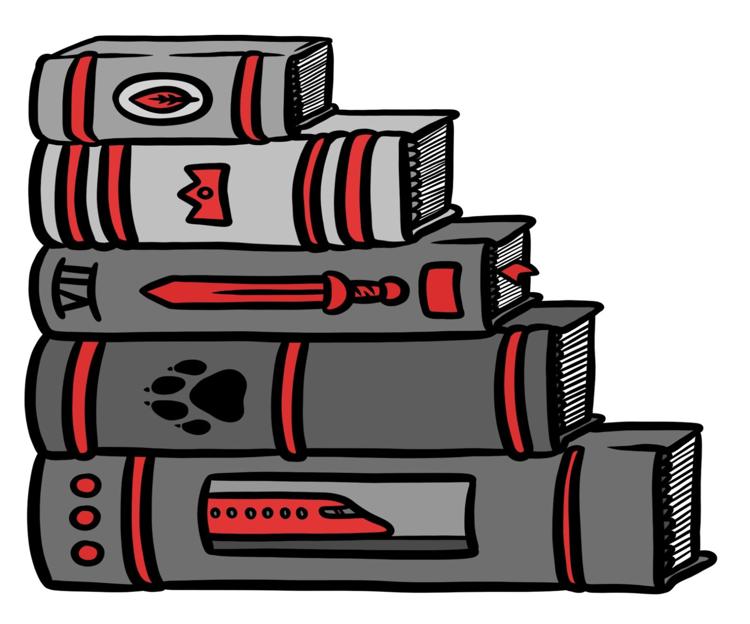 As the asbestos removal wraps up, sweeping renovations to the third and fourth floors (phase one of a total overhaul of Mullins) are scheduled to begin this winter, said Kelsey Lovewell, director of public relations for University Libraries. The project will double the number of seats on those floors, and add 24 study rooms and more power outlets. 
When the renovations conclude in summer of 2021, many of the books that were removed from the third and fourth floors will return to the library, Lovewell said.
Binns thinks university libraries are vital to college education because they are a place to explore hundreds of thousands of books, he said. Since the changes last year, Binns thinks Mullins has lost what makes it a library.
"I think how libraries operate, and I think how libraries should operate, is to allow people to have serendipitous discovery," Binns said. "Because that is such a huge part of the library: wandering through the stacks and finding something that you had no idea existed."
Lovewell said checkouts have been declining for years, which is one of the reasons books were moved. Mullins checkouts fell nearly 20% (27,754 to 22,231) between the 2018 and 2019 fiscal years, during which time the books were moved, according to Library User Services. The decrease between the 2017 and 2018 fiscal years was 7.5% (30,000 to 27,754) and was 7.9% (32,556 to 30,000) between the 2016 and 2017 fiscal years.
Visits to Mullins fell from 548,163 in the 2017 fall semester to 504,633 in the 2018 fall semester, an 8% decrease. Visits increased 1.5% (from 539,595 to 548,163) between fall 2016 and fall 2017. Meanwhile, university enrollment rose from 27,194 in fall 2016 to 27,558 in fall 2017 and 27,778 in fall 2018.
Lovewell said the library website's virtual browsing tool, which allows students to view the annex's collection by subject, presents an advantage to in-person browsing, she said. The tool can eliminate the need to visit the library and save students time, Lovewell said.
Sam Harper, a senior majoring in political science, has been visiting Mullins since he was a freshman. However, Harper thinks the quality of service he receives from library staff has changed since 2018, so now he only visits Mullins for a few minutes at a time, he said.
"When I was a freshman and when I was a sophomore, these were some of the nicest, happiest, most willing-to-help people out there," Harper said, "and I haven't seen the people who worked there my first two years since all these changes started happening."
With the exception of one former librarian, Jozef Laincz, Lovewell said she does not know any Mullins employees who have left University Libraries because they were unhappy with the changes.  
Laincz, 40, was a geoscience and maps librarian in Mullins from 2014 to 2018.  In spring of 2018 Laincz emailed an online petition to thousands of faculty and students whose information he found in the university directory after he learned his faculty contract had not been renewed for the 2018-2019 school year, he said. Although the reason given for Laincz's termination was underperformance, he said he suspects his opposition to offsite storage contributed to his firing.
Laincz's petition, "Save the University of Arkansas Mullins Library!" called for the university to halt the removal of books and find alternatives to offsite storage. The petition, which is still up on change.org, has garnered 5,092 signatures and dozens of comments such as, "The ability to stumble upon research happens in the stacks. Not through a Google search."
Any book that has been checked out twice or more in the last 10 years is still in Mullins, and library employees deliver requested books from the annex four times every weekday.  
Binns said he thinks offsite book storage discourages students from browsing for books.
"It seems like the whole system is built around this idea of discouragement, "Binns said. "It's discouraging people to even use the service, it's discouraging the student workers to retrieve the books." 
While Lovewell said the library administration has received complaints about lack of seating and power outlets in Mullins, problems which the renovations should remedy, Binns is still concerned the library has lost something irreplaceable.
"If you remove the books from the library, then can you even call it a library?" Binns said. "I feel like libraries are about so much more than just having a computer and a space to study."