Huddles of students with controllers clasped tight in hand spread out in groups around the Verizon Ballroom on Sept. 27. From one corner of the room came the booming voice of the Mortal Kombat announcer's, "Finish them!" command as students grappled for victory. From another side, a few students barely made a noise except for the occasional laughter that interrupted the sounds of building in Minecraft.
The UARK Gaming Registered Student Organization partnered with nonprofit Afterlife I.T. to organize the 24-hour local area network (LAN) party. A LAN party is an event during which multiple people come together to play games on multiple gaming devices. 
"With a LAN you have a lot more social connections and community outreach, and there is more electricity in the air," said senior James Hand, a UARK Gaming officer. 
Hand has never participated in a LAN party that lasted more than a couple of hours, but this 24-hour event quickly met his expectations. Hand's small hometown lacked a community of gamers, which made it hard to throw a party of this scale, he said.
Though Hand was excited for the event, he was not confident he would make it through the full 24 hours because he slept only four hours the previous night, he said.
"I think power naps are going to save me, so I think I can make it without crashing," Hand said. "It's just going to take a few hour-long naps here and there."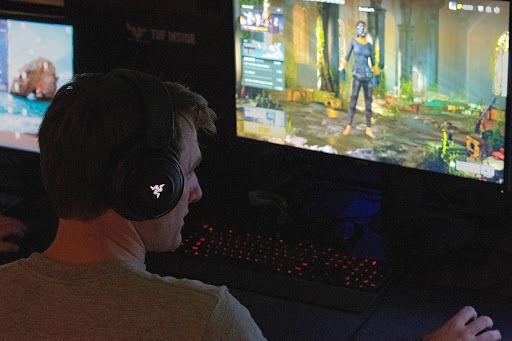 Hand has been working with Afterlife member Collin Allen for the past year to host this 24-hour LAN party at the UofA. 
Afterlife is a group of like-minded gamers and I.T. professionals from around Northwest Arkansas that try to help with digital education and encourage young gamers to take their hobby and apply it in a professional world, Allen said. 
As attendees made their way into the Verizon Ballroom, Allen helped them set up their systems where they would remain for the next 24 hours. Though the majority of the 24 hours would be spent on personal devices, the Friday Night Fights corner allowed gamers to take a break from team games and learn more about the Friday Night Fights gaming events that are scheduled throughout the year. 
Afterlife presents similar events about five times each year in NWA for gamers and I.T. professionals to discuss new tech and games, such as a previous 24-hour LAN event at the Jones Center in Springdale, Arkansas. This is the first time that the organization has presented this event at the UofA.
"This is for like-minded people to come together and play some games, that's really what it boils down to," Allen said.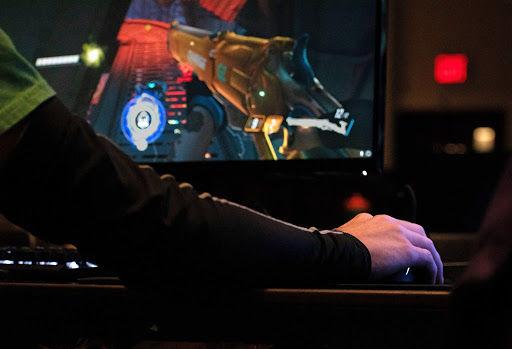 Afterlife members want to bring more LAN parties to the UofA, and they planned to use this event to see if students would be interested in coming to similar ones in the future, Allen said. The turnout for the event was rather light due to it landing on the same weekend as an away football game for the Razorbacks as well as Bikes, Blues and BBQ, Allen said.
Though the turnout was light and the event was only a test, Allen was still enthusiastic about being able to have the event at UofA and bring gamers out of their dorms to connect with one another, Allen said.
"There's nothing quite like getting that headshot and hearing the dude across the table go 'ahhhh' because you took him out," Allen said.