Chessy Prout was 15 when she was raped by an older student at her New England prep school in 2014, but on her 21st birthday she found herself in a place she never expected: onstage at the Jim and Joyce Faulkner Performing Arts center describing her assault and path to healing.
Prout and Washington Post investigative reporter Jenn Abelson co-authored the book "I Have the Right To: A High School Survivor's Story of Sexual Assault, Justice, and Hope," which recounts Prout's assault and how she harnessed her pain to advocate for survivors' rights. Prout and Abelson visited the UofA on Thursday night to discuss the book, which is the 2019 pick for the campus-wide "One Book, One Community" reading program.
After her traumatic experience with sexual assault and the criminal justice system, Prout wrote down the basic rights she felt people should have to their body. After doing so, she launched the #IHaveTheRightTo social media campaign for survivors to share their stories online.
Eventually, the movement led to the founding of a nonprofit advocacy organization and the writing of "I Have the Right To."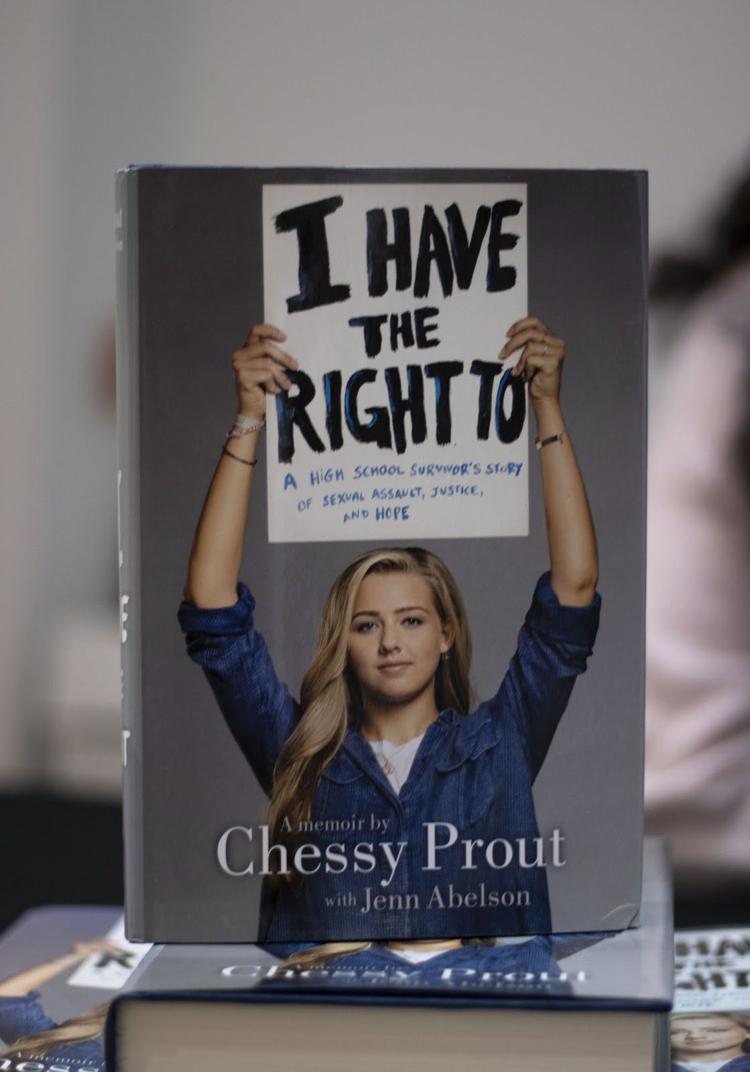 While a freshman at St. Paul's School in Concord, New Hampshire, Prout was raped by senior Owen Labrie, who was participating in the "Senior Salute," a school-wide tradition of senior boys sleeping with as many younger girls as possible. 
At first, Prout did not comprehend what had happened to her, she said.
"All I could get out to my mom was, 'a boy had sex with me and I didn't want it,'" Prout said. "I didn't know that that was a crime. I didn't know that I had a right to my body and I had the right to say no and actually be listened to."
After reporting the assault to police, Prout faced bullying from her peers, she said. After a semester back at the school, the bullying led Prout to leave St. Paul's for good.
Prout began the legal process, which she called long and painful, anonymously as a Jane Doe, but she decided to come forward in 2016 when St. Paul's threatened to strip her of her anonymity, she said.
"I was not about to sacrifice all that I had put myself and my family through and stop there," Prout said. "I wanted to help pave the way for other survivors to be able to report, seek justice and finally not be bullied by the school into silence."
Abelson guided Thursday night's discussion and told the story of how she met Prout while investigating sexual assault coverups in New England private schools when she was a member of the Boston Globe's Spotlight team.
"A lot of the victims I talked to were adults who had suffered in silence for decades, and they struggled with guilt and shame and blame, and it showed how much their lives had been damaged by this," Abelson said.
Prout thinks sexual assault is pervasive in private schools because of the sense of isolation they breed and their focus on reputation protection, she said. Prout said she thinks college campuses face similar problems.
"Definitely the newness of not having to go home and see your parents every night, not having to look the people who are taking care of you in the eyes, I think that enables a lot of bad and criminal behavior," Prout said.
In the U.S., 23.1% of female undergrads and 5.4% of male undergrads experience rape or sexual assault through physical force, violence or incapacitation, according to the Rape Incest and Abuse National Network. The overall rate of sexual assault for all undergraduate and graduate students is 11.2%.
Prout said one of the best ways to fight campus rape culture is better consent-focused sex education.
"Sex education needs to be a much bigger part of high school curriculum, middle school curriculum and college curriculum, especially when it comes to safety and respect," Prout said. "Basic levels of consent can be taught as soon as they are able to walk and talk."
Prout thinks It is especially important to include boys and men in the conversation surrounding consent and respect, because they too can be victims of sexual violence, she said.
Prout said survivors of sexual assault should reach out to victim advocacy organizations that can guide them through the recovery process.
"Everybody has their own path to survivorship, and for some people, a huge step could be just acknowledging in their own minds that they were assaulted," Prout said. "Another person's big step might be going forward on national television to claim their survivorship."
Victims of sexual assault or abuse can contact the National Sexual Assault Hotline at 1-800-656-4673. The NWA Center for Sexual Assault can be reached at 800-794-4175 and the Office of Support, Training, Advocacy, & Resources on Sexual Assault and Relationship Violence (STAR Central) at 479-575-7252.