International students gathered to share their cultures with others, discussing key aspects of their home countries as dancers performed in the International Connection Lounge in the Arkansas Union on Nov. 18 at the International Bazaar.
The event featured dancing, food, cultural performances and international students who spoke about their home countries and cultures.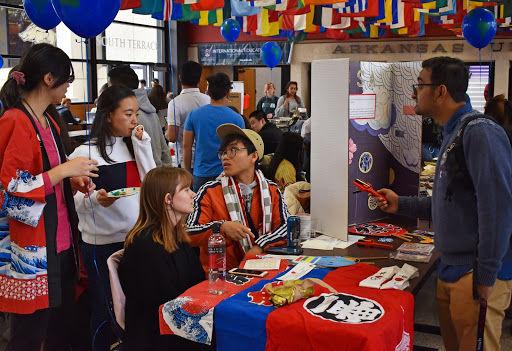 Ko Ko, a junior from Yangon, Myanmar, helped International Students and Scholars members get the microphone and speakers to participate in the event, he said.
International Students and Scholars is a UA organization that assists international students with things like educational and collaborative groups like iFriend and Cross Cultural Mentors. 
iFriend is a group of programs revolving around the connection between international, and domestic students and community members through group pairing. Cross Cultural Mentors are volunteers that help international students adjust to life at the UofA.
Ko Ko has attended the International Bazaar every year of his seven years as a UA student.
"There is a lot of brand new faces (this year) that I have never seen from many different countries, and this year they tried to make it bigger I believe," Ko Ko said.
There were also people from newer, smaller countries who presented parts of their country as well.
Gerardo Abi, a senior from East Timor, a small island nation in Southeast Asia, was proud to speak about his culture, he said.
At his table, Abi spoke about the history of his country, and how it gained its independence from Indonesia, becoming the first nation to become independent in the 21st century.
Abi presented about different types of traditional clothing native to East Timor, like tais, and the short, but rich history of his nation.
The International Bazaar is a way to experience a small part of the different cultures that people have on campus, Abi said.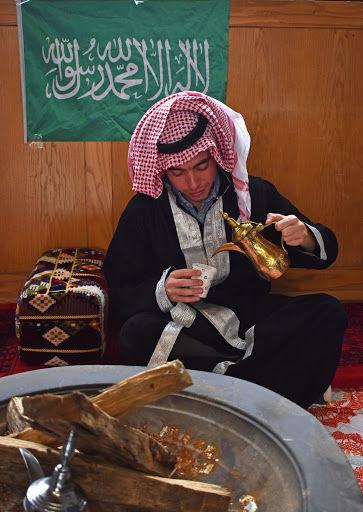 Talal Alruwaily, a sophomore from Jubail, Saudi Arabia, talked to attendees about traditional desserts, like dates and Arabic coffee
"I like to show to other people the best of our culture," Alruwaily said.
Cristhian Espinosa, a senior from Chiriquì, Panama, decided to share clothing and traditional dances from his culture.
At his table, Espinosa had a hat that featured horns that Panamanians wear during a traditional dance called diablico sucio.
"In the dance you just have to look scary and all that," Espinosa said. "It's not like something that all of us need to know. It's just one tradition we try to keep."
Espinosa's table featured a lot of traditional Panamanian clothing items, like cutarras, a Panamanian sandal.
Alruwaily presented at the Saudi Arabian table at last year's International Bazaar, and did it again this year because he liked that people were interested in his culture, he said.