Northwest Arkansas schools have a 66% white majority student population, and a 2019 survey indicates that minority groups want more school options in their communities.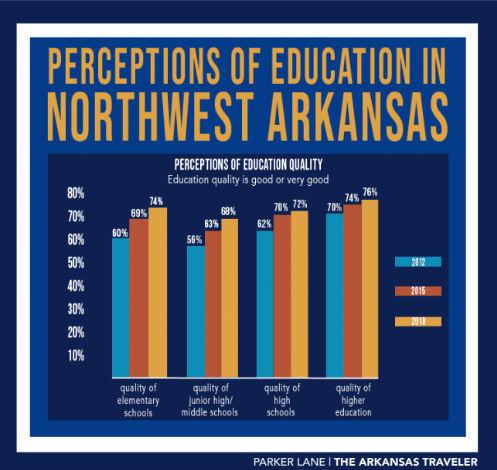 Of the 966 respondents to the survey, 68-76% think that the quality of education in NWA is good or very good, according to the 2019 Northwest Arkansas Quality of Life Survey Report.
However, 54% of respondents thought more K-12 school options would improve their community. Of those surveyed, 59% of Hispanic people were more supportive of increasing availability of school choices compared to 52% of white people. 
Sarah McKenzie, the executive director of the UA Office for Education Policy, thinks racial segregation might explain why people want more school options, she said. In NWA, minorities make up 33% percent of students in the region, with 21% of those students being Hispanic, according to the Office for Education Policy.
"Oftentimes, the schools in those neighborhoods are perceived as being less high quality than schools in wealthier neighborhoods, but they don't have a choice," McKenzie said. "There's no other academic option for them."
Melissa Moznabi, a UA sophomore who is the daughter of Iranian immigrants and graduated from Rogers High School, thinks there is a noticeable racial and economic divide in Rogers. She thinks she attended the best schools in the district, which typically had a large white population, she said.
"The PTA (Parent Teacher Association) in affluent neighborhoods can put more money into funding and school fundraisers and make learning easier," Moznabi said. 
McKenzie thinks it is important for schools to focus on growth, or how students improve each year, instead of a school's academic score, she said. Economic – and occasionally geographic – segregation leads to some schools having lower proficiency on tests, she said.
Laura Olivares, a UA freshman who graduated from Bentonville West High School, said she was aware of the majority-white population in her school, but still thinks it set her up for success. Olivares attended Bentonville High School her freshman year before the new school was built.
"There were a lot more wealthy kids at Bentonville High School," Olivares said. "A majority were just white kids (at BWHS). I feel like it wasn't mixed."
Moznabi was very aware of race growing up, she said. She felt most like a minority in elementary school, and noticed that Hispanic students and white students would usually stay with their groups.
"They wouldn't intermingle with each other," Moznabi said. "I sort of found myself in-between both of them because I wasn't a part of either. I was often mistaken as Hispanic, but I couldn't really intermingle a lot with Hispanic students because I couldn't speak Spanish."
The BWHS Hispanic student population, 15%, is 5% higher than the Hispanic student population at BHS, according to the Bentonville K-12 website. Additionally, there are 7% more students eligible for free or reduced lunches at Bentonville West.
Economic division, which can correlate to diversity, is also prevalent in elementary schools in Bentonville. R.E. Baker Elementary School has a 39% minority student population, with 44% of students eligible for free or reduced lunches, according to the Arkansas Department of Education. At Cooper Elementary School, also in Bentonville, 14% of students are minorities and 25% are qualified for free or reduced lunches.
For Lauren Davis, a mother of three with two kids in Rogers Bellview Elementary School, school options played a big role in choosing where to live. She is happy with where her family settled, she said.
"It mattered a lot where we lived," Davis said. "We looked within Rogers and Bentonville and there were probably a handful of schools that we were willing to go to and live within that school district."
Olivares liked that the high schools split because she had more opportunities to ask for help, she said. Her grades were better at Bentonville West. 
"It was really hard for me to get around and meet new people," Olivares said. "Academically, it was horrible to get help at Bentonville High School because there were so many other kids that needed help."
Associate Editor Samantha Van Dyke contributed to this report.