Associated Student Government members unanimously passed a proclamation Tuesday honoring the life and legacy of the Fayetteville police officer killed while on duty in December.
ASG senators Meredith Wilson, a junior, and Jesus Perera, a junior, broke down the importance of the proclamation recognizing the career and life of Officer Stephen Carr at the weekly senate meeting. All 45 ASG senators voted in favor of the proclamation.
The proclamation will be mailed to all of Carr's associates at FPD and posted on the ASG website with all past proclamations, Perera said.
After Carr was killed Dec. 8 while waiting for his partner in the Fayetteville Police Department parking lot, Perera and Wilson began working on the proclamation, Wilson said.
Fayetteville Police Department officials have identified both the police officer and suspect who died in Saturday's shooting near the Fayetteville Downtown Square.
Perera worked closely with FPD Sgt. Anthony Murphy to get a better understanding of Carr's personality. Learning that Carr played football for Southwest Baptist University, liked the Backstreet Boys and loved hunting helps the community connect with the officer, Perera said.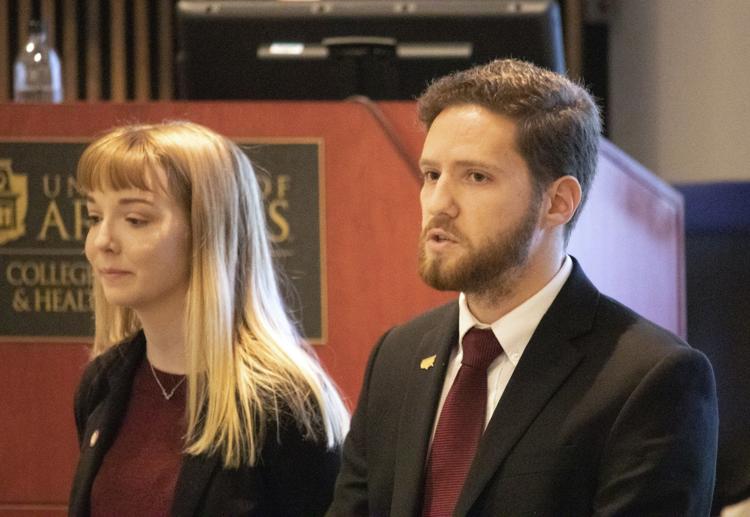 "We see all this stuff in the media about the awards and everything, but I wanted a more personal perspective on him," Perera said.
The proclamation recognizes Carr's relationship with his community as well as his personal interests and his life before becoming an FPD officer.
Wilson thinks the proclamation will show how important Carr was to students and the community, she said. Wilson said she felt like Carr's main focus was to help students and build personal relationships with them.
"He worked so hard to build that layer of trust where if you see an officer and something's going wrong you are not afraid to go talk to him because you're drunk," Wilson said.
Carr served with FPD for two and a half years and was awarded the Unit Meritorious Performance Award in 2018 for his dedication to the community.
It was important to Perera and Wilson to get this proclamation passed because they wanted to continue honoring the life of Carr even when both of them leave the university, Perera said.
"I feel like the proclamation solidified the record of Carr and his relationship to students," Perera said.
Murphy said the support from the university, such as lighting the Donald W. Reynolds Stadium blue and using Bud Walton Arena for Carr's funeral, has meant a lot to Carr's family and FPD.
"The university has worked hand-in-hand with us during the first minutes of the incident," Murphy said. "Ever since then (University of Arkansas Police Department) has been there for us when we need them and I know if we need anything else from them they will be there to help us out."
Carr's family received the Blue Star Award, an award for officers who were seriously injured or killed from violent altercations on duty, during the FPD annual awards ceremony Jan. 18, Murphy said.