Note: Presidential candidate Julia Nall of the Forward As One ticket is Design Editor of The Arkansas Traveler. The Arkansas Traveler strives for comprehensive coverage of all election tickets.
Associated Student Government treasurer and secretary candidates on the 2020 executive tickets debated and discussed their future involvement in ASG at the first debate of the election Tuesday night.
The candidates, junior Kayln Jackson, senior Elizabeth Kimbrell, senior Emma Kate Dillon and senior Jissel Esparza, gathered in Giffels Auditorium to discuss their visions for ASG with a crowd that cheered and clapped for their preferred ticket.
Secretary candidates Emma Kate Dillon of the Forward As One ticket and Kalyn Jackson of the Action for AR ticket agreed on negative past connotations associated with ASG's involvement on campus and power over other groups.
"I think anyone in this room can attest to the fact that ASG often receives a negative impression from the student body," Dillon said. "We only come around during elections and after that, you don't hear anything from us again."
Dillon thinks that the upcoming year could be the one when ASG members make the changes needed to make ASG more accessible and show much they do on campus, she said.
Jackson thinks people have preconceived notions about ASG, she said.
"I think it speaks volumes that I am the only one running in this campaign right now that is not affiliated with ASG in any sort of way," Jackson said. "I think people think that ASG is some untouchable resource on campus and only people that are members can be doing ASG events, and that's not the case."
If elected, Jackson wants to make sure ASG is reaching out to and collaborating with other organizations and "letting them know what ASG can do for them as a whole," she said.
Dillon said she thinks that there needs to be a focus on promoting events other just ASG's own on social media.
"If we're advertising just our events on just our page, we're not going to receive as much impressions and engagement because we're not reaching outside of that bubble," Dillon said.
Jackson described the secretary role as one that bridges the gap between ASG and the student body.
Jackson spoke about the importance of students who are not involved with student government and "making sure that they feel welcome, making sure they feel heard and that they feel included within ASG."
Jackson and Dillon answered questions about how they would advertise the annual Chancellor's ball, their plans for revamping required ASG emails and their role as a liaison with student media.
Treasurer candidates Jissell Esparza of the Forward as One ticket and Elizabeth Kimbrell of the Action for AR ticket highlighted their experiences with the Office of Financial Affairs Board.
Esparza thinks that her year and a half of experience with OFA and first-hand experience on what the role of the treasurer is what helps make her qualified to be the next ASG treasurer, she said.
If elected, Esparza wants to bring in something that OFA, ASG and the student body has never seen before– an initiative that creates multilingual resources for the OFA funding process, she said.
"We have a lot of RSOs on this campus that are led by international students," Esparza said. "A lot of those RSOs apply for funding, and a lot of times there are tiny little mistakes they make that cause the board to deny their budgets."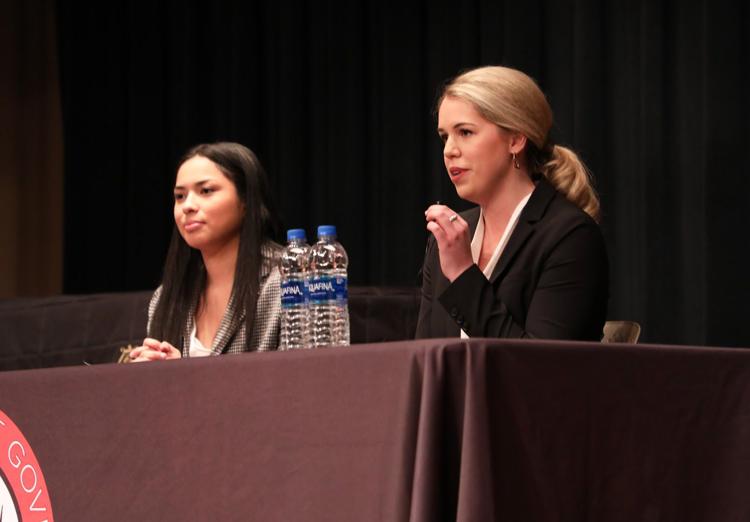 Translating the standing rules into the native languages of those groups on campus is one of the first things Esparza would do as treasurer, she said.
Kimbrell highlighted her time and duties as ASG Deputy to the Treasurer last year, where she attended meetings, created budgets and led OFA meetings in the absence of the treasurer when describing why she is uniquely qualified for the position.
Kimbrell has used Instagram to post about OFA and has frequently answered questions from students about their budgets before they submit them, she said.
"The standing rules are super long, 371 lines to be exact," Kimbrell said. "Even as a board member we often get tripped up on the interpretation of the standing rules and we're supposed to be the most knowledgeable of these."
Creating infographics on the rules and making them available on social media, like on Instagram highlights, would help students looking for funding, Kimbrell said.
Kimbrell wants to approach RSOs personally to encourage them to apply for funding instead of asking them to come to her, she said.
"I think that it's very selfish of us as servants of the student body to say, 'Hey, come to us and learn about it,'" Kimbrell said. "No, we want to come to you and show you what resources are available to you."
Kimbrell would also like to educate all ASG agents on the funding process so that it is accessible through more than just those on the board, she said.
Esparza wants to visit as many RSO meetings as possible and start conversations about OFA funding and how to do it, she said.
Esparza thinks making the ASG website more accessible will better serve groups seeking OFA funding and give them the chance to make an impact on campus life, she said..
"College students are busy," Esparza said. "They don't have time every single week, or every single day, to go to somebody's office hours."
Focusing on a website and making it accessible to the organizations is one of the goals that needs to be worked on "first and foremost," Esparza said.
Each candidate was given two minutes for their opening statements, one minute for closing statements and two minutes to answer each of eight questions. Chancellor Joe Steinmetz moderated both debates.
The executive town hall debate will start at 6:30 p.m. Thursday night in Giffels Auditorium.
Students will be able to vote on ASG positions March 2-4.