Note: Presidential candidate Julia Nall of the Forward As One ticket is Design Editor of The Arkansas Traveler. The Arkansas Traveler strives for comprehensive coverage of all election tickets.
Presidential candidates Katie Gardner and Julia Nall, as well as vice-presidential candidates Lizeth Martinez and Ben Cameron, all seniors, agreed that diversity within ASG is a focus of their campaigns.
"There are students on my ticket – students in this room – that do not feel included, who have not felt included by this campus or by ASG before," Gardner said. "I think that that's a problem and absolutely something that we have to address first."
Gardner and Martinez, who are on the Action for AR ticket, stressed the need for inclusion throughout the debate. Gardner said she wants the university as a whole to feel more like a family.
"This is a campus community," Gardner said. "Not just within our colleges, not just within our RSOs, not just within our different groups –– it needs to be a campus family."
Martinez said she thinks many students have a difficult time reaching out to others that may not look like them.
"We need to play a more active role in diversity, and no, diversity doesn't always mean inclusion." Martinez said. "Diversity needs to be inclusive. One of the phrases I really like to say is that 'Diversity is asking someone to a party but inclusion is actually asking them to dance.'"
Cameron said he wants the role of vice president to serve as a conduit for students to be heard by ASG, and hopes to add diversity to homecoming courts and the selection committee better communicating with RSOs about these opportunities.
Both Nall and Gardner acknowledged that this was the first time all presidential candidates running were women, and that if elected, either would be the first female student body president since Tori Pohlner who served during the 2012-13 academic year.
"My freshman year, I was told that a ticket looked like two panhellenic women and two IFC men, and that's how you won," Gardner said. "That's not the case for either of our tickets, and I think that's exciting."
Nall, of the Forward As One ticket, said she thought the two issues that impact students the most are substance abuse and economic inequality. Nall said she wants to instate an alcohol amnesty policy that will allow students who are calling 911 for alcohol related emergencies.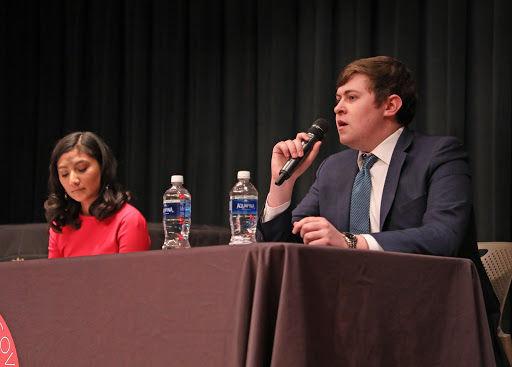 "It is no secret that we have a drug and alcohol problem on this campus," Nall said.
There have been 126 reports of or arrest of minors in possession of alcohol in 2020 at the UofA, according to the UAPD Daily Crime Log.
As for economic inequality, Nall said her ticket is passionate about providing more scholarship opportunities for students in need of economic support.
"If you can't pay rent, if you can't buy food, you're going to do poorly in school," Nall said. "We need policies that fight for our students who are economically disadvantaged. We need to advocate for those scholarships."
Nall went on to say that she wants to work with the Alumni Association to raise funds for more scholarships as well as reassess ASG's own scholarship funds.
"We need to make sure that our scholarship opportunities are diverse and that they aren't merit based," Nall said. "Merit-based scholarships are exclusionary to the many schools that don't have the funding to provide massive AP programs."
The executive candidates also discussed the upcoming referendum vote. The student body will have the opportunity to vote on replacing the Freshman Leadership Forum Coordinator with a Membership Development Coordinator, who would oversee both FLF and the Associate Member Program.
All candidates agreed that they were in favor of the referendum, and that it would allow ASG to be more inclusive to those wishing to join ASG throughout college. FLF presently only takes applicants at the beginning of their freshman year, while the Associated Member Program accepts applicants on a rolling basis, said ASG Student Body President Jared Pinkerton.
"That position is intended to make our leaders stronger," Gardner said, "to really make sure our members are educated on how they can inform others on that question 'What does ASG even do.'"