Arkansas needs to limit the governor's power to issue pardons. Without a limit on the number of pardons, this sole authority designated to the governor is too much power.
Since the Kentucky gubernatorial election Nov. 5, former Gov. Matt Bevin issued more than 650 pardons, arousing suspicions from the FBI.
Bevin's decisions have been publicly denounced by other Kentucky state and federal politicians. Senate Majority Leader Mitch McConnell labeled the pardons as "completely inappropriate." Morgan McGarvey, the Kentucky Senate Minority Leader, and Rep. Chris Harris both applauded Attorney General Daniel Cameron for pursuing a federal investigation.
Pardons are a constitutional power assigned to governors, but the public's safety should be the highest concern. Bevin's decision to pardon Patrick Baker and Micah Schoettle illustrate two examples of this error.
Though convicted for reckless homicide, Bevin pardoned Baker, whose family raised $21,500 and donated $4,000 for Bevin's failed re-election campaign.
Bevin pardoned Schoettle, found guilty of raping a 9-year-old girl, because he declared victims of repeated sexual conduct would have "repercussions of that, physically and medically," and claimed the victim did not.
In spite of medical research, which concluded the opposite, Bevin relied only on his personal beliefs of sexual assault.
Data from a series of U.S. National Institute of Medicine reports concluded that physical examination is vital when considering sexual assault. The determination of sexual misconduct toward a child is rooted more in the child's testimony.
Furthermore, the report concluded that "all physicians should know that the physical findings are normal in more than 90% of cases."
Schoettle served only 19 months of his 23-year sentence.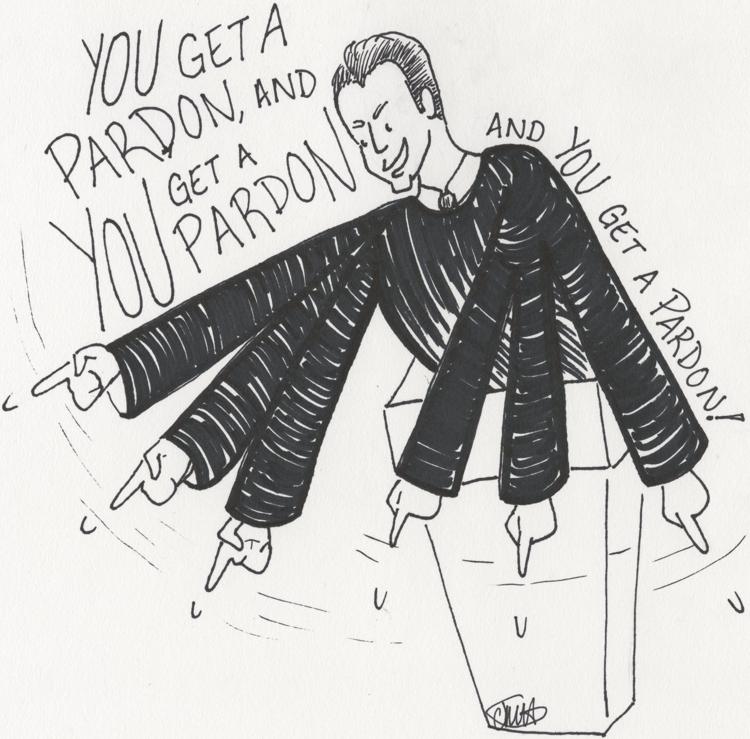 Another example is Bryan Bishop, a man found guilty of possessing heroin and meth in March 2019. After he failed to complete his drug rehabilitation program in April 2019, Bishop was sent to finish his 8-year sentence in prison.
Despite Bishop writing to the judge admitting he needed help, Bevin pardoned his sentence along with 336 other drug offenders. On Dec. 27, Bishop was found dead from an overdose.
"We should want there to be integrity in our (justice) system," Bevin said in a December interview on NewsRadio 840 in Kentucky.
The irony here stems from Bevin's assumed position as judge and jury, where he unilaterally decided innocence and guilt.
Similarly, from 1996-2007, former Gov. Mike Huckabee issued more releases through pardons and commutations than his three predecessors combined.
Not only did Huckabee release Wade Stewart, one of 12 convicted murderers pardoned, but he also freed Wayne Dumont, a convicted rapist, who subsequently raped and killed another woman.
Judges and juries deal with convictions, not governors. Bevin caused harm to families, prematurely reintroduced offenders to the streets, and ignored the victims of heinous crimes, and for that, there should be consequences.