LGBTQ allies were quick to be critical of TV personality Ellen DeGeneres' friendship with President George W. Bush earlier this month, raising questions among her supporters and peers about whether her kindness was extended too far. 
When the online communities criticized DeGeneres for civilly communicating across party lines, it called into question DeGeneres' role in the public eye: is she a public figure only responsible for sharing her own ideas, or, as a member of a marginalized group, does she have a higher level of responsibility to represent them well?
DeGeneres came under public scrutiny as a friend of Bush, after she sat with him and his wife at a Dallas Cowboys football game. Bush has famously opposed gay marriage, actively endorsing a proposed amendment to make same-sex marriage illegal.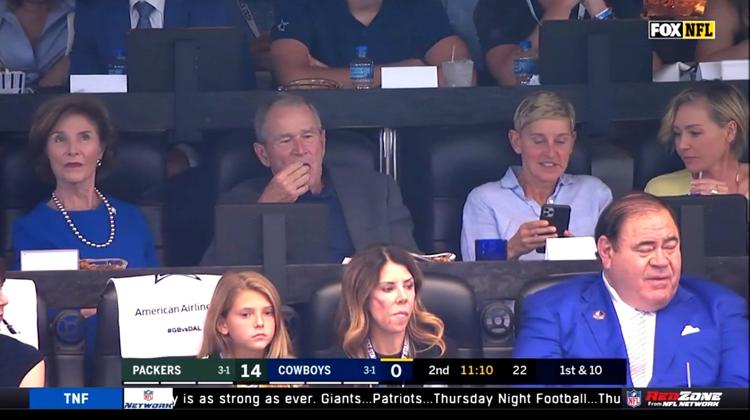 DeGeneres's relationship with Bush caused an uproar in many social circles, with commenters online claiming DeGeneres is a traitor to both the LGBTQ community and the left as a whole. DeGeneres addressed the controversy on her show.
"When I say be kind to one and another, I don't mean only the people who think the same way you do," DeGeneres said. "I mean, be kind to everyone." 
Many celebrities disagreed. 
Actor Mark Ruffalo, a prominent LGBTQ activist, was one of those who questioned DeGeneres's choice to be civil with Bush, citing Bush's links to war crimes in the Iraq War.
Sorry, until George W. Bush is brought to justice for the crimes of the Iraq War, (including American-lead torture, Iraqi deaths & displacement, and the deep scars—emotional & otherwise—inflicted on our military that served his folly), we can't even begin to talk about kindness. https://t.co/dpMwfck6su

— Mark Ruffalo (@MarkRuffalo) October 9, 2019
For years, DeGeneres has provided a positive image to bridge the gap between LGBTQ people and the cisgender/straight communities. Anyone, no matter where they fall on the sexuality spectrum, can find her messages accessible. This is what makes her voice so prominent. However, DeGeneres provides a squeaky-clean image by lending her voice to children's cartoons and employing clean humor on her television show. Her image provides positive representation to members of the LGBTQ community, and at the same time is relatable to the viewers who may still be averse to seeing members of the LGBTQ community in the spotlight. 
DeGeneres's message throughout her career has consistently been one of acceptance. Why are audiences so surprised, then, that DeGeneres would act consistently in her off-screen life? Perhaps, if we have moved into an era where this sort of optimism and seemingly blind acceptance is no longer applicable, then it is time for the LGBTQ community to hone in on a different celebrity for political representation.
Strangely, many of the celebrities making comments towards DeGeneres' betrayal of the LGBTQ community do not even come from within it. A huge portion of notable commenters are straight liberals that act as allies for the community.
Actress Susan Sarandon shared a quote from an article in Out magazine that outlines the issue fairly clearly. 
"But missing the point entirely, DeGeneres framed the issue as simply a matter of her hanging out with someone with different opinions, not a man repeatedly accused of being a war criminal." The actress tweeted, alongside a link to the article. 
The significance of DeGeneres' message lies not with the situation in itself but how it can be applied to the lives of individuals. Even the most serious difference in social ideology should not negate the possibility for connection.
Journalist and democratic activist Glenn Greenwald tweeted that friendship was a poor excuse for DeGeneres to explain "why she was sitting next to the torturer and war criminal, laughing it up at a football game, reflecting the prevailing liberal ethos." 
"I'm friends with George W. Bush" - @TheEllenShow, explaining why she was sitting next to the torturer and war criminal, laughing it up at a football game, reflecting the prevailing liberal ethos: https://t.co/2s7Jz08W2V

— Glenn Greenwald (@ggreenwald) October 8, 2019
Such sentiments have been highly fixated on the idea that this issue reveals DeGeneres's privilege and lack of perspective when dealing with issues that affect the common person more than the rich, liberal elite. But the truth is, she has simply decided to use her prominent position to make a political statement of friendship.