Even an avid Razorback fan may not recognize most of the faces entering the Basketball Palace of Mid-America in a few weeks. The Hogs are sporting a completely new look entering the 2019-20 season, but hopes are strong among players as they aim to be dancing in March.
During the first Razorbacks' scrimmages in 'training camp' under first-year head coach Eric Musselman, many things stood out but none more than the three-pointers from a 7-foot-3-inch Little Rock native that just kept finding the net.
"I've always been able to shoot a little bit," sophomore center Connor Vanover said. "I can say I got it from my mom. She played (at Arkansas), and she's always had a touch. When I was growing up, my coaches just let me shoot, so I've just been able to develop over the years."
Pick and rolls were the norm. Vanover would set hard screens and quickly shuffle his way behind the three-point line, which was pushed back from 20 to 22 feet by the NCAA starting this season, and sink three-straight shots from deep on consecutive plays.
If there are two things Razorback basketball has not seen much of lately, it's efficient big men and knockdown shooters. 
The Razorbacks were the SEC's seventh-best team out of 14 in three-point shooting last season, making 241 shots (34.2%). More than 46% of those points came from one player: Isaiah Joe, making the Hogs essentially a one-man band from three-point range last season.
This year, the Hogs severely lack height, with their tallest eligible players standing at just 6 feet 8 inches.
Vanover fixes both of these problems. Last year, he shot a respectable 36% from beyond the arc in the Pac 12 conference. The only problem is that he may not see a minute of action this season. The former California Golden Bear transferred to Arkansas over the offseason, and per NCAA regulations, will have to sit out his first year unless his waiver is accepted by the NCAA.
Teams can submit waivers to the NCAA for many reasons including family hardship. Vanover decided in part to transfer to Arkansas to be closer to his ill grandmother in the state, Musselman said.
"It's just stressful going through every day not knowing if I'll be able to play," Vanover said. "I'll for sure bring in some more height. That's needed. Being able to have more size means that we can play more natural positions, and it'll help us as a whole be who we're supposed to be."
As Musselman and Vanover wait patiently, backup plans need to be assessed. The lack of size this season will force more center minutes from sophomores Reggie Chaney and Ethan Henderson as well as senior Adrio Bailey, Musselman said.
"That's cool with me," Bailey said. "That's a mismatch for some of (the other SEC centers). I know some of them are not as quick as me, not as agile as me. The position doesn't really matter to me. It's just about providing and helping my team win."
As for Musselman, the players seem to be reacting well to the former Nevada coach. He brings a high-energy style of coaching to his practices and expects the best from his players. At one point during a scrimmage, Musselman restarted a play because Henderson was jogging rather than sprinting.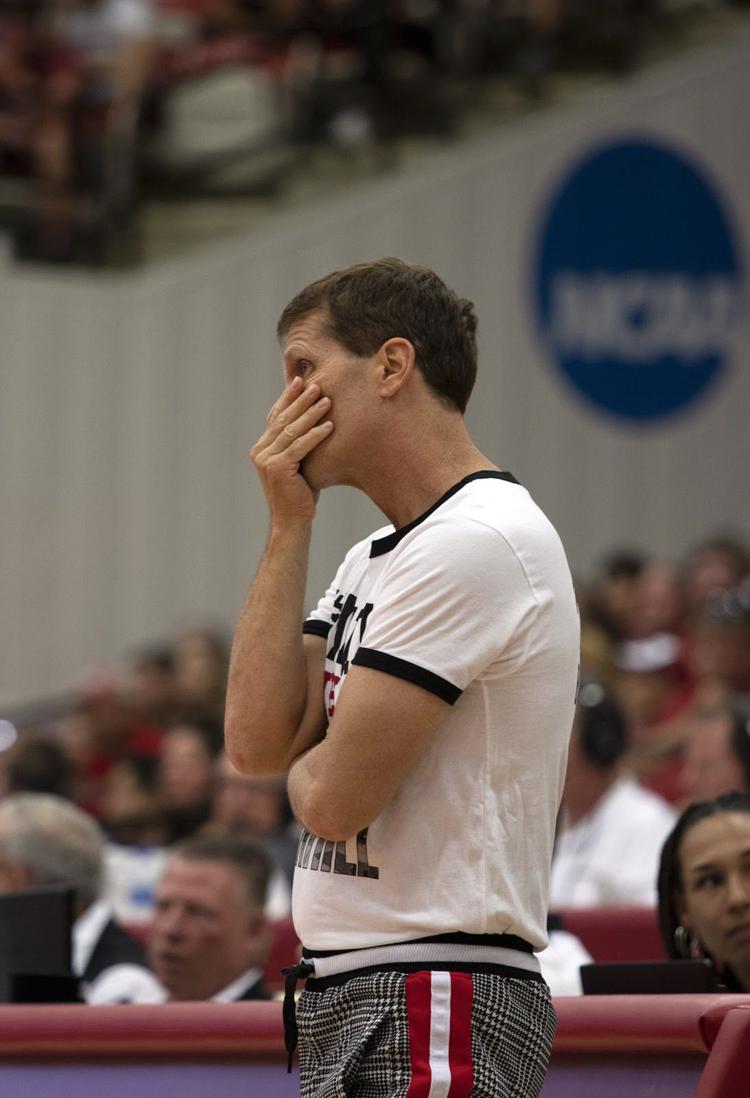 "I'm not going to be easy on you," Musselman said throughout practice drills. "We're shooting for perfection."
Despite Musselman's tough drills, many of the players appreciate his professional experience and the value of his training.
"It's kind of hard to not listen to (Musselman) even when he's trying to get under your skin," Bailey said. "He knows what it takes to be a pro, he knows what pros do. He's bringing the type of energy and the type of culture that Arkansas needs."
Musselman and longtime assistant Clay Moser have worked for a total of eight different professional teams between them in some capacity and have coached the likes of former Hog Corliss Williamson, Chris Paul, Dwight Howard, four-time NBA champion Shaquille O'Neal and four-time MVP LeBron James.
"Everything is (about the) NBA," junior guard Mason Jones said. "Us knowing that he's treating us like NBA players and he's getting us ready is just amazing."
Throughout his four seasons at Nevada, Musselman recruited 13 players from other colleges to join the Wolfpack, and in his first offseason with Arkansas, he has already attracted five players to Fayetteville, two of which will be eligible to play this season.
Those two are former North Carolina-Wilmington forward Jeantal Cylla and former SMU guard Jimmy Whitt Jr., both of whom are graduate seniors.
Whitt played for the Hogs as a freshman during the 2015-16 season but later transferred out to SMU before returning for his last year of eligibility.
"It's crazy how things work out," Whitt said. "I came in my freshman year wanting to do a lot for the program and now I get that opportunity, much wiser, a lot better at the game. I think I'm going to be able to give a lot more than I wanted to my freshman year."
Cylla will also go into his final college basketball season with a chip on his shoulder and credits Musselman with knowing how to have success with graduate transfers, he said.
"I just want to make the (NCAA) Tournament," Cylla said. "That's really been a dream of mine. That's all I have my eyes set on and whatever the team needs me to do, I'm going to bring it."
Like Cylla, the other Razorback players are aching to get back to the 'Big Dance' after missing it last season and settling for the NIT. It's the number one goal on their minds, Bailey said.
"I've never seen so many people in the gym each and every day," Bailey said. "If you come at six o'clock in the morning somebody's there. If you come in at 10, 11 o'clock at night, somebody's in here doing something to help the team. As a team, we're very hungry and eager to win games."