Arkansas was within 14 points when Auburn quarterback Bo Nix found his receiver on a 48-yard touchdown pass, which silenced the Razorback faithful for good.
The visiting Tigers (6-1, 3-1) became bowl eligible in Fayetteville on Saturday after dominating Arkansas (2-5, 0-4) in the second half of the SEC West matchup and running away with a 51-10 blowout.
Arkansas entered the game coming off of two straight four-point losses to SEC opponents (Texas A&M, Kentucky) and was hoping to get over the hump against the one-loss Auburn Tigers.
Auburn was riding a five-game winning streak at the start of the game after losing to Oregon week one.
Arkansas allowed the Tigers excellent field position on the first two drives of the game.
Razorback quarterback Ben Hicks, a senior, fumbled on a sack on the third play of the game, meaning Auburn needed just 22 yards to get in the endzone.
On the next possession, Arkansas was forced to punt and failed to pin Auburn within its own 35-yard line.
Auburn subsequently went up 14-0 after five minutes of play.
"To give ourselves a chance, we can't give a really good opponent a short field, and that's what we did in the first half," Arkansas head coach Chad Morris said.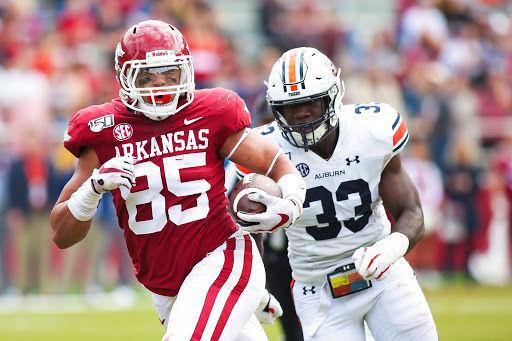 A poorly-executed fake punt attempt by the Hogs put Arkansas back in national news talk, but not in a good way.
Arkansas punter Sam Loy attempted a two-handed shovel pass on the play, completely missing the intended target which resulted in an interception. CBS Sports has already dubbed it the "worst fake punt of all-time."
Auburn stayed on the gas pedal in the second half, outscoring the Hogs 34-10 after halftime and never giving Arkansas a scent of the lead.
"We had some momentum (in the second half), and then we gave up two big plays," Morris said. "We're just not good enough, we're not experienced enough to survive four turnovers and some big plays in some key moments."
The SEC's leading rusher, Rakeem Boyd, was held to just 39 yards on the ground. Hicks threw for 182 yards with one touchdown and his first interception on the season.
Nix threw for three touchdowns and zero interceptions after throwing three in his last game against Florida.
The Razorbacks will travel to Tuscaloosa, Alabama, next week to take on the nation's No. 1 team. Arkansas and Alabama will kick off at 6 p.m. next Saturday on ESPN.