The Arkansas basketball team paid tribute to its history Saturday in Barnhill Arena as the Red team defeated the White team 77-39 with former Razorback coaches in attendance. 
The Arkansas basketball team played its annual inter-squad scrimmage while donning jerseys with 'Team Eddie' (Red) and 'Team Nolan' (White) across their chests, representing previous Arkansas Razorback basketball coaches Eddie Sutton and Nolan Richardson, who were in attendance.
The Red team defeated the White squad 44-21 in the first half of the game. After the first half, the players switched jerseys, so each player had a chance to represent both coaches.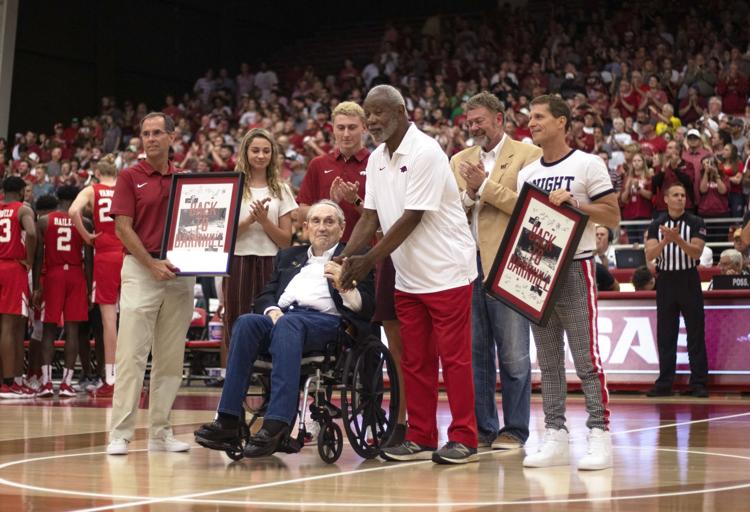 In the first half, sophomore forward Connor Vanover tallied 10 points and five rebounds on 4/7 shooting and was 3/5 from three-point range. Graduate transfer guard Jimmy Whitt Jr. scored eight points on 4/4 shooting and had three assists. Sophomore guard Isaiah Joe scored 12 points and converted 4/8 field goals, all attempts coming from behind the arc. 
"Isaiah Joe was outstanding with his three-point shooting and spacing," head coach Eric Musselman said. 
The Red team was 59% from the field in the first half of play and collected 21 rebounds, almost three times as many as Team Nolan's eight rebounds. 
"The team that was clearly executing better (was) also rebounding the ball and getting extra possessions as well," Musselman said. "And the team that got down by a significant margin did not rebound the basketball at all. I could have gone out there myself and rebounded as well as that group."
Despite the White team's poor showing in the first half, sophomore forward Reggie Chaney scored nine points and had the best plus-minus on his team at -10. 
In the second half, the Red squad (formerly white) turned the tables on the White team and beat them 33-18. 
Graduate transfer forward Jeantal Cylla scored 11 points on 5/6 shooting and tacked on three rebounds and two assists. Chaney continued his solid play, scoring 10 points and assisting three baskets. 
The Red team had seven more assists and two more rebounds than the White team in the second half. 
Whitt Jr. and Vanover continued their stellar play in the second half, scoring over half of their team's second-half total with a combined 11 points. 
After both halves, Chaney led the game in scoring with 19 points on 8/11 shooting. 
"Reggie's going to be a big key to who we are," Musselman said. "Reggie's really strong, he's really athletic and as we go against SEC frontlines, we're going to need Reggie to play really well." 
Vanover was the second-highest scorer with 15 points on 5-10 shooting three 3-pointers while boasting a 7'3 frame.
"When Connor's on the floor, our passing becomes a lot better, our rebounding becomes a lot better, our offensive flow becomes a lot better," Musselman said.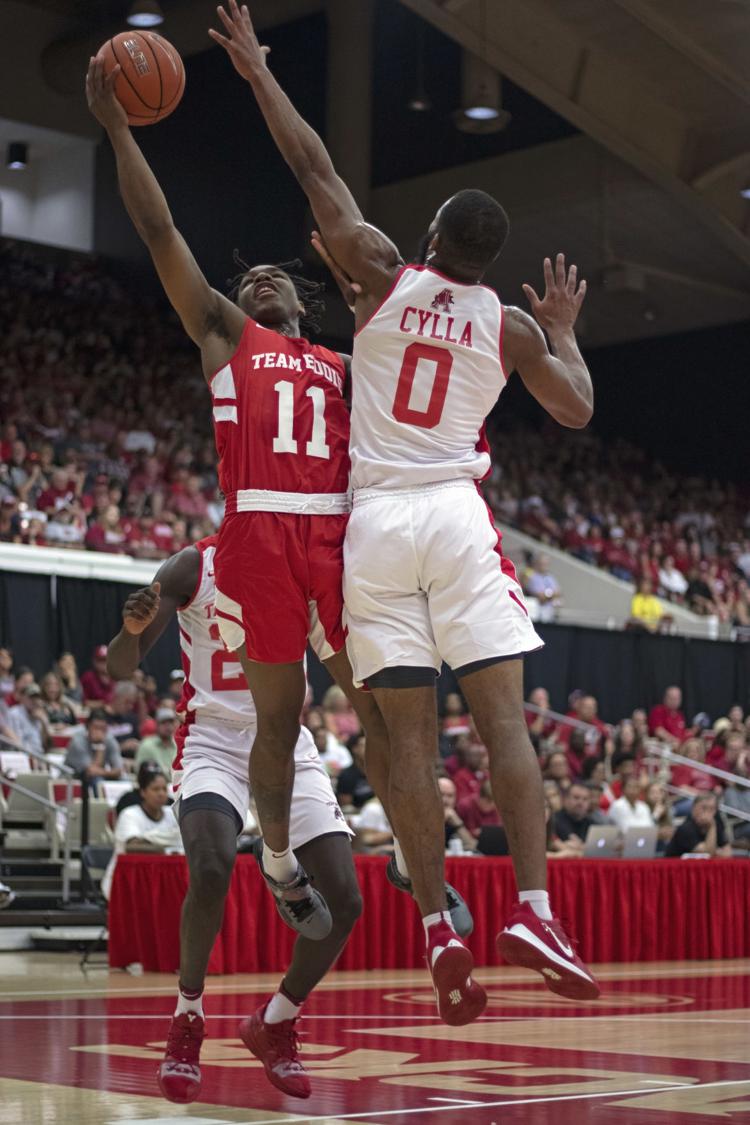 Vanover, a transfer from the University of California, is still waiting for a waiver from the NCAA that will declare him eligible to play.
"Connor's a unique player. There's not many guys at his size that can shoot the ball, and he's a great passer and a willing passer. He's a really good teammate." 
Whitt Jr. scored 14 points on 80% shooting and grabbed six rebounds.
Overall, the Red team won 77-39 in a blowout victory, but if the game was scored as one squad versus the other, the original Red Team defeated the original White team 62-54. 
The Razorbacks' first regular season game is at 7 p.m. Nov. 5 against the Rice Owls in Bud Walton Arena.