The sold-out crowd erupted as Kentucky head coach John Calipari was ejected from the court. But the visiting Wildcats had the answer to their coach being tossed as Kentucky took out the Razorbacks 73-66 in Bud Walton Arena on Saturday evening.
The hometown Razorbacks (14-3, 3-2) were looking to break a seven-game losing streak to the Kentucky Wildcats (13-4, 4-1) on Saturday, and with new head coach Eric Musselman thriving as the head of the Hogs, there was reason to believe this year was Arkansas' chance.
Leading up to Calipari's ejection, the matchup was a tight affair, with Kentucky's largest lead being its nine-point halftime cushion. But after Calipari's departure, which was a result of two technical fouls, Kentucky went on a 15-0 run that took the air out of the stadium and solidified the victory for the visitors.
"I thought the whole momentum changed (after Calipari's ejection) in Kentucky's favor," Musselman said, "in every shape and form."
Kentucky size proved to be an important factor as they won the rebounding battle, 47-29. The lack of rebounding for the Razorbacks limited their second-chance opportunities and created more for the Wildcats.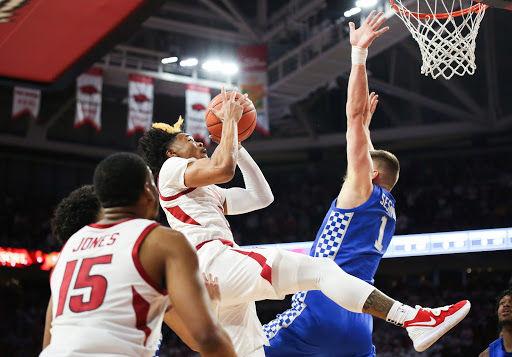 "At the end of the day, we had 48 rebounds, they had 28," Kentucky associate head coach Kenny Payne said. "That's a lot of rebounds."
While the game ended in a loss for the home squad, the Razorback faithful created an environment unique to the energy level that is typical for a game in Bud Walton Arena, Musselman said.
"We had an incredible environment in the building," Musselman said. "We don't want to let our fans down, and it's hard to create that atmosphere and get that atmosphere back."
Junior guard Mason Jones gave the Hogs a spark in the scoring department, notching a game-high 19 points and adding six rebounds in 35 minutes of play.
The big men for Kentucky were a focal point of Arkansas' gameplan, Musselman said, and the Wildcats' two starting forwards, junior Nick Richards and sophomore E.J. Montgomery, did not dominate the Hogs down low. Richards, Kentucky's leading scorer on the night, scored 17 points and collected nine rebounds, while Montgomery scored just one point and grabbed two boards.
The Razorbacks will look to bounce back from the loss in Starkville when they meet Mississippi State on Wednesday.