The Arkansas Public Theatre presented a fun, charming rendition of popular Walt Disney musical "Newsies," packed with high-energy song and dance numbers but blighted by unfortunate sound design.
Disney's "Newsies," loosely based on the events of the New York City Newsboy Strike of 1899, has found nationwide commercial success as a Broadway musical adapted from the 1992 cult film. "Newsies'' tells the story of New York's young, often exploited newsboys who sell papers from the city's various publications.
When one day the newsies, led by charismatic veteran newsboy and aspiring artist Jack Kelly, have had enough of the papers' abuses, they decide to go on strike. These young Davids must then face off against the Goliaths that are New York City's news barons Joseph Pulitzer and William Randolf Hearst.
The cast of "Newsies" is solid, not to mention adorable. The ensemble of newsies consists mostly of child and teen actors, all of whom were talented and charming in their roles. Carter Moore was especially delightful as precocious ten-year-old Les. One should never underestimate the power of the cute factor in the success of a show.
Michael Meyers and Coralee Young both shone as lead characters Jack and Katherine. From an acting standpoint, Meyers gave the strongest performance of the night as the cocky but sensitive leader of the newsies. Jack's arc of character development between "Santa Fe (Prologue)" in Scene One and "Once and For All" in the final scene of Act Two was convincing and touching.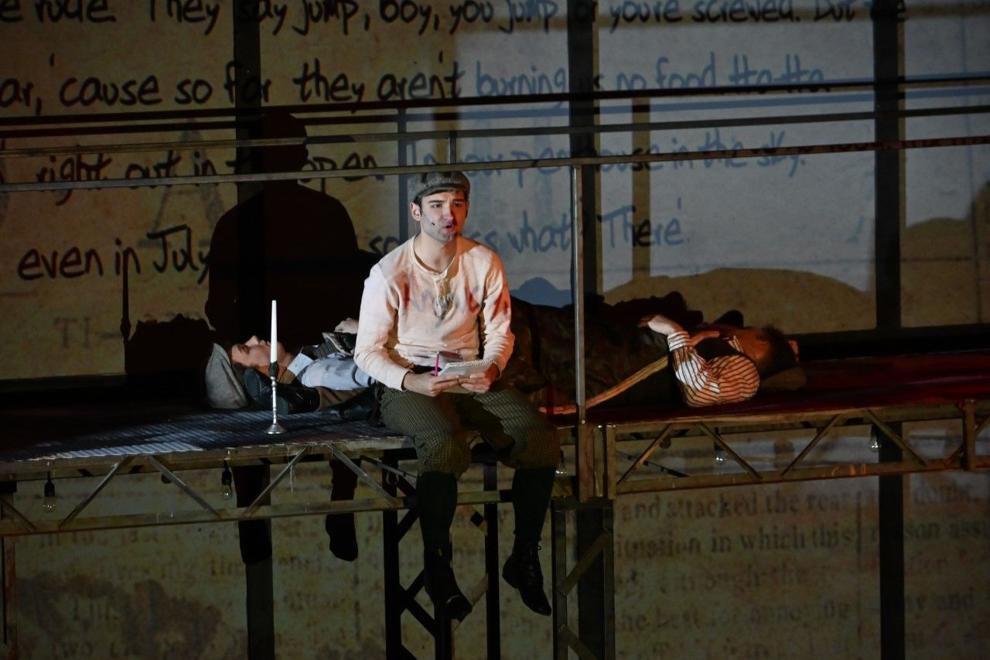 Young gave the strongest musical performance of the night. While Young's acting was also great, her singing was what brought the most star power to her portrayal of Katherine, an intrepid young reporter with a family secret. In particular, her rousing rendition of "Watch What Happens" was lovely.
I thought Meyers's and Young's onstage chemistry was stilted at the beginning of the show, but they seemed to find their stride with one another in Act Two, particularly during their performance of romantic duet "Something to Believe In."
While the acting and singing was delightful, my favorite part of APT's "Newsies" by far was the dance numbers. Choreographers Alix Barrett and Jenella Shelton did a great job combining sweeping athletic movements with ballet influences in the manner that has come to be a signature element of productions of this musical.
Good choreography does not mean much without good performers, and dancers Hallie Pomfrey, Shaelyn Wood, and Sophie Garza really nailed the more elaborate dances, outshining all the other newsies whenever they were onstage. "Newsies" is all about the dancing, and the dancing here did not disappoint.
I found that the APT's production, or at least the opening night performance that I attended, had one major problem. I often couldn't enjoy the great musical numbers as much as I would have liked because the orchestral music overpowered the onstage sound.
Don't get me wrong, the orchestra played beautifully and did a great job moving the action along via upbeat, jazzy numbers, but the instruments frequently drowned out the show's singing and dialogue.
I don't know if it was an issue of under-micing the performers, overmicing the musicians, technical difficulties, or if it was just my close proximity to the orchestra, which occupies the first row of the theater during APT musicals. Perhaps those seated in the balcony had a different sound experience than I. Regardless, it was disappointing to not always hear the performers, as there were some lovely singing voices to enjoy.
If you can overlook the sound design issues, which may differ in future performances or depend on where you sit, APT's "Newsies" provides a cute and engaging family-friendly experience. In classic Disney style, the musical handles some relatively heavy subject matter in an easily digestible way and builds to a satisfying conclusion.
The APT's production is well acted, well sung and a good time overall. So bring your Disney-loving younger sibling or that friend of yours who is really into musicals and spend a fun evening at the theater. Just be prepared to miss some words, or even some whole sentences.
"Newsies" runs through Feb. 26 at the Victory Theater in Rogers. Tickets start at $30 and student/group discounts are available through the box office.