Living in the U.S. has been a turning point in Eric Andre's life, as well as his art. In Ghana, art is rarely a means for expression, but after living in the U.S. for the past two years, Andre has been able to use his art for more than aesthetic value.
Andre, a UA graduate student, displayed his artwork portraying his immigration to the U.S. at the opening night of the "Frame of Mind" gallery at Faulkner Performing Arts Center presented by the Northwest Arkansas nonprofit, Art Ventures on Jan. 30.
Andre draws a lot of the inspiration for his art from his experiences from moving to the U.S. and feeling displaced as an immigrant, he said.
Andre first came to the U.S. in 2018 to attend the UofA for his Master of Fine Arts. The culture in the U.S. was very different from what he was used to in Ghana, he said. This culture shock made Andre question how he spoke and presented himself in the U.S.
"I did not know much about (the U.S.) and my perception about this place was completely changed going around the country," Andre said.
Though all of Andre's pieces tell stories of his immigration from Ghana to the U.S., he thinks that his drawing "Visible Unseen" perfectly represents his struggle to find comfort in the U.S.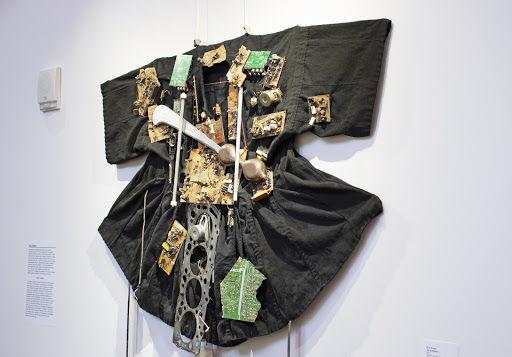 "Whether I feel like I am home or not is defined by me," Andre said.
However, Andre thinks that his wooden sculpture of a rifle, "The Pulling of a Trigger" represents the pressure and judgement he faces being an immigrant. By carving the sculpture out of wood it represents him trying to carve his own path and place in the U.S., he said.
"I made that gun for myself, for security, but the question still remains of: 'Do you feel secure?'," Andre said.
Andre tries to encapsulate how systems in the U.S. are used to control and displace immigrants in his pieces, he said.
"You always hear news about immigrants of who is coming and who is going, it is always so fresh on your mind," Andre said.
Though Sharon Killian, board director of Art Ventures NWA, had only met Andre a month and a half ago, she had heard about his art work through friends who visited him in Ghana, she said.
After seeing Andre's art work Killian, knew that she had to feature his art in the gallery showing at the UofA, she said.
"We talked about which pieces were very intriguing and had a message that was very pointed," Killian said.
Killian thinks it was important to show Andre's pieces, because that they have messages of displacement and change that everyone can relate to, she said.
"We all start out in the same place of having to make a space for ourselves intellectually and physically," Killian said.
Killian tries to have a diverse group of artists for all of Art Ventures monthly shows, she said.
"(Diversity) is the basis of all of our shows," Killian said.
Art Ventures has hosted gallery showings focused around black artists during black history month since 2016, Killian said. She thinks shows such as "Frame of Mind", which highlights black artists, are important due to how underrepresented the black community is in the art scene.
The "Frame of Mind" gallery will be on display in the Faulkner Performing Art Center until March 6.